U.S. consumers are dropping out of their TV subscriptions in their droves. ESPN in particular has lost 7 million of its subscribers to streaming services like Netflix and Amazon Prime - chief exec Bob Iger's admittance that they had suffered "some subscriber loss" may be the understatement of the year!
Luckily, hype around the new Star Wars film, set for release on 18th December, could not be more fanatical. But will this excitement manage to offset some of Disney's pay TV losses at the end of the year?
Lucasfilm and Walt Disney
Star Wars is the biggest and most important franchise for Lucasfilm; according to Statistics Brain, the movies, amusement parks and surrounding merchandise (toys, books, video games, etc.) have garnered a staggering $28 billion in total worldwide revenue.
Lucasfilm itself was sold to Disney for $4.05bn in 2012, and at that time Disney was valued at around $90bn. Three years later and Disney is now worth $188.9bn, which is a prevailing real value of $114.24 per share.
The graph below shows the growth in Disney's stock value since the acquisition: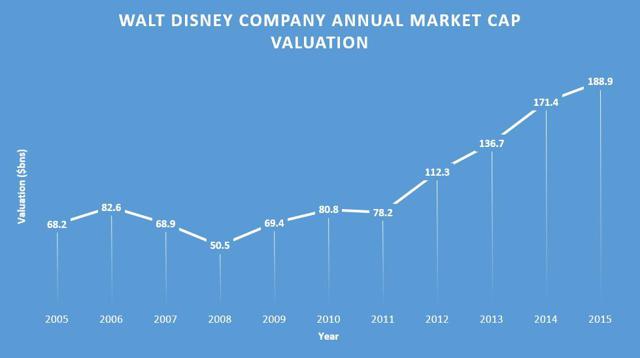 The Disney stock price was up nearly 13 percent since September 1st on speculation that the newest instalment of the Star Wars franchise will shatter box-office records. But how much company growth can actually be attributed to this one film?
How Has Disney's Stock Price Changed?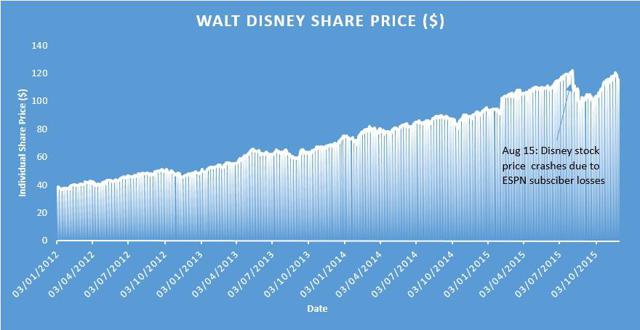 Despite all the excitement, shares of Disney have risen gradually and consistently since the announcement of the film. The two teaser trailers, released in November 2014 and April 2015 respectively (whilst melting the faces off cinema fans) have had limited impact in terms of share price.
It is perhaps the less dramatic segments that have affected the company share price more dramatically. During August this year, the value of Disney shares actually fell sharply from $121 to $95. According to Wall Street, this crash was related to fear of expected revenue loss from pay TV, as more and more viewers migrate to internet streaming services, such as Netflix.
Declining pay TV subscriptions for its biggest profit generator, ESPN, actually caused Disney's stock to fall by 8.6 percent in August - the fact this happened just before the Star Wars release is purely coincidental, and as you can see from the graph, the Disney share price is only just returning to pre-crash levels.
Although hype for a single movie may seem colossal to cinema-goers, the production company itself is buoyed by many other segments, and a single production has very limited short-term effect on the market price.
What Forces Drive Movie "Bubbles"?
Although loyalty to certain actors, directors, and franchises all play a part in driving cinema ticket sales, studies into the impact of movie releases on studio stock market valuation shows that advertising plays the central role in the post-release performance of those stocks.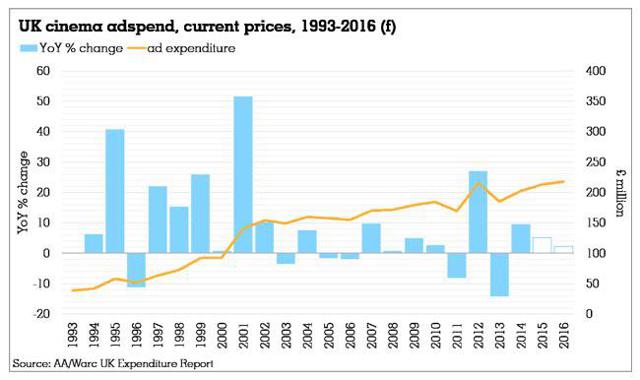 Movies with high advertising spend are naturally expected a strong box office showing. Typically, big-budget movies will spend around $50 million to $60 million total on TV advertising, and Star Wars falls into that category. Last week alone, The Force Awakens spent an estimated $7.2 million on TV advertising - the biggest film ad spend of that week.
For such big-budget movies, the post-release share price will move either of two ways: stable, if box-office performance is in-line with expectations, or downwards, if box-office performance is disappointing.
Will The Force Awakens Offset ESPN's Losses?
Disney is a hugely diversified company, which ensures consistent profits, regardless of seasonality or box office hits. But some segments are clearly more profitable than others. In the 2014 fiscal year, for example, almost half of the company's revenue (46 percent) came from its media networks, mainly ESPN. All of its movies combined, meanwhile, pulled in just 14.9 percent of company revenue.
So no matter how big a hit The Force Awakens turns out to be, this is only a minor proportion of the total company revenue. In addition, since the Star Wars sequel was announced several years ago, the anticipated profits from the movie have long been incorporated into the Disney share price.
And the anticipated profits are large. For a huge franchise as large as Star Wars, a box office hit is almost guaranteed as legions of die-hard fans will go to see the film regardless of what the critics say. Since the hype has been building for many years, a hit at the box office would simply be in line with expectations, and so would have limited to no impact in offsetting subscriber losses. Sorry Mr. Iger, Hakuna matata!
Disclosure: I/we have no positions in any stocks mentioned, and no plans to initiate any positions within the next 72 hours.