Summary:
Production deficit this year after years of oversupply
Cotton price at multi-year low
Similar markets like sugar have seen price explode higher recently
China announced inventory auction mid-April
Cotton feels like the calm before the storm. We think now is a good time to put cotton on your watch list because commodities tend to explode off their lows. We saw this in Sugar, Gold, and Crude Oil this past year. Cotton trades as a futures contract on the ICE exchange. For those without a futures account exposure to the cotton contact can be achieved through the iPath Bloomberg Cotton Subindex Total Return ETN (NYSEARCA: BAL). The BAL ETN holds exposure to the front month ICE cotton contract.
Like most other commodities cotton prices have been in a significant downtrend since 2011 as you can see on Chart 1. Like other agricultural commodities US cotton is below its cost of production. This combined with some pest issues in Asia leading to an estimated reduction in the cotton production in the US and across the World.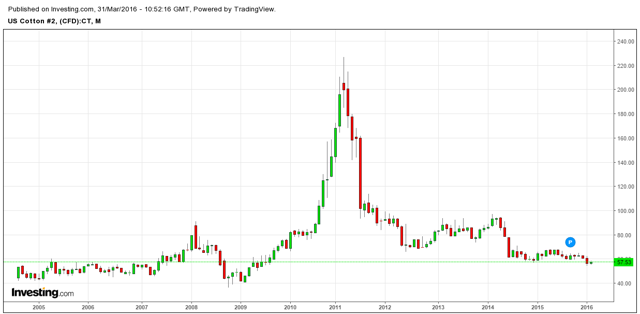 Chart 1: source Investing.com
Cotton Production and Consumption
The cotton market is very much like the sugar market which I wrote about in Coming Off a Sugar High: What the Indicators Tell Us. Cotton has spent the past few years in constant oversupply increasing ending stocks (inventory) to the level of consumption as shown in Chart 2. This year with an estimated 16% production decrease ending stocks will start to reduce. When this happened in the sugar market we saw price explode 50% off the lows. Sugar didn't have quite as large an inventory build as we see in cotton so we see cotton as being attractive but likely not quite as explosive when it finally puts in a bottom.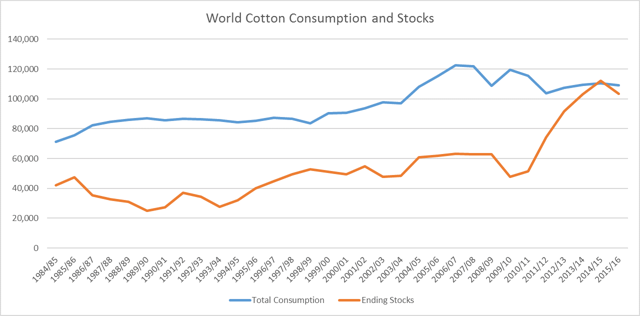 Chart 2: source USDA
Except for an increase in Australia we are seeing cotton production reduced around the world as shows in Figure 1.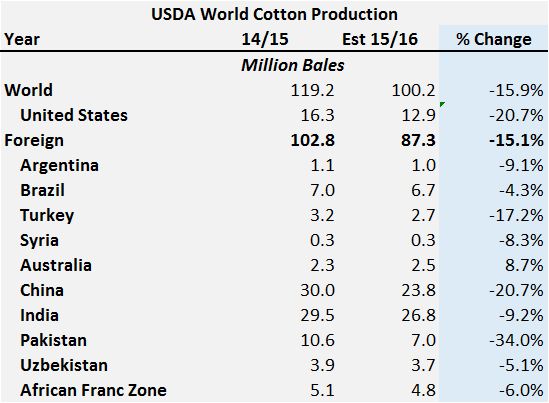 Figure 1: source USDA
China is King Cotton
The other big story is China. Like in corn, China has been building up its inventory of cotton and at much higher prices than today. China holds over 60% of all the world's cotton inventory. In fact, China alone holds more cotton inventory today than the whole world has typically held in the past.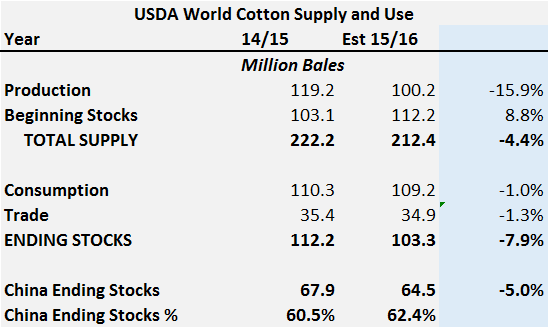 Figure 2: source USDA
China recently announced that it will begin to auction its reserves in mid-April which should continue to hold prices lower until we know the results of the auction. China auctioned some cotton off last year but the price was higher than the world market price so it didn't get much demand. To help the demand for its inventory China has been reducing import quotas for cotton for last year and again this year. With China being the largest cotton buyer in the recent past, this reduced demand has really help keep prices low.
This global oversupply and reduction of China imports has really hurt the US cotton farmer with the price of cotton below the cost of production. Throughout the south we are seeing a continued reduction in cotton acres. The prospective planting report will be released today we don't expect it to have much near term effect.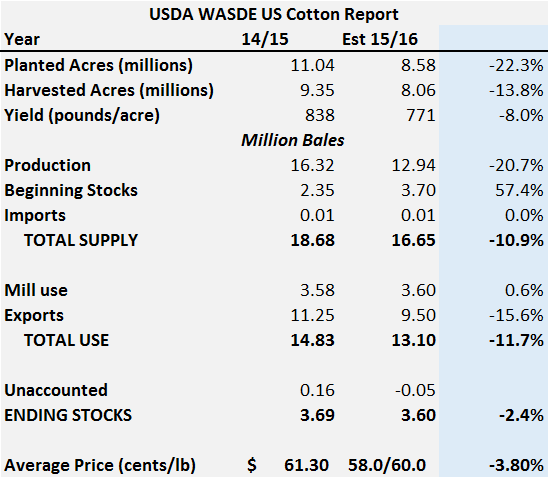 Figure 3: source USDA
Conclusion
With a global production deficit this year and China beginning to reduce its excess inventory, we think the time is right to put cotton ETN:BAL on the watch list and start looking for a bottom in the cotton market.
Disclosure: I am/we are long BAL.
Additional disclosure: The information contained in this article is taken from sources believed to be reliable, but is not guaranteed by AgTrades, LLC, nor any affiliates, as to accuracy or completeness, and is intended for purposes of information and education only. Nothing herein should be considered as a solicitation to trade commodities, equities, or a trade recommendation by AgTrades, LLC. Futures, equities, and options trading involves the risk of loss. Past performance is not indicative of future results.