PLACE YOUR BETS! TIME TO PUT YOUR GREEN ON THE LINE!
By Sleepless in the Alps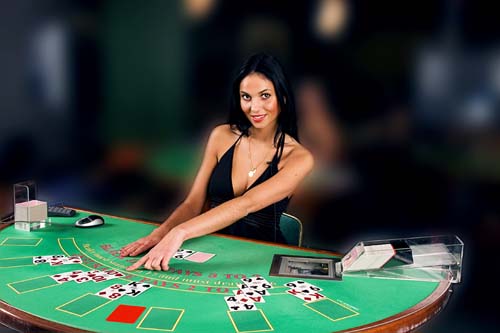 Desiree (above) at her day job, before becoming a hedge fund manager.
Are you familiar with Mr. Warren Buffett?
No? Well here's a picture of the head of Berkshire Hathaway: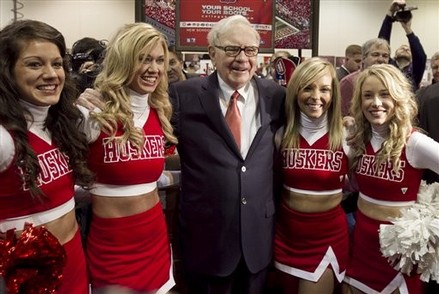 Mr. Warren Buffett (above) with us in our Huskers attire. "Huskers" are Swiss asset managers, if you didn't know.
Mr. Buffet presented the following bet: that a plain vanilla index fund would trounce a basket of hedge funds over a ten-year period. He's recently documented his case by disclosing the standings after nine years, of the 10-year performance bet between his own investment pick-a low-cost S&P 500 index fund administered by Vanguard-and the pick of Protégé Partners, an asset manager who elected to bank on the average performance of five funds of hedge funds that it chose for the competition. The stakes, depending on your perspective, were large: $500,000 for each party, the total of which explains why this wager is sometimes called "The Million-Dollar Bet."
Hedge fund managers and a zillion "financial advisors" around the globe are gnashing their teeth and slinking around trying to come up with any kind of reason that their trillion-dollar "industry" has the right to exist. It won't be easy.
Not wanting to be one-upped by the bushy-eye-browed Oracle of Omaha (wherever that is), we've devised a similar and friendly little wager of our own. Our bet concerns another world-renowned personality, Mr. Elon Musk, and his little experiment with electric cars.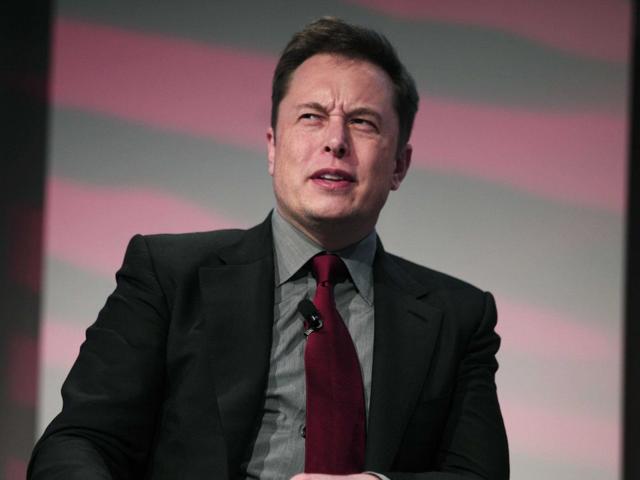 Mr. Elon Musk (above) fending off the naysayers.
For a long time, we've been beating the drum about our negative opinion about all things Tesla, while the stock of the company keeps being valued higher, which has caused us to cross our eyes and shred our shorts. Cool visual, huh?
Have we been humbled, chastened, or thrown from our high horses by this chain of events? Of course not! But we are tired of endlessly commenting on this situation on the SA forum, and would rather just put our money where our mouths are. (We know…more visuals.)
So, not wanting to waste words, (though we're pretty good at that, as our readers know), here's…
The bet:
THE COMMON STOCK OF GM AND/OR FORD WILL OUTPERFORM AND PRODUCE HIGHER NET TOTAL RETURNS TO INVESTORS THAN THE COMMON STOCK OF TESLA OVER A TEN-YEAR PERIOD.
The Rules:
A. We (Heidi, Helga, Clarissa, Desiree, and Schnitzel) will take one side of the bet--the side that's wagering on either GM and/or Ford common stock creaming TSLA shares on a percentage basis over the next decade.
B. The clock kicks off as soon as the total of all your wagers equals US$100,000. That's going to be our limit on this one.
C. You tell us the amount of your wager on TSLA beating the tired old US car makers. Keep it reasonable and under US$5,000 as we're hoping there will be a lot of bettors out there.
D. We will match all bets, dollar for dollar, or Euro for Euro, or whatever currency you want to send, up to US$100,000 total.
E. Send your money to our account in our Swiss bank (Zurcher Kantonalbank, account #7829563. Wire instructions to follow).
F. We'll post the results right here, ten years now from now.
More Rules:
G. All right. We don't expect you all to wire money to our numbered Swiss bank account (though some of you really do trust us, as you should) so here's the good news:
H. Ignore rule E. Just tell us the amount of your bet. You don't have to send the actual money.
I. But we'll be putting up our side of the bet in real money. US$100,000.
The Payoff:
If we win, if either GM or Ford shares beat Tesla stock, the money in the account will be donated to a Swiss charity of our choice benefiting abused women and/or children.
If you win, if Mr. Musk's carnival stock noses out the US car companies, the money in the account will be donated to a Swiss charity of our choice benefiting abused women and/or children.
So… You may call it a gentlemen's bet, but more than just gentlemen will benefit in the long run. And you won't be "out the dough," as they say in the US.
Win, win.
OK, all you devoted environmentalists, climate-rescuing iconoclasts, and adventurers in the brave new world of future technology…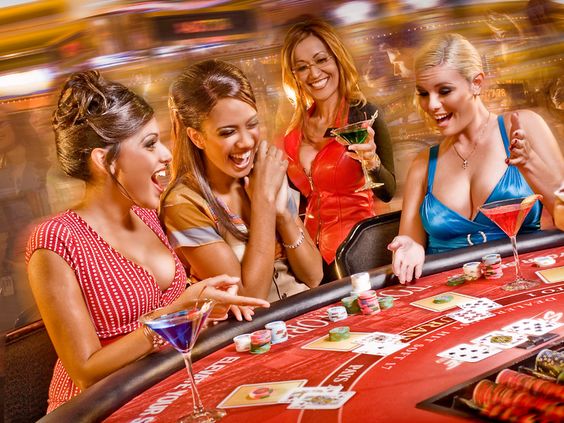 PLACE YOUR BETS!
You can place your bets in the comment column below. We will record the list and hang on to it and record the stock prices, dividends, and any other relevant numbers on GM, F, and TSLA.
Who knows? TSLA stock may return 1,000% to you over the next ten years. Either way, you've actually done something really important for the environment!
Additional disclosure: Beats "Fantasy Football" right?