Here in appreciation of our real-time subscribers is our recent update.
When the NASDAQ Composite Bullish Percent index peaks (forms an up-spike) while the RSI is in over-bought (above 70) and the MACD has completed a bear cross-over, the stochastic drops to meet the extreme over-sold level (horizontal blue dashed-line) as the NASDAQ Composite pulls back.
That was true for five of the last six cases. In 2016, everything lined up, but the stochastic bounced first before hitting the over-sold line, and the NASDAQ continued to rally before pulling back (blue rectangles). That is very similar to today's situation (chart below).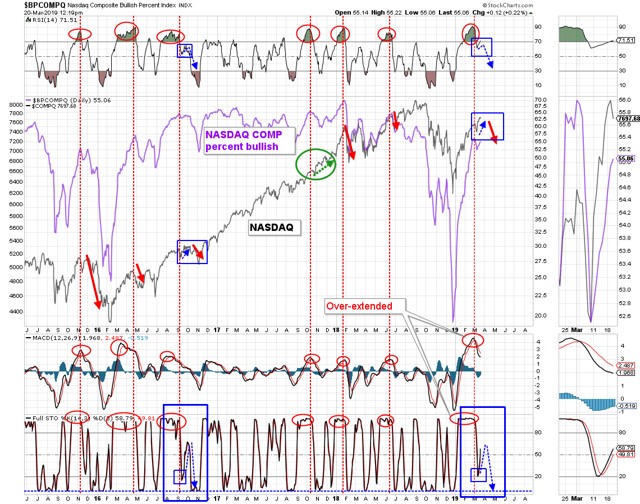 A pullback is likely close at hand. Perhaps the Fed announcement today will be the excuse for the pullback as a "sell-the-news" set-up comes into play. When the pullback comes, we will be buying-the-dip.
What our subscribers are saying:
" I find tremendous value in your work. What got me here initially was the book 'Trading Against the Crowd' which examined sentiment and put-call ratios to show sentiment extremes, as soon as I found you and saw you used similar methodology I knew you were onto something. Your subscription service is top notch. "
"because of your broad market analysis, I was able to exit CRC calls when the stock was around $26 last week, the stock has dropped 17% since then…. last year I would have held onto the calls"
"I definitely find value in your work, I will be a client for a long time barring death."
We invite you to take advantage of our 20% discount and 14-day free trial and let us keep you on the right side of the market and Away From the Herd. In addition, we offer a "lite" subscription that provides you with our comprehensive Weekly Summary without the Trade Alerts or intra-week updates for $160/year, only on our website www.angtraders.com.