News, even about impeachment, does not drive the market--it jiggles it, but is not the driver. Fear, and Treasury fund-flows drive the market.
A couple of days ago we sent the following update to our subscribers, comparing the Treasury statements for September in 2017, 2018, and 2019.  How the Treasury statement evolves over the last few days of the month will determine whether we have the usual October pullback or not.
Take advantage of our14-day free trial and find out what is likely to happen in October, so you can stay on the right side of the market and Away From the Herd.
With five trading days left in the month, we look at comparable dates in September 2017, 2018, 2019, and to fiscal year end (table below).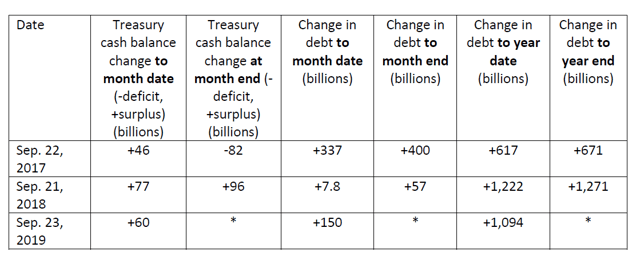 Focusing on the "to date" columns, we see that on the comparable date (5-days left) in all three years, the cash balance change was in surplus (more money added than spent) in all three years. Then, by the end of September ("end of month"), the cash balance change in September 2017 was significantly in deficit (-82B), while in 2018 the surplus increased (+96). This year, the end result will depend on how much is spent in the last five days of the month and of the fiscal year.
We could still see a deficit (more spent into the economy than taxed out) like in 2017, but there is no way of predicting if that will happen. If it does, then any pullback will be shallow. If the surplus grows, like it did in 2018, then we should expect the usual October correction. We continue to monitor the Treasury cash balance daily.
Notice in the chart below, that in 2017 the SPX dropped slightly at exactly the same point in the month as currently, but went on to rally in October (chart below).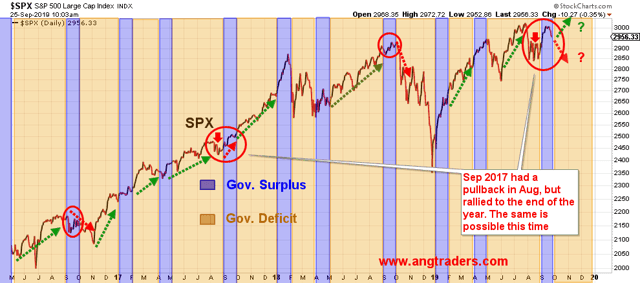 The next chart shows the average weekly contract spending for the Treasury.  Spending at the end of September is 6%-8% of the total contractual spending for the year. Join Away From the Herd to find out what happens this time.
During the 2018 correction, our analysis showed that we were not at the start of a new bear market and that the bull market was not in the process of ending. As a result, our subscribers avoided the herd mentality of panicked-selling and the losses it created.
" Happy ANG subscriber here. I believe them to be the best broad market analysts on seeking alpha. "
" ... paid for the service on first trade."
" Best here in seeking alpha...@ANG Traders . Best of the best! "
Take advantage of our14-day free trial and stay on the right side of the market and Away From the Herd.