Most small businesses are still seeing shrinking sales and profits, with many cutting back on investment and discounting widespread, according to the latest monthly survey by the National Federation of Independent Businesses.

MarketWatch reports that the index of business confidence fell to an eight-month low of 86.8 in March from 88, with improvement registered in only one of its 10 subcomponents.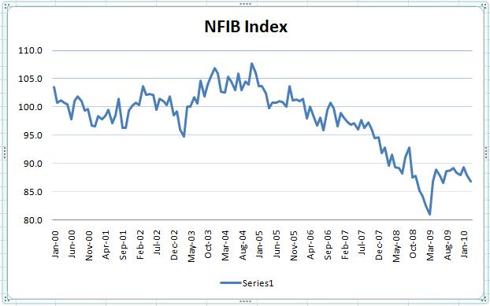 The index has been below 90 for 18 consecutive months now, having hit a cyclical low of 81.0 in March 2009.

"Poor sales and uncertainty continue to overwhelm any other good news about the economy," said Bill Dunkelberg, chief economist for the small-business lobbying group.

The survey "suggests the small-business sector is still contracting, even as the economy as whole is expanding," wrote Ian Shepherdson, chief domestic economist for High Frequency Economics.

"This is another piece of evidence suggesting that the official payroll data are overstating the degree of improvement," wrote Joshua Shapiro, chief economist for MFR Inc.
The report said respondents predicted business conditions won't improve in the next six months, few are hiring, and fewer are investing in their business. A net negative 25% reported higher sales in the past three months, up 1 point from February. A net negative 2% have plans to hire. Profits at most firms are declining, with 9% of respondents reporting higher profits but 58% reporting lower profits. 

This still doesn't look like a recovery to me. Outside a bounce concentrated in Washington DC, Wall Street and the export-oriented segments of the manufacturing sector, the U.S. economy remains in a coma -- at best -- with corporate earnings (amid little top-line growth and the fading of stimulus and bailouts) being a huge wildcard for Wall Street as we approach the second half of the year, and the direction of government policy being a huge drag on business and confidence.