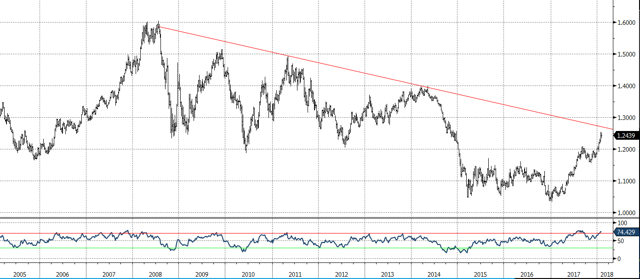 The Euro has embarked on a relentless rise against the dollar. The reasons for the rise can be attributed to several factors:
EUR positioning throughout 2015-2016 was excessively bearish leading to a crowded trade which has now largely been unwound
Global growth has been firing on all cylinders - Euro tends to outperform during these periods as capital exits US markets to seek better opportunities elsewhere
Investors have been pricing in tapering from the ECB and eventually an increase in rates
The situation however is rapidly changing. EUR/USD is approaching its down trendline from the 2008 highs. Resistance from this trendline lies around the 1.27 level. It will be difficult for the EUR to breach this resistance level.
Euro speculative positioning is massively net long: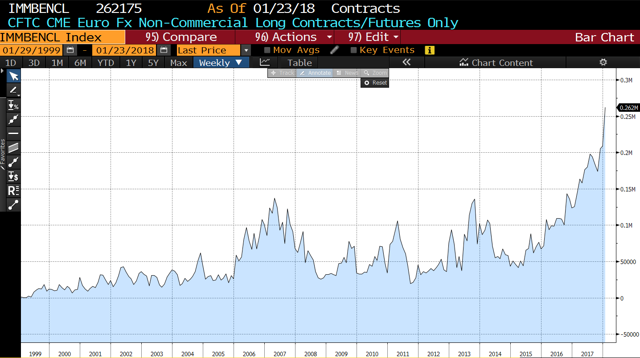 By contrast sentiment on the dollar is excessively pessimistic: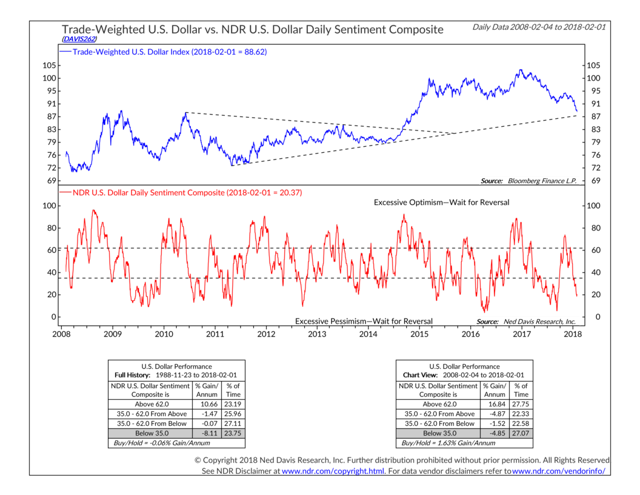 Historically excessive pessimism has lead to decent sized reversals in the dollar, especially when combined with massively net-long spec positioning on the EUR. 
The Euro has decoupled from real rate differentials and has begun pricing in tapering of QE and an eventual ECB rate hike. Euro has started to trade on the back of differentials in inflation expectations between the US and the Eurozone.
EUR/USD has now traded past fundamentals and is vulnerable to a correction lower.
The catalyst for this correction could be a temporary slowdown in global growth.
We are currently experiencing a period of synchronized global growth - this has not happened since 2007. Global manufacturing PMIs are exhibiting strength all over the world: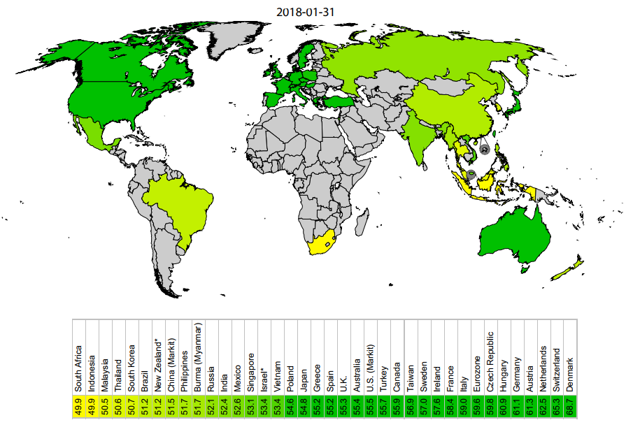 When looking for an inflection point in a trend we must pay attention to the rate of change of a trend as opposed to the overall level. The chart below shows the Li Keqiang Index overlaid onto the monetary conditions index. The rate of change appears to suggest a slowdown coming from China in the coming months.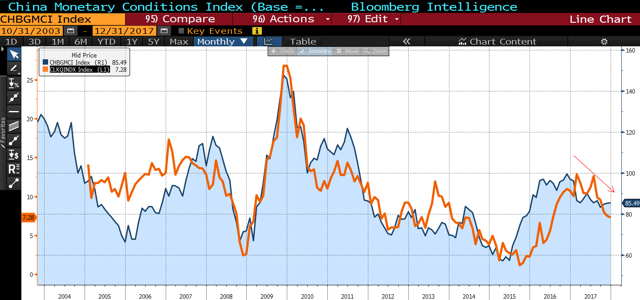 China's credit impulse rate of change also appears to be rolling over. Could President Xi Jinping be using this backdrop of global growth to tighten financial conditions in China and to reign in some of the speculative excesses that have surfaced over the past years.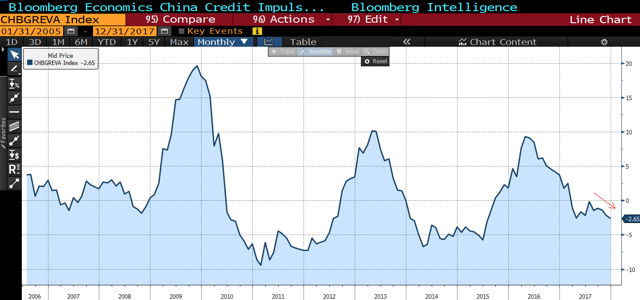 Any slowdown in China would eventually affect global growth and spill over into Europe. 
In the meantime investors who have given up on US growth may be in for a surprise this year with GDP surprising to the upside. 
Unemployment in the US is still trending down, with today's numbers finally showing some upwards pressure on wages as we begin to close the gap between the unemployment rate and the NAIRU (Non-accelerating inflation rate of unemployment - i.e. the level of unemployment below which inflation rises).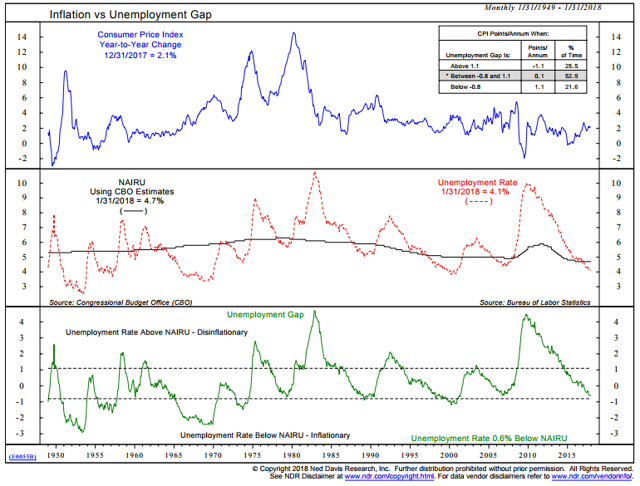 The US is also benefiting from the late cycle reforms of President Trump - namely the tax cuts and potential infrastructure spending which could boost inflation even more as the economy continues to fire on all cylinders.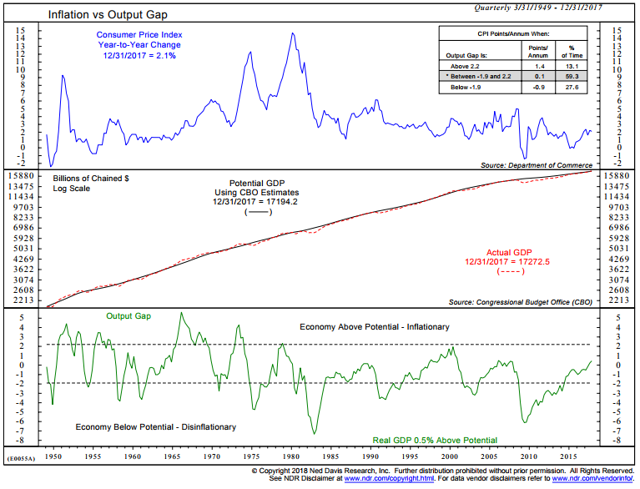 After years of discounting the Fed could markets be caught off guard by a more hawkish fed? The recent relentless rise in yields appears to suggest so.
Further tightening of financial conditions (via rising yields) could also put more pressure on global growth - which has been enjoying a period of the loosest financial conditions ever.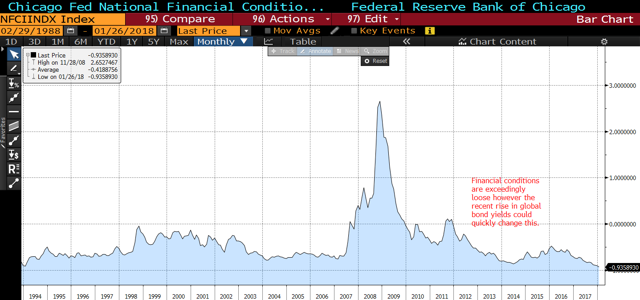 Summary
In conclusion, although we may see some more upside on EUR/USD, the rally is now running on fumes. In terms of timing I am keeping an eye on DeMark indicators to time the potential top on the Euro. A turning point would be signalled by a '13' count (either a red 13 or a purple 13). This would point to potential trend exhaustion and a potential reversal zone.
At the time of writing this we are currently on 12 sequential count and 11 combo count - meaning the trend could exhaust itself in the coming week or two.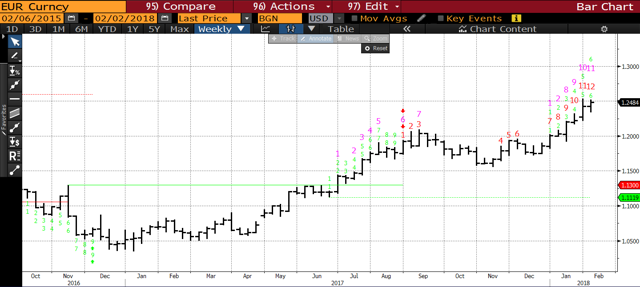 Disclosure: I am/we are short EUR/USD.
Additional disclosure: This article presents the views of the author and is intended for educational purposes only. It is not a solicitation or an offer to buy or sell any security or other financial instrument. Any information including facts, opinions or quotations, may be condensed or summarised and is expressed as of the date of writing.