Can you say short squeeze? If you told investors in December that markets would rocket 20% from the lows who would have believed you? But that is exactly what happened. Markets seemingly ignored the negative economic news and funds poured into US markets in January to take advantage of the dip. 
Aided by a Fed flipflop and Central Bank generosity, financial conditions eased and markets took off without looking back.
So what is next for the Nasdaq?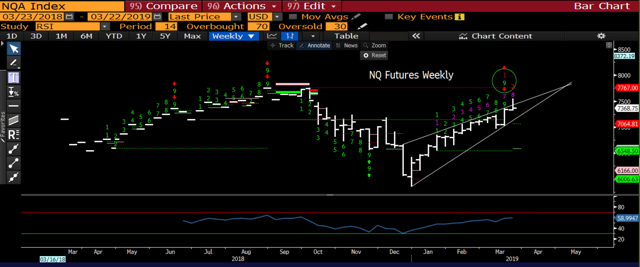 Starting with the Nasdaq (NQ futures), the weekly chart posted a Demark perfected sell setup, indicating an exhaustion of buyers. Last week's gains were almost all erased on Friday as investors took profits, leaving the wedge resistance in place and potentially setting up for a turn lower over the next few weeks.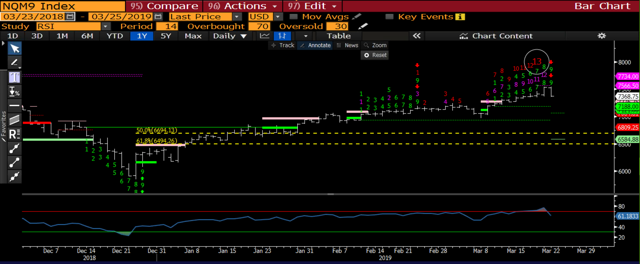 NQ Daily chart (above) also presented signs of topping with a Demark Sequential 13 (in red) and a completed sell setup on Friday. Combo countdown was at a 12 (not completed) which has me thinking perhaps Nasdaq could rally to complete this countdown before exhausting the uptrend.
In case the uptrend has already run its course (without electing the last Combo countdown), the initial levels I would look for would be the 50% and 61.8% retracement of this rally. Depending on how the decline unfolds, if we break below these levels we could go for a full retest of the lows.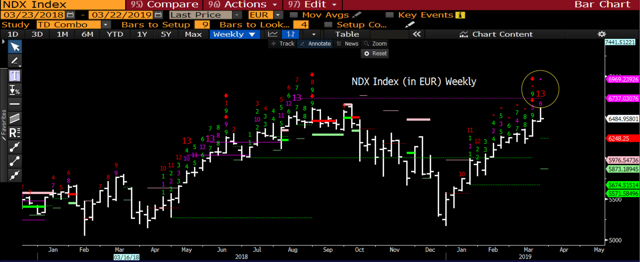 NDX Weekly chart (presented in EUR) shows a completed sequential countdown on last week's price bar. Why show this index in Euros? Simply because the abysmal situation in Europe has spurred European fund managers to take advantage of the December selloff in US markets and allocate capital to US stocks. This could be coming to an end as we see from the technicals.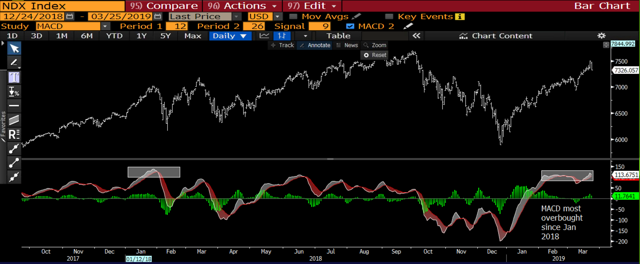 Lastly the chart above shows just how overbought the Nasdaq is. With MACD highs equalling those of the market in January 2018!
What about the S&P?
The situation with the S&P is very similar.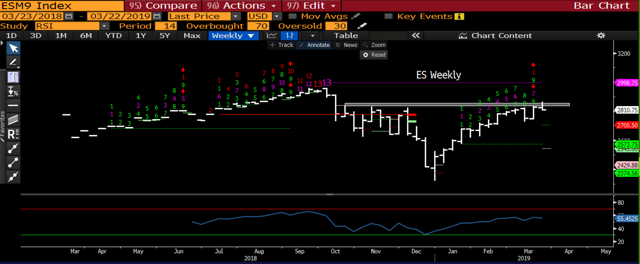 ES Futures weekly chart also presented a completed sell setup and erased gains to put in a rather bearish close below resistance.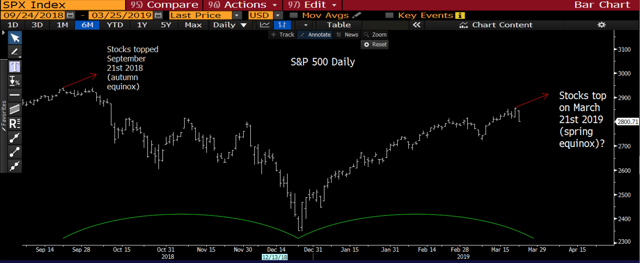 Using some market timing we see that equities topped exactly on the autumn equinox (21st September 2018). Could this year's spring equinox (21st March 2019) have presented the top of the rally off the December lows?
In addition to the Spring Equinox, 21st March 2019 coincided with the month's supermoon. This is the only time this has happened since March 2000. 
What happened in March 2000 in markets? Well...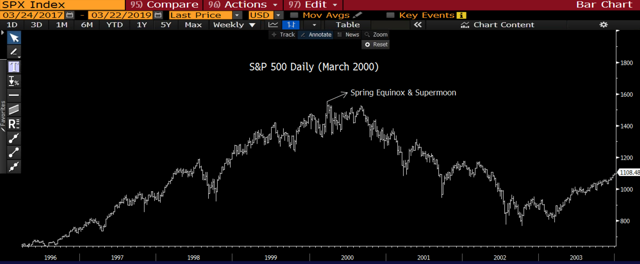 Last but not least, the VIX Index daily (below) has also printed exhaustion signals, indicating that an explosive rise could be nearby.

So what happens next?
The answer to this will depend on how the declines in markets unfold. Simply put, it will be important to monitor the 50% and 61.8% retracements of the rallies off the December lows. If markets hold these levels, it is likely we are setting up for another upleg. If we slice through them like butter then we could go and retest the lows.
Disclosure: I am/we are short SPY.