BENEFITS OF ADDING INTERNATIONAL EQUITIES TO PORTFOLIO:
v Diversification- A fundamental reason to consider international investing is diversification. A big part of choosing your mix is to seek investments that are not perfectly correlated-that means including investments that provide the potential for gains in one part of your portfolio to offset poor performance in another. By diversifying, you may be able to achieve returns similar to those of a less-diversified portfolio, but with less risk, or you may be able to achieve greater returns, but with the same amount of risk. Keep in mind, though, that diversification cannot ensure a profit or protect against loss.
The reason international investments have the potential to help improve the risk-adjusted performance of an investment portfolio is because, historically, international stock performance and U.S. stock performance have deviated from one another. That may be in part due to the unique risks of international investing, which include currency risk and political risk. But the outcome is that international investment may have the potential to help a portfolio overall.
When comparing the S&P 500 with International Developed Market Equities since 1950, there are little to no differences in return and volatility. However when comparing the S&P 500 to a Globally Balanced Portfolio (70% US/30% International) in the same time period, the Globally Balanced Portfolio shows a significantly lower level of volatility while exhibiting almost identical annual returns. Specifically, the Globally Balanced Portfolio has a standard deviation that is almost 10% less than the standard deviation of the S&P 500. This significant drop in volatility is also reflected in the larger Sharpe Ratio for the Balanced Portfolio. The Sharpe Ratio is a measure of risk-adjusted returns.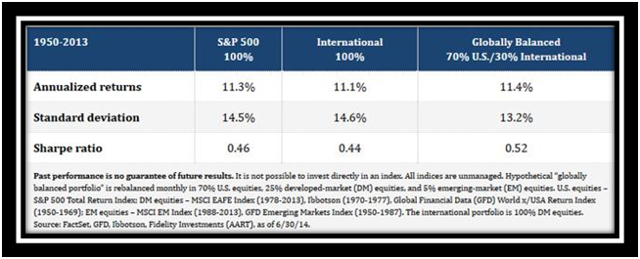 Reduce currency risk- We all spend and measure our wealth in local currency. However, the benefits of cross border diversification swamp currency risk in the equity markets. Over time, the currency risk balances out. But, in the short run cross border diversification is a fine way to hedge against a loss of value of your currency. If, for instance, the value of the dollar declines, all foreign stocks held by an American will appreciate in value by an identical amount. So, foreign currencies add an additional diversification benefit to the portfolio.
PERFORMANCE OF US STOCKS & INTERNATIONAL STOCKS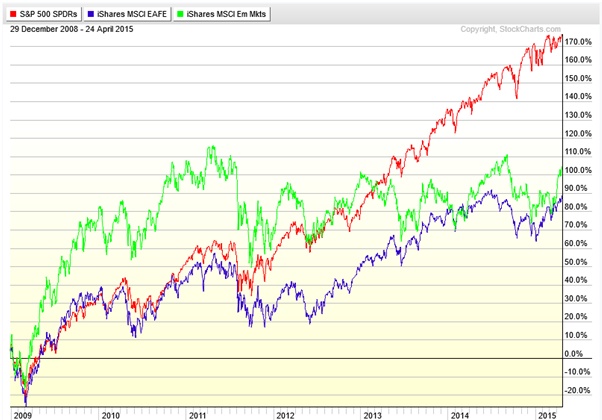 As we can see, US stocks have dominated since the recovery and have outpaced International stocks by around double the growth rate. While this short-term advantage can make going international seem unattractive, actually it is an opportunity;as there is a cyclical relationship in which international stocks lead the market compared to US stocks and vice versa. This constant trade in market leadership is exemplified in this figure below. Grey areas represent recessions. It is clear that Domestic or International trade off leadership for long periods of time (usually around 5-10 years).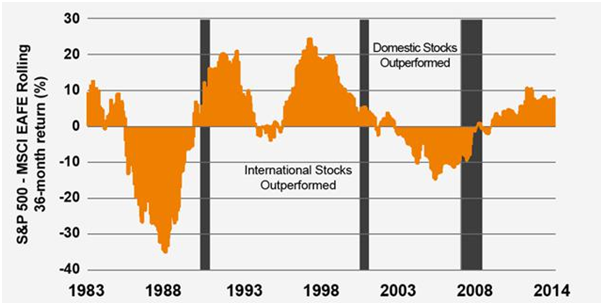 Since, US stocks have led the recent recovery and have outperformed International stocks for the last 6 years or so, therefore due to the cyclical nature of this relationship, one can expect International stocks to make a comeback and outperform US stocks at some point in the future. However, it is difficult to say when this change will occur. It's believed that buying under-priced international stocks during these US-led runs can lead to extra returns when International stocks make a comeback.
Disclosure: I/we have no positions in any stocks mentioned, and no plans to initiate any positions within the next 72 hours.
I wrote this article myself, and it expresses my own opinions. I am not receiving compensation for it (other than from Seeking Alpha). I have no business relationship with any company whose stock is mentioned in this article.