The table below lists the results of Trader's Idea Flow's first eight trading ideas as of the close of Friday 2/17/17.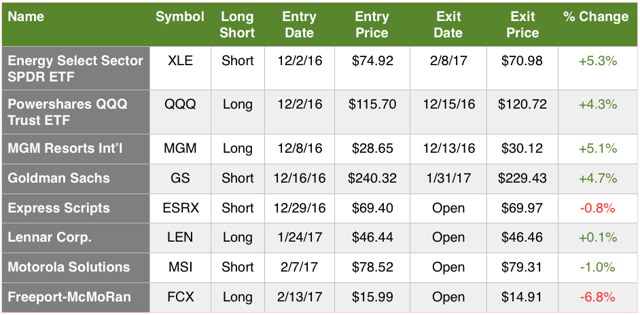 Our first four trades have closed with very respectable short-term trading profits from our longs on QQQ and MGM, as well as our shorts on GS and XLE.
Two short calls are open on ESRX and a new short on Motorola Solutions, Inc. (NYSE: MSI) has been opened. We are still expecting a market correction to commence in the first quarter of 2017 that could enhance the downside of these two shorts along with the stock specific risks that exist for each of these positions that can result in lower prices.
The post-election euphoria now seems to be encountering increasing amounts of reality as the challenges facing this new administration become more clear. This more realistic perspective on future events in our economy and markets may provide us with the pullback in stocks that we are anticipating. Concerns about time delay risk along with questions about the size and scope of the new administration's ability to implement their agenda are arising now. Tax reform is especially important to keep this market rally alive. Any disappointments or serious concerns regarding tax reform could trigger a market correction. Geo-political risk or the border adjustment tax could be a few of the numerous catalysts for a 5% or more market correction after the recent historic rally
However, contrary to our belief that a correction is coming Trader's Idea Flow has opened a new long position in the homebuilding stock Lennar Corporation (NYSE: LEN). This Miami-based Fortune 500 corporation is well positioned to benefit from tax reform, a stronger economy, and the prospects for improvements in housing demand during 2017.
Our long position in Lennar is due to the fact that homebuilders are one of the few sectors that have not fully participated in the post-election rally. Homebuilders now have a forward PE in the more reasonable range of only 10. Every housing recovery has occurred during rising rates when banks get eager to make loans. Homebuilding stocks do really well in this type of environment.
Demand for lumber is signalling an increase in housing demand.
Recent strong earnings by homebuilders may presage a likely period of strength. These are a few of the key reasons that have lead to our opening of a long position in Lennar as the stock's valuation appears cheap relative to the market and expected future earnings.
Trader's Idea Flow's newest position is a long purchase of shares in Freeport-McMoRan (NYSE: FCX). With global economic growth seemingly improving many major commodities have appreciated including copper. 40% of FCX revenues come from copper mining. The current situation of one of the world's largest mines in Chile being shut down due to what could become a prolonged worker's strike has recently boosted the price of copper.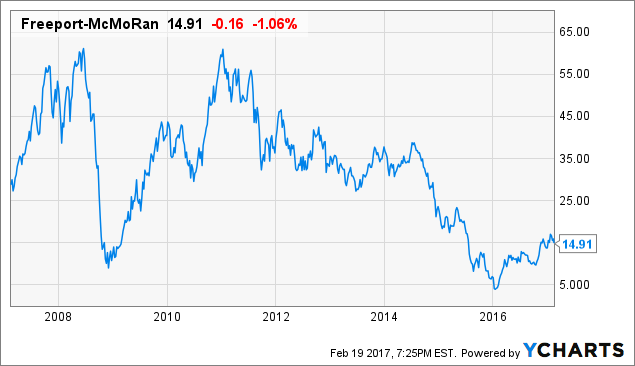 So while we believe that a correction for the overall market may be forthcoming, we see the homebuilders, such as Lennar and the mining company Freeport-McMoRan as currently undervalued with strong prospects for appreciation ahead.
Disclosure: I am/we are long FCX.