Deep down Louisiana close to New Orleans
Way back up in the woods among the evergreens
There stood a log cabin made of earth and wood
Where lived a country boy names Johnny B. Goode
Who never ever learned to read or write so well
But he could play a guitar just like ringing a bell
-Chuck Berry
The market is ready to open higher, a day after Bernanke spooked the market with comments that at times seemed logical and at times seemed defensive, and at other times seem contradictory,. (I'll have more on Bernanke tomorrow morning.).
Stocks edging higher around the world as all the money-printing helps to make equities the only game in town (even though American investors haven't taken the bait and continue to plow into bonds that could crush them with a sudden shift in interest rates) and also in part to lower expectations. Yesterday PMI numbers from Europe were abysmal and yet the narrative was they mostly beat consensus estimates. It's like little Johnny coming home with Ds when you thought he was going to fail. A responsible parent would be concerned and angry.
This is the game we play these days. Of course at some point little Johnny becomes a man without the educational skills and habits to be successful and demands greater society pay his bills. There is a point when there are too many little Johnnies and the economy collapses. There is a point where a happy face on bad news becomes that lone standing building that survives a nuclear bomb nobody cares. Lowered expectations is new to America and goes against our DNA, but it's working in the stock market and working in politics, and for too many parents and their children it's okay in education.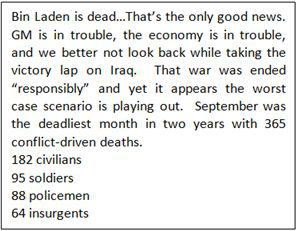 The markets are on the lookout for news on Spain and monthly auto sales results. I'm bracing for General Motors, which I think is in deep trouble (David Silver will have complete analysis of auto sales numbers in afternoon update). It's "alive" but in huge debt, bleeding money in Europe, and humongous unfunded pension liability makes it vulnerable.
The rate its losing market share could put it back on the operating table.
Despite it all there is the pedigree of America. Our thirst for success is not totally snuffed out; people want to be more than "middle class," and even if that's where they end up then they want even more for their children.
Today's Session
It looks like a ho-hum start but the bias is to the upside and that's the story of this market.