I'm not on vacation. I've been out a lot lately for a family emergency that has become the most amazing story. On Wednesday October 10th, I received an email from a friend and mentor saying his twenty year old daughter was dead and he wished my wife could receive her heart. I was actually hosting Varney & Co on Fox Business, so I forwarded the email to my wife. They went back and forth and discovered there could be a match. As the day unfolded, hope faded into despair as bureaucrats in Los Angeles and New York gave a litany of reasons of why my wife couldn't get this potential gift of life. How ironic, I'm always railing against government intrusion into our lives, and I get the most vivid example of how dangerous it can be.
For a moment we thought my wife's decades of suffering, scores of operations including a receiving a heart pump just three months ago, would finally come to a final chapter. But the heart program representatives spent a lot of time giving lame excuses. This is when I took to Twitter. I'm very private about many aspects of my life and few people knew the degree of danger my wife was in as each week saw challenges from her new device. She was racing against the clock ... so I looked for help anywhere I could find it. Most replies were positive thoughts and prayers and there is no doubt they helped but nobody knew how to get around the red tape.
The next day as I was driving home my wife called, sobbing, she just got the call-we could go to Los Angeles and get the heart.
At some point we'll find out what happened exactly, but for the moment, she is recovering swiftly as the heart was a "perfect match."
There are a million subplots to this whole thing from the power of prayer to drawing a line where the government should stand between people doing transactions with each other. There is also the story of this remarkable young woman, who one day I hope I can tell the world about. At 20, to be wise enough to give the gift of life even in death is incredible. But she was that kind of person. I attended her funeral and was overwhelmed by her accomplishments and the many lives she touched. Rarely have I wept so much.
I'm writing this to let subscribers know I'm going to be back 100% on the grind by the end of the week, but more importantly, to ask everyone to consider organ donations. I have been selfish enough to not want to give up my organs in death even as my goal is to get into heaven leaving my corpse behind. We can never repay my friend who I suspect fought behind the scenes for this to happen as he and his wife are determined folks. All I can do is ask everyone to consider organ donation and kiss their children every day. I'm searching for various options, but here's one website to consider http://donatelife.net/.
It's Foreign to Me
Tonight is the last debate, and the nation is waiting breathlessly for what should be one hell of a donnybrook. Punches, counterpunches, and haymakers will rival anything in professional pugilism. After the first two debates one has to wonder what we could hear differently. Since the topic is foreign policy, there will be more clarity on Libya (without the moderator offering an assist) and, perhaps, Syria where rebels are hanging tough but ongoing slaughter should embarrass the world, particularly the policeman of the world, looking the other way. Let's be honest; if Syria had oil then there would be a no-fly zone and European forces on the ground.
While the debate shifts to foreign policy, the market is still focused on global economics and decisions being made around the world that could have as deleterious impact on countries as the harshest wars in history.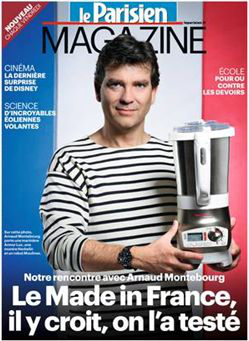 In France, the war of envy is taking a massive toll to the point where the nation's Minister of Industry has taken to the cover of Le Parisien Magazine to promote "Buy France." Looking as goofy as possible in a French naval uniform and holding a blender Amaud Montebourg's plea to French citizens is to ignore better made and cheaper products and instead buy a French-made watch or household appliance.
This is what the French take for pro-growth policies. The nation has suffered thirty years of chronic unemployment (7% or higher) and has finally dropped the final shoe on its goal of crushing the rich. But those policies and outrageous taxes have only resulted in rich people fleeing and businesses sitting on capital the way survivors in a lifeboat would hold onto a can of tuna. France now suffers its worst unemployment in years, but government says go out and buy a French blender.
By the way, it's not enough to sabotage the economy through repressive taxes, but now the government is saying let's stop doing homework. I'm not sure why they call this philosophy "progressive" because in the end it's going to land France in a new Dark Age.
Caterpillar Earnings
David Silver
Before the opening bell this morning, Caterpillar CAT released earnings for its third quarter of fiscal year 2012. As the world's largest manufacturer of bulldozers, excavators and other construction machinery, Caterpillar is closely watched as a gauge of the strength of the global economy. Revenues continued to rise, while earnings increased almost 50% on the back of an asset sale. The Company reported earnings, excluding items, of $2.54, up from $1.71 last year.
Revenue increased to $16.45 billion from $15.72 billion during the same period last year. CAT beat by $0.32 per share on the bottom line, but fell short of expectations on the top line as the Street had expected the Company to earnings $2.22 per share on revenues of $16.79 billion. The biggest news, however, is that management lowered its forecasts for FY12. Management lowered revenue to approximately $66 billion, below the previous expectation of between $68 billion and $70 billion. Earnings per share guidance was lowered to between $9.00 and $9.25 per share compared to the previous forecast $9.40 per share.
CAT chairman and CEO Doug Oberhelman said, "We are taking a pragmatic view of 2013 - we're not expecting rapid growth, and we're not predicting a global recession. At this point, we expect 2013 sales will be similar overall to 2012, but with a slightly weaker first half and a slightly better second half. While there's reason for optimism, and we're not expecting a global recession in 2013, we are prepared and stand ready to take action no matter what happens to the global economy."
CAT is only down slightly in the premarket. The Company's expectations for the remainder of the year should not have come as much of a surprise; management slashed its 2015 growth forecast at the end of September amid a "perfect storm" of slowing economies and lower commodity prices. Management doesn't expect the world to slip into another recession, but it does expect continued softness. There were no Google like surprises in CAT's earnings as most of the weakness for the economy has already been warned and priced in.