One of my frustrations with the stock market is the quarterly earnings period. (My biggest frustration is the ability of shorts to get stories in the media to crush companies for short-term gains that often result in long term misery for investors and smaller companies that cannot weather the storm.) This morning we have a couple of examples of how the dynamics of meeting short term expectations can clash with the need for investments that often cost a lot of money and hurt bottom line in order to sustain and grow the business further down the road. The best CEOs don't care about the quarter to quarter stuff, although they had to endure the brunt of investor ire until they could prove they deserved free passes on quarterly misses that came with asterisks.
Of course, Steve Jobs was the king of the free passes as misses or red flags were always brushed away as shortages of components or other rationale that mitigated any suggested of execution problems or competitive pressure. Now Tim Cook is going through his proving period as the honeymoon phase has ended and the Jobs pipeline no longer provides cover. There is no doubt Cook is dealing with more competitive pressure than Jobs dealt with and that muddles the picture even more. One of those competitors is Jeff Bezos, whom I think is one of the best if not the best CEO in America today. He has ignored the stock, critics and naysayers.
And he's beginning to give Apple fits.
AAPL - Apple's iPhone beat the Street and many believe results would have been even better if there was more supply. The rest of the Company, however, either missed consensus or, in the case of Macs, came in with in-line results. Earnings of $8.67 missed consensus by $0.08 as the Company bolstered research and development costs.

The worrisome part of the report was guidance that could see the current quarter post earnings of $11.75 per share versus consensus of $15.49 as gross margin plunges to 36% from 40% sequentially. Management also offered guidance of $52.0 billion on revenue versus $55.0. This begs the question just as Samsung posted record earnings that almost doubled on the strength of its Galaxy3 smart phone. The Company shipped 18 million of those and 59 million smart phones in total (59 million mobile devices in total were shipped).
So, this is the quandary for Apple and investors this morning. Should Apple be punished for making huge investments in an increasingly competitive environment? That answer is clearly "no." But, should Apple be punished for not making these investments sooner? That answer is a "maybe." Or, should Apple stock be punished because it's losing market share to Samsung (smart phones) and Amazon (tablets)? Well...if that is the case the answer is "yes."
For now, I think Apple is still a cheap stock and the Company is making all the right moves. They need to rekindle the magic with investors and that may only come through baptism by fire (no...not Kindle Fire).
AMZN - Amazon posted its first quarterly loss since 2003, largely because of massive losses in Livingsocial. Electronics shined especially in North America. Like Apple, the Company is spending a lot of money on research and development or I should say investing. Technology spending up 55% during the quarter as the Company readies the Kindle Fire HD for release on November 20th for $299.00.

This is a huge gamble for the Company but one that could pay off huge. In other words, there is no question it's a move the Company should be making and a move investors should applaud even before the results roll in largely because Apple continues to ignore the threat.
Earnings Continue To Be Mixed Bag
David Silver
This has been a crazy week for earnings, with more than 100 companies reporting their quarterly results. It has been a mixed bag with some old stalwarts reporting strong numbers and more importantly increasing guidance (think PG, which surpassed $70 per share for the first since 2008), while many other companies are coming up short on the revenue line. Even more importantly, guidance has been lacking. 3D Systems (NYSE:DDD) reported strong earnings yesterday, with Lear Corporation (NYSE:LEA) beating on both the top and bottom line, while Goodyear Tire (NYSE:GT) moved in the opposite direction, missing on both the top and bottom line and guiding a little lower.
3D Systems Corp. (DDD)
Shares of 3D Systems Corp. DDD made a phenomenal jump during yesterday's trading session, after the maker of 3D printers posted excellent financial results. The Company reported earnings per share of $0.32 on revenue on $90.5 million, both of which were higher than the Street's consensus calling for earnings per share of $0.27 on revenue of 87.3 million. Management also provided very encouraging guidance for the current fiscal year, calling for earning per share in the range of $1.20 to $1.30, which represented an increased from its prior guidance range of $1.00 to $1.25 and also had a midpoint that was higher than the Street's $1.12 estimate. Quite surprisingly and contrary to what great majority of companies had been providing in term of revenue projections, 3D Systems actually provided upside revenue guidance, stating that it expects revenue in the range of $345 million to 365 million, which was higher than its prior guidance of $330 million to 360 million and higher than the Street's estimate of 343 million.
According to management, Cube 3D printer orders continue to exceed their expectations, and are now available for immediate shipping. At the moment, management has been succeeding in growing its customer base, but it does not expect to see the effects for the rest of this year. However, momentum has been building and is strengthening in part as a result of its recent acquisition of Rapidform. While the company is still facing some headwind resulting from macroeconomic factors, it expects to continue to benefit from robust R&D spending by its customers worldwide.

Lear Corporation (LEA)
Lear Corporation LEA released its third quarter operating results and the Company actually increased its net income forecast, however, the stock isn't really moving this morning. Global vehicle production rose 2% during the quarter, Lear said, with automakers building more vehicles in every major global market, save for Europe. Sales at the seating business fell 1% to $2.7 billion as vehicle production in Europe slides, but also because of the strong U.S. dollar. But sales of electrical power management systems jumped 14% to $877 million, as the company added new business. The Company said it now expects its 2012 adjusted net income to total between $520 million to $560 million, up from its previous prediction of $510 million to $540 million, mainly as a result of lower tax expense; the Street had forecasted $531.6 million.

Goodyear Tire (GT)
Goodyear GT was another company that came up short with its current quarter's results, mainly as a result of slowing sales in Europe (shocker, I know). Tire unit volumes were down 12% year over year to 41.8 million units. Currency was a significant headwind during the quarter income in Europe, the Middle East and Africa plunged almost 60% to $105 million. Operating income also fell in Latin America but rose slightly in the company's Asia Pacific region. Goodyear also said its global revenue per tire rose 5% over a year ago. Goodyear said it expects fourth-quarter tire sales to remain soft, 3% to 5% below the 2011 figures. For the full year in North America, the company expects the consumer replacement tire market to fall 2% to 3%, but demand from automakers for new-car tires will rise 8% to 10%. The commercial tire replacement market is expected to fall 6% to 8%, while original equipment sales will rise 6% to 8%.

GDP
By David Urani
Gross domestic product for 3Q12 rose 2.0%, above the 1.9% expectation, and that's a decent increase from the 1.3% posted in the second quarter. Personal consumption rose by the same amount. We know the economy is rough, and this far into the recovery, you would like to see more but it really could have gotten worse between 2Q and 3Q and perhaps it's a relief that it didn't. Obviously it's global issues that are largely holding back activity at the moment and that continues to be reflected in the numbers, with exports down 1.6% and imports down 0.2%.
Interestingly there was a big boost from Federal government spending, which increased by 9.6% after four straight declines. That contributed 0.7% to overall GDP in the quarter. The rebounding housing market is also proving to be a lift to the nation, with a 14.4% increase in the quarter, following increases of 8.5% and 20.5% in 2Q and 1Q, respectively. Housing added 0.3% to the total GDP line.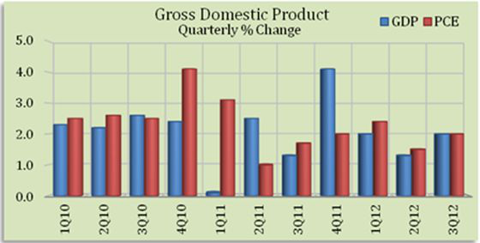 Final Thoughts
At 2.0% the number beat consensus by a tenth of a percent. It's not the kind of thing you rave about especially knowing that so many of these GDP numbers over the past couple of years get revised lower. We are skimming the surface and nowhere near the potential of the nation. The Street was able to rationalize the numbers enough to stem a pre-opening free-fall. Although I think reversals in Apple and Amazon are helping the market more.