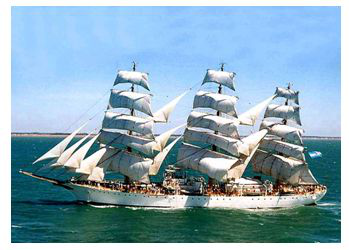 I was reading yesterday where Cristina Fernandez de Kirchner is rallying her fellow Argentines over those evil
It was a heck of a blow to the pride of Argentina but gave Kirchner the kind of ammo needed to take attention off her scandal-ridden government.
The ARA Liberted hit the high seas in 1962 and began winning awards immediately. In 1966, it set a record for transatlantic crossing using only sail navigation. In fact, the ship has continuously won international awards. Singer plotted and waited for the ship to stop in Ghana on a training exercise (it's now a school ship for naval cadets) then asked a court to seize it. A judge agreed, and the $10.0 million ship was held against the $1.6 billion owed to Elliott. Yes, it's a drop in the bucket but sends a message; maybe planes and other assets could be seized next.
In the meantime, picking up on anti-financier anger from France to America, the people of Argentina are being sucked into A) ignoring the fact they borrowed money and should pay it back B) keep in office a corrupt leader whose actions will keep inflation high and the cost of raising money out of this world. Argentina once boosted one of the strongest economies in the world. Even today, it has the largest GDP per capita but its clumsy handling of debt means money is pouring into other South American nations at significantly faster rates.
Argentina defaulted on $95.0 billion in debt back in 2001 and has offered $0.30 on the dollar as compensation. Singer wants more and continues to hold out. In the meantime, a New York judge has ruled Elliott has to be paid when other debt holders that agreed to haircuts are paid setting up a showdown next month. The moral of the story as America continues to pile on the debt is that once the dam breaks, greatness remains elusive for decades... maybe forever. The other moral of the story is the more our leaders dog lenders, the less respect they'll get around the world. At some point, it will not stop with "vulture funds," but any gringo looking to take food out of the mouth of babies and babes.
Still Haven't Found What I'm Looking For
I have spoke with the tongue of angels
I have held the hand of a devil
It was warm in the night
I was cold as a stone
Bono
In addition to unions, other soak-the-rich because they're evil types, and corporations-aren't-people so we can destroy them without hurting anyone, President Obama hooked up with Bono of U2 fame. I love the music but hate the hypocrisy. U2 moved its businesses from Ireland years ago to avoid paying taxes. Moreover, the ONE Foundation created by Bono is nothing more than another pity Africa and make us feel better organization that rich socialists cobble together to assuage their guilt.
Consider that ONE raised $14.9 million in 2008 and distributed $184,732 to charities. The rest of the cash went toward salaries and administrative work.
These organizations are also around to try and embarrass western nations especially America. The fact that western nations have given poor nations over $2.0 trillion over the past fifty years never seems to be mentioned or appreciated. It's the same within these nations where the richest people and corporations pay mountains of taxes only to be critiqued for not doing even more. It's a ridiculous joke and takes all the attention off the fact that human beings owe it to themselves to change their lives.
All these would-be nice rich people that can't wait to dig into pockets of others with less wealth in order to balance out a sense of guilt or a fit of anger are the biggest phonies in the world. They speak in the tongues of angels but their hands go into the pockets of well-off but not rich people.
Get past the glitter and the smiles and the talent and they are as cold as stone.
Today's Session
Strong earnings from Abercrombie & Fitch (NYSE:ANF) and Cisco (NASDAQ:CSCO) are helping but seen as singular stories aided by lower expectations. The market is grasping for something to divert attention from the fiscal cliff stuff.
There is value in the market; there is near term risk of Washington blowing it, and there is longer term risk of the administration destroying corporate profits. These dynamics lead to sessions like yesterday where the market was down then up then down.