Get Free Report The March Newsletter is very important as an educational tool. I'm offering it for free.Click here to download PDF
I cannot give them my confidence; pardon me,
gentlemen, confidence is a plant of slow growth in an
aged bosom; youth is the season of credulity
-William Pitt
Earl of Chatham
It's kind of weird; part of me likes it when there is little confidence with respect to the stock market, especially when the experts are looking down their noses. Of course, I'm not a big fan of most of those experts anyway because most are not in the trenches. Really, most analysts that come on television or radio don't feel the pain of bad calls unless they are so off the mark they're called on the carpet. But how often does that happen-really? I'm watching guys upgrade stocks up a million percent and downgrading those that have already been in a funeral procession.
Don't get me wrong, this is a humbling business, and we all have losers, but there are so many people detached from the actual users of their work its investors have fewer separations to Kevin Bacon.
Yet these folks are pretty much smug, pretty much wrong, and pretty much late to the game. It is for this reason I get nervous when the experts jump on the bandwagon. Yet that being said the experts move markets, and it is wonderful being positioned ahead of a nice push from Wall Street. So, I like when confidence on Wall Street is piecemealed coming in inconsistent waves with the overarching consensus being negative ... or as they say on the way to their unique form of mea culpa "cautiously optimistic." That's where we are right now, waiting for the bandwagon to fill up-it won't happen overnight but another 500 Dow points and there will be a stampede.
Yesterday Credit Suisse made a complete 180 degree turn and sees all the reasons for being bullish. Ugh ... hope their rivals take longer to see the light.
Consumer Confidence or Living for Today?
That said the confidence I'm more concerned about is that of the average working American. There are all kinds of formal measures of confidence and for the most part they're saying the same thing- better than worst case but far from the swaggering nation worthy of envy from the rest of the planet. I look at a variety of things from marriage rates, birth rates, new business start-ups, home purchases, belief in God, belief in capitalism and whether our kids are dropping out or staying in school. It's not good enough to just look at these numbers but to put them in context with economic reality.
For instance trends in savings and what we save for played a big role in my calling this period in American history - Dropout Nation.
People not only began to save less during the Great recession but also save for different things.
Savings for these things declined:
* Home Ownership
* Retirement
* College
Savings for these things increased:
* To Purchase stuff
* Liquidity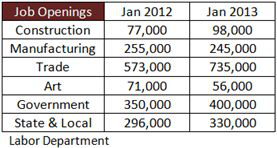 This is clearly a sign of no confidence. A sign of little faith in the future, so why waste time saving money and if you do save it is to buy that one-in-a-lifetime handbag or ride. But under the right conditions low savings points to confidence. In an environment where there are plenty of jobs and people suspect there is a lot of prosperity, confidence abounds.
I don't think the nation is at the point of low savings being a sign of confidence. But, it could be heading there as there are more job openings. Before that happens there has to be fewer layoffs and preliminary results for January of 1.51 million layoffs were lowest in 12 years.
The savings rate exploded in December to 6.4% which seemed to be the exact opposite of confidence - it was a combo of fear and anxiety. Then the number plunged to 2.4% in January and I'm back to thinking it's akin to throwing in the towel. Even though there were fewer layoffs the jobs opening needle is barely moving (see table). Construction looks as if it has bottomed, and government hiring on all levels is bouncing back (no that pesky pension time bomb hasn't been defused); trade looks good, but manufacturing is stuck in a rut. How long does it take to kick off a Renaissance? I'll be watching this closely, but remember real confidence is a plant of slow growth, and I'm not even sure if the seeds have been planted yet.
https://www.wstreet.com/user/register.asp?source=3