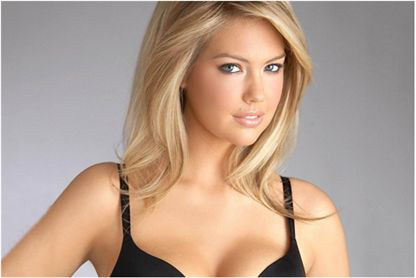 Saying "runway modeling is not what I set out to do," Kate Upton actually wants it all! I think it's great for anyone to want it all and to admit it. It's really great to hear that, from someone that's in the public eye.
Lefties seem to be against fossil fuels, corporate profits and religion but fly in private jets, make gobs of money and worship anything but Christianity. It is all so hypocritical and counterproductive.
I'm so tired of movies from Hollywood that extol the virtues of not wanting it all or not coming in first or suggesting beauty on the inside only matters and of course the notion we shouldn't judge others.
Those are the same people that make movies where the lead actor is also director, co-writer, producer, and key grip. These are the same people that fight tooth and nail to win trophies and go under the knife at the first hint of aging. As for judging others ... they do it better than any other group in the nation. That's the point-at least be honest about it all instead of being fake on and off the screen. That's why comments from the current Sport Illustrated swimsuit edition cover girl made me smile.
Forget just doing the runway thing, Kate wants to front a major fashion campaign and even possibly launch her own lingerie line.
She's making movies and has been hanging with P Diddy, so maybe music is in the mix as well. No matter what happens, I have a feeling she'll be successful. For me the more important aspect of Kate Upton's comments last week is not being embarrassed to admit wanting it all. When asked about all her goals, Upton said: "I'm American ... more is more!" That's honesty in the land of the free, home of the brave. Everyone should embrace their inner Kate Upton and pursue all the wonderful things America offers.
Big Business, Big Government, Big Disregard for Your Personal Liberties
That's what it's all about, right, being free and brave? It's what made America great. Yet, it feels like we've given up a big chunk of both under the guise of political correctness with an assist from technology.
Big news coming into the week is abuse to our customers and citizens by Bloomberg and the IRS. Apparently Bloomberg used its famous terminals to keep track of activities and moves made by certain people for the benefit of its media operations. The IRS on the other hand began targeting the Tea Party and other conservative organizations back in 2010 and the practice only became worse over time and into the teeth of Presidential election.
I have written a lot about the massive lack of trust with respect to this stock market rally, but it's really part of a larger issue of trust. We began the week with chilling stories of IRS targeting the Tea Party and other conservative groups, Bloomberg spying on users of its terminals and the Department of Justice forcing AP to help it track hundreds of reporters. It seems like a kind of McCarthyism for the new millennium has arrived but the tables have turned.
Economic Data
Here at home, import prices last month fell for the second consecutive month as costs declined for imported oil, serving to remove inflation pressures. According to the Labor Department, overall import prices dropped 0.5 percent in April, in line with the Street's consensus. These prices have been down 2.6 percent in the past 12 months, as tepid economic growth around the globe has reduced demand for commodities, including oil, putting downward pressure on costs. Perhaps the silver lining behind the result is that it may give the U.S. Federal Reserve an additional reason to maintain it easy monetary policy. The price of U.S. exports dropped 0.7 percent after falling 0.5 percent the previous month.