Yesterday, Tiffany & Co (NYSE:TIF) posted financial results for the first quarter 2013 that blew away Wall Street consensus. By now most know my grand economic thesis and reason for bullishness over the past several years has been based on global peace and global prosperity. I do not think the world has ever been this peaceful with respect to wars and killing, nor has it seen prosperity and economic hope this widely dispersed.
For some reason, I still do not see or hear many analysts on Wall Street mention these factors. Instead there is the legitimate argument about valuations of American companies, and there is the heated debate that this is all just the byproduct of money printing. Well, those profits are real but smart companies long ago shifted the focus to growth outside of the United States. As for the Fed, there is an impact and it may become greater as equities become the only game in town, but there still isn't a bum's rush of Main Street excitement about stocks, and institutions are still holding bonds.
In addition to American know-how, another export that's worth investing in is American customs. Hollywood is a giant beneficiary of this trend but so, too, is Tiffany. That's because the rest of the world is embracing diamond engagement rings-big time! Tiffany struck gold outside the United States initially in Japan, which became more important than the domestic market. However, two decades of lost economic growth made the Land of the Rising Sun a liability rather than a hot growth asset. Like any smart business, the company began to spread its wings around the globe.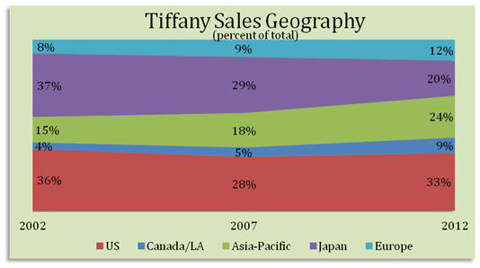 Over the years, America and Japan became less important to success, and the rest of Asia and now the Middle East play critical roles. A big reason for this is the adoption of engagement rings in those nations.
"I Do"
The engagement ring was first seen in ancient Egypt and then in Rome where a small key was also attached. Romans were smart to understand how matrimony strengthens a nation and increased wealth as the key stood for unlocking prosperity, economy and family. Later in 1215, Pope Innocent III established a waiting period between the promise of marriage and the ceremony of marriage. But, it was American diamond executives who back in the 1930s began promotion of the diamond engagement ring, and the rest became history.
"Diamonds are a girl's best friend!"- Marilyn Monroe
Note: During the spring and autumn wedding seasons in Japan, the Shinto ceremonies are so expensive (renting shires, silk kimonos, etc) that American ceremonies are more attractive.

Same store sales (constant currency) in Americas +3% (NYC Flagship little more because of Great Gatsby), Europe +6%, Asia-Pacific +9% and Japan +21% underscore problems in America which includes Latin America (where I bet same store sales were up more than 3% offsetting problems in the United States).
The upshot is you have to own companies with tentacles around the world and with improving business in America. Tiffany & Co is a major brand that has come up in the rumor mill as a possible takeover candidate (along with Michael Kors and Tory Burch with Louis Vitton as the would-be suitor). Tiffany's CEO was extremely cautious about domestic sales and no longer will management break out sales numbers for the NYC flagship location. I've said for a long time the company needed to freshen up the look of its 57st store.
Our subscribers do not own the stock, but it's on my screen, and I'm watching volume vigilantly and from time to time I'll visit the flagship store to see if they've changed the carpet.
Confidence Yes ... Cocky No Way!
Consumer confidence came in at a five year high, and coupling this with a report that housing was up more than 10% served as a one-two punch, sending stocks soaring out of the gate yesterday. The reaction was curious in the sense that last week the narrative had supposedly changed and the street was rooting for bad news so the Fed would continue to print money.
Of course at some point, good news on the domestic economy has to carry the rally baton, and I think sooner rather than later. Just as it appeared, the Street was willing to celebrate good news, a closer look pointed to consumers that haven't been moved by Ben Bernanke with respect to unbridled optimism. Many people are spending money in part to zero returns from savings accounts, but Main Street isn't taking on gobs of debt outside student loans and auto sales.


Americans are far from cocky about the economy and certainly not euphoric about the stock market. Yes, the market acts euphoric on thin volume and sometimes flimsy news, but there is no evidence the masses are pouring into stocks. This presents a conundrum which played out yesterday. An improving economy that's not skyrocketing enough to shake the Fed gets us back to that sweet spot for Bernanke but confusion for everyone else.
I'm convinced there is too much hatred of the rally for it to stumble too badly. However, a correction is long overdue, and I'm trying to be ready for it yet exposed to names I think have best risk-reward ratios. This means taking some profits too early rather than risking losing them all but also cleaning up on losers as well. This is what every investor should be doing right now. Raising cash but also making sure to be in great names that are buys on dips not sells.
Today's Session
I'm not hearing much on why stocks have been under pressure all morning, but there are rumblings out of Europe. Tell me which of the following news items is worst:
A. EU looking other way, will allow waivers for France, Spain and Netherlands on 3% deficit limit
B. German unemployment increased 21,000 versus estimate of 5,000...up four straight months
C. UK retail sales down at fastest pace in 13 months
D. IMF lowers China GDP estimate for 2013 to 7.75% from 8.0%
The above question is to prove a point that we are too focused on proving China's economy is a lie rather than fixing our own economy. In the meantime, a Chinese company is trying to buy Smithfield Foods (NYSE:SFD) this morning for almost $5.0 billion. I wonder if they'll pay in phony money or gold.