MAIN STREET TAKING MORE OF THE BAIT - By Charles Payne
Please Note: Blog posts are not selected, edited or screened by Seeking Alpha editors.
7/8/2013 9:02:18 PM Eastern Time
You didn't hear much about this on television or even the wires, but Ben Bernanke got good news yesterday when consumer credit data for March was released late in the session. People are beginning to use credit again. Sure, non-revolving debt has held steady with student loans picking up the slack from mortgage borrowing, but households had been very cautious about using credit cards and content with simply spending most of their paychecks only. We aren't talking runaway borrowing and use of debt but enough to suggest the train is leaving the station.
Anyone that remembers interest rates in the early 1980s can only chuckle when talk of 4.5% mortgage rates spook markets. Finance rates on consumer installment loans have never been this low, and it is simple logic that with $85.0 billion a month in asset purchases and zero-percent rates demand for credit had to kick in sooner or later. Still, people aren't falling all over themselves to use credit cards, buy a new home, or add any other collection mail to their boxes. The Street was looking for $12.5 billion but saw $19.6 billion, up from $10.9 billion a month earlier.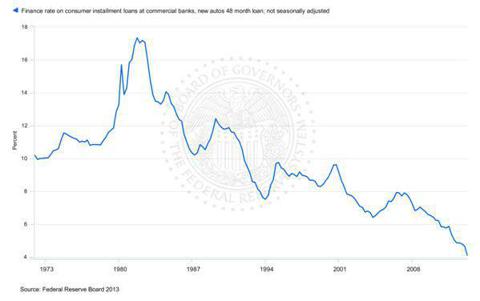 Plastic Yes Debit Yes
It is routine to see people use a card to pay for coffee, but a few years ago I thought it was nuts, especially if it was a credit card, but it's normal these days. I don't say that because I now have gotten into the habit as well, but people were and still are using their debit cards, which massive volume still works for credit card companies but doesn't pour extra (read borrowed money) into the system. The Fed needed us to really charge it and we did a little more in May.
Revolving Credit +6.6 billion
Non-Revolving Credit +13.0 billion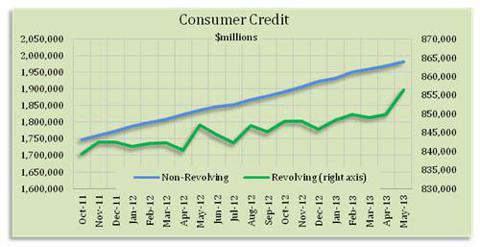 Revolving credit debt peaked in July 2008 at $1.0 trillion then promptly tumbled to a low of $834.0 billion in April 2011. It has slowly crawled back to $856.5 billion, but my guess is the Fed would like to see it come all the way back-suggesting complete unleashing of animal spirits. A lot has changed from that summer of 2008 when home prices were soaring and everyone was a flipper or buying houses they couldn't afford knowing they could cash out at anytime or vote someone in that could finagle cash for them as victims.
Of course now banks are reluctant to lend money, securitized assets are still winding down, but the federal government has become the biggest player in town. Backing student loans, our government has lent $462 billion in additional loans since 2008. By the way, you and I are on the hook if these loans go bad or are forgiven. I don't see that happening, as right now the government is making out like a bandit even with the spike in defaults. Would this qualify as reckless behavior, Mr. President?

Earnings Season and Grand Game of Expectations
Alcoa (AA) kicked off earnings season with a slight beat on the top and bottom lines, but the stock is stuck in zombie-land. On the other hand, two names underscore two things about the market. On one hand there's my fundamental argument that global prosperity has been an amazing driver of profits for American business.
This was underscored by WD-40 (WDFC), which beat with revenues of $93.1 million, +7% year to year. This isn't the kind of company one would think was "global," but the quarter reported last night will probably be the last time more than half total revenue comes from the Americas. Moreover, once inconsistency in China is ironed out, this stock should be an even bigger grand slam.

On the other hand Intuitive Surgical (ISRG) issued preliminary revenue guidance for its second quarter that missed badly. Just like WD-40, sales for the robotic surgical company improved 7% from the year ago period, but revenue of $575.0 million is well short of consensus of 4629.6 million-the stock is getting crushed. We have an open position in the model portfolio and studying the next move. In addition to missing this is a stock the shorts love to hate and they'll go for the kill.
There you have it-fundamentals move stocks and expectations move stocks.
Seeking Alpha's Disclosure: Past performance is no guarantee of future results. No recommendation or advice is being given as to whether any investment is suitable for a particular investor. Any views or opinions expressed above may not reflect those of Seeking Alpha as a whole. Seeking Alpha is not a licensed securities dealer, broker or US investment adviser or investment bank. Our analysts are third party authors that include both professional investors and individual investors who may not be licensed or certified by any institute or regulatory body.