They're calling it the "Large Retailer Accountability Act" that would force big box retailers to pay minimum wage of $12.50 in Washington D.C. Currently minimum wage in the District of Columbia is $8.25, which equals $17,160 a year. If that sounds low consider zero is a much lower sum and what many earn in D.C. now is significantly less. Take Ward 8 in Washington D.C.:
> 94% Black
> 38% poverty rate (highest in 30 years)
Washington has the third highest income inequality gap in America after Atlanta and Boston:
> Top fifth earn $473,000 (national average is $292,000)
> Bottom fifth earn $9,100
How good does $17,160 a year look to someone earning $9,100? How good does having any kind of job feel when you haven't had a job in years or maybe never (In Spain 20% of adults under the age of 30 have never had a job- never!)? How do you hone skills from getting up on time to learning and fulfilling responsibilities to paying for stuff earned by the sweat of your brow without some kind of entry level job?
How dare politicians behind this bill use the word "accountability" when all they're looking for is a way to shake down Wal-Mart, to make business a villain, to deflect from their shortfalls and to keep Americans tethered to government dependency. It's despicable that jobs and less expensive things like flat screen televisions and groceries would be denied to the less fortunate in Washington for a bunch of reasons - all political.
We're talking about Boomtown USA where unemployment is 5.5% because federal spending has doubled in the past year.
The haves are loving life, the have-nots are mired in the same muck as yesteryear but forced to watch prosperity around them. Not only are there a lot of haves in D.C., but five of the ten richest counties in America surround the District (see table).
The haves will not see their fortunes altered a bit without the three Wal-Mart stores on the drawing board. I guess their message to their poor neighbors, whom they never see but hear about, is:
"Eat cake and blame capitalism, republicans and greed."
And that's what the poor will do, eat bad food and hate on successful people instead of hating on the game of politicians, the politicians that get a free pass each time. In the meantime Washington D.C. will keep looking to tax businesses, as it already can claim the second highest per capital tax of all but one state in the nation.
Last night the DC city council voted 8-5 to hike the minimum wage on big box retailers, not unionized grocery stores and/or fast food restaurants. It's a sad day for the poor in the nation's capital.
This kind of campaign also skews reality for people with the least amount of work skills. By telling them they deserve more money it undermines nature or the natural reaction to need. The greater work skills, the greater the income, the harder you work the greater the income but these days people are falsely being told the least skill and effort results in higher income anyway. This has reduced individual accountability at work, even as expectations for more money increases.
A recent poll by Kelly Services (NASDAQ:KELYA) points to why western nations have fallen on slow growth and lost prestige. Individual performance isn't important anymore as people are getting paid anyway. So, it is absurd pay or no pay for the people that need jobs most in Washington.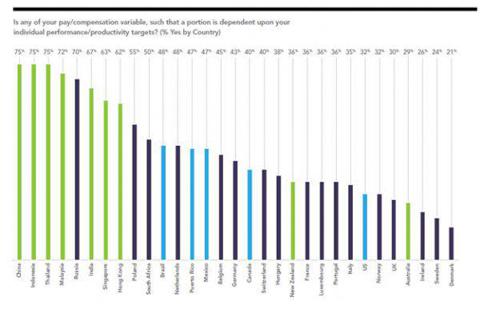 Ben In Relax Mode
The FOMC minutes seemed pretty clear to me. The Fed is going to taper its asset purchases but not hike rates for a long time.
Key Points
Growth of economic activity was projected to strengthen further during 2014 and 2015, supported by accommodative monetary policy; waning fiscal restraint; and ongoing improvements in household and business balance sheets, credit availability, and labor market conditions.
In their discussion of monetary policy for the period ahead, all members but one judged that the outlook for economic activity and inflation warranted the continuation of the Committee's current highly accommodative stance of monetary policy in order to foster a stronger economy recovery.
Then there was that presentation with questions and answers after. Bernanke let it be known a lower unemployment rate would have to be the real deal, not people fleeing the jobs market or a bunch of temp jobs which he said currently "overstates" the health of the labor market.
Bernanke seemed relaxed, and I suspect he's hoping it's contagious.