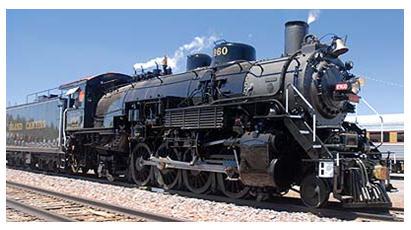 The greatest economy to ever grace the face of the planet has been reduced to getting by on the same kind of moxie as that Little Engine That Could, and that's a compliment because business could throw in the towel. Instead American businesses, big but especially small, continue to reflect the kind of optimism and hard work that's at the heart of the story of that little train.
That sort of optimism is also at the heart of the success of America, powered by optimism and hard work, inspired and underpinned by faith.
Shaken and tested since 2007, the economy continues to find ways not to implode. Moreover, business continues to seek ways around obstacles as part of the War on Success including the nuclear bomb that is the new healthcare law. Yesterday's Empire State Survey by the New York Federal Reserve on manufacturing shed light on the optimism part and also shed light on how huge the hit from the new health care law will be to those very businesses that must play a role in propelling the nation forward.
July numbers from the Empire State report came in better than expected, and unlike consumer confidence six months down the road, manufactures are even more optimistic about six months from now. There was a significant jump in expectations for general conditions, new orders and shipments over the next six months.

The survey underscores a serious issue with respect to employment. Even as jobs are up slightly the average work week continues to decline rapidly. This echoes what we saw in the last jobs report with its explosion of part-time work. Sadly, even if this doesn't turn out to be a jobless recovery, it will surely be the part-time work recovery. There's simply no way around it-the new healthcare law will destroy jobs even if it doesn't break the back or optimism of American business.
Changes to employment because of Obamacare
> 86.7% health insurance costs will increase substantially (50%) or somewhat
> 10.9% plan to outsource more
> 6.5% plan to fire or refrain from hiring
> 5.4% will shift from full time to part time to stay under 50 employees
In spite of it all American, companies are laying out big dough in preparation of things getting better sooner rather than later. Capital goods orders ex-aircraft and military equipment increased 1.5% in May, making it the third consecutive month. It's bittersweet that the three month advance is the longest since October 2011. Part of me thinks corporate America is ready to look beyond harsh policies and rhetoric of the White House in hopes the next three and half years are more or less a stalemate.
Conference Call
Common Mistakes in Investing
I've received a huge outpouring of people that would like to be on the call about investing. I'm going to do two calls. The first will be open to all interested in rules of investing. There is no reason anyone shouldn't be an investor in the stock market.
Yes, the media, poor government policy and the Fed have spooked you into staying on the sidelines in the end you have to be responsible for your financial health.
Time to figure it out for yourself because missing bottoms while waiting for bottoms and missing opportunities while worried about tops is folly.
The call is today July 16 at 2:30 PM EST
There are 20 spots remaining- it's free.
Email me at charles.payne@wstreet.com
Today's Session
The market has stalled as earnings are mostly beating, but there hasn't been a blockbuster result capable of lifting the entire market. This happens when the market happens to be at an all-time high. In fact, slightly higher or flat in response to earnings isn't a bad deal all things considered.
Goldman Sachs has the beat of the morning, $8.9 billion revenue and earnings per share of $3.70 versus $7.9 billion and $2.82 estimate.
Coca Cola (KO) is the disappointment of the morning and a drag on futures. Volume numbers underscore challenges in developed nations (and apparently wet weather the excuse from management).
Volume
Americas +1%
Latin America +2%
Eurasia & Africa +9%
Pacific +2%
Europe -4%