Question of the Day
Should the federal government step up to bail out Detroit from its current woes?
Yes
No
Not sure
I'll be Hosting Cavuto on Fox Business tonight at 8:00 p.m.
Now that market bias has re-shifted to the upside, there is a sense a big breakout move could be in the offing. Yet, this move might be as stealthy as this rally has been since bottoming in March 2009. Stocks have made an amazing move without fanfare. This week I suspect corporate earnings will move the needle more than economic data, but news on the housing front is critical. It's not an official mandate, but Bernanke has made it clear that housing is the key-people must feel like the transition is complete:
> From traditional money pit
> To money machine 2000-2007
> To owner's greatest nightmare
> To ... (fill in the blank)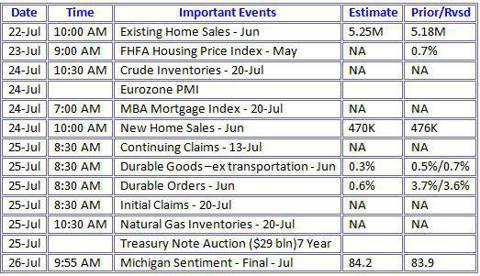 There are 896 companies reporting this week, and what I suspect is that investors will get a chance to further differentiate winners from losers. I'm not talking based on moves in the share price, but instead which companies have real business momentum. I have to say thus far I haven't seen the kind of guidance that promises a great second half of the year-that was the narrative for earnings from the first quarter, an otherwise horrendous earnings season.
The week before the next jobs report needs momentum built on economic recovery. Even Fed junkies understand the economy has to heal faster or the party is over.
Paris is burning
By the way, I will be following Detroit closely for many reasons, including that is it is a cautionary tale for the rest of the nation, although it could be too late. To hear the same kind of knuckleheads that led the debacle complain about the federal government going back to Reagan, the state and other factors without admitting this is largely a self-inflicted wound is baffling but worrisome, too. Manufacturing left Detroit along with most productive citizens as the town became a feeding frenzy for special interests, including public and private sector unions.
The Paris of the Midwest is burning ... is America next?
Today's Session
The big earnings report of the day is a dud as McDonald's has come up short of the Street's expectation, with the biggest factor being same store sales in the United States. The news slowed the upward drift of equity futures, but the market seems eager to allow more news to pour in before deciding on a true direction.