A GLIMMER OF HOPE - By Charles Payne
Jul. 25, 2013 10:43 AM ET
Please Note: Blog posts are not selected, edited or screened by Seeking Alpha editors.
Long/Short Equity, Portfolio Strategy
Seeking Alpha Analyst Since 2009
Wall Street Strategies has been providing independent stock market research since 1991 to individual, retail and institutional clients through a balanced approach to investing and trading. Charles Payne, our founder and chief analyst, is routinely sought after for his stock market, political, and general opinions by several prestigious news organizations. Currently, Mr. Payne is a contributor to the Fox News Network and Fox Business Network. He also hosts his own radio show on KFIAM 640 every Saturday from 2-4pm PST. Mr. Payne recently released his first book entitled Be Smart Act Fast Get Rich. Our all-star analytical team is called first when the media needs to know. We are regularly featured on several well respected finance-oriented radio and television programs such as Fox, CNBC, BNN, WSJ to name a few and widely recognized in the media as a leaders in the analyst community. In addition, Wall Street Strategies is part of Thomson-Reuters Consensus Estimates. Brian Sozzi is an equity research analyst specializing in the softline/hardline goods sectors of the retail industry for Wall Street Strategies Inc. Mr. Sozzi graduated Summa Cum Laude from Dowling College, receiving his Bachelors of Business Administration with a concentration in Finance and Accounting. Routinely sought after as a trusted point of reference for opinions and insight on the global economy and retail sector stock evaluation, Mr. Sozzi is a frequent on air contributor to CNBC, Fox Business Network, and Bloomberg, and is cited regularly by online/print publications that include Forbes, Bloomberg, The Wall Street Journal, Thestreet.com, CBS Marketwatch, Reuters, Seekingalpha, Associated Press, Crain's NY Business, Fortune, Barron's, AOL Finance, and the Financial Times. In 2009, Mr. Sozzi became recognized by Starmine as a top-ranked equity research analyst for stocks under coverage in such categories as EPS Estimate Accuracy and Industry Excess Return. Carlos Guillen is an Equity Research Analyst providing coverage of the technology sector for Wall Street Strategies, Inc. Mr. Guillen has had experience working in both the sell side and the buy side. Prior to working as an analyst, he was a Design Engineer for Lambda Electronics. Mr. Guillen holds an M.B.A. from NYU's Stern School of Business, and he has a B.S. in Electrical Engineering from Manhattan College. David Urani is a research analyst with concentrations on the homebuilding, staffing, medical devices, and logistical services industries. Along with providing institutional clients with up-to-date reports of individual stocks within his industry coverage, David assists the rest of the Wall Street Strategies research desk with timely analysis of vital economic data. A graduate of the A.B. Freeman School of Business at Tulane University, David earned a Bachelor of Science in Management while majoring in finance. With prior training experience running small businesses, he has an eye for key fundamentals that keep Companies running efficiently. David's insight has been featured in several outside sources, including the Fox Business Network, MarketWatch, and SeekingAlpha. Carlos Guillen is an Equity Research Analyst providing coverage of the technology sector for Wall Street Strategies, Inc. Mr. Guillen has had experience working in both the sell side and the buy side. Prior to working as an analyst, he was a Design Engineer for Lambda Electronics. Mr. Guillen holds an M.B.A. from NYU's Stern School of Business, and he has a B.S. in Electrical Engineering from Manhattan College.
Please Watch My Fox Business Special "Making Your Market" Tonight 8:00 PM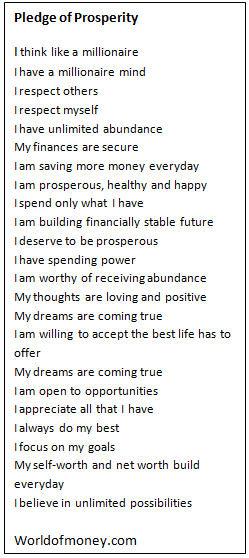 Yesterday morning I had an opportunity to visit with an organization called World of Money dedicated to teaching young kids, mostly inner-city youth, about money. At times watching these kids go through their lessons I was moved to having to choke back tears. These would be tears of joy and pride.
They were bright, engaging and optimistic. These kids understand they can control their own fates with a desire to learn and a determination to put skin in the game. I wish all Americans could have been there, especially those that have given up on themselves or other people.
It's the most ambitious program like this I've ever seen and it couldn't have happened a moment too soon. I'm exhausted with the anger and pessimism of America. I'm frustrated with the finger-pointing and complaining. I'm worried about the things that rally emotions, and calls to action, and the things that fall silently like that proverbial tree in the woods.
Except this is a giant sequoia and it's a lot of trees falling in all directions. The nation is currently a rudderless ship, a large ship riding waves instead of creating them, looking for a place to run aground.
The people that run World of Money rent school space and use a lot of volunteers. They aren't looking for excuses, enabling anyone to feel like they are victims or not deserving of earned success. The kids have enthusiastically bought into the program... me, too!
I left the school and hurried back to listen to the latest pivot on the economy from President Obama. What I heard was the exact opposite of what I saw earlier in the morning. I heard the economy is great on one hand because of President Obama, but not so great on the other hand because of (evil) big business and the Tea Party. I heard the only way to reignite America's greatness is to empower government to further tax success while picking winners and losers. I heard that you cannot dictate your own future so allow the administration to make things right.
I can get into the disingenuous nature of the speech and nauseating victory lap followed by a call to arms but for me tone was the real message.
Stop already with pitting us against one another. The White House encouraging animosity toward one group ("rich" people and successful businesses) simply green lights animosity in general.
(For the record the statistic about the top 1% having 400% more total wealth of the economy since 1979 assumes the same small group of people has simply hoarded money and opportunity. In fact the top 1% today is 95% different as wealth is typically squandered generation to generation and upward mobility of America takes people from the bottom to the top every day).
Seizing Your Own Future
As I watched these kids yesterday I thought most adults need to sit in these classes. They know about the Fed, the Treasury Secretary, the difference between simple and compound interest, and trivia like the only two non-presidents on US currency. These kids are learning about business and investment and the stock market. They have more faith and general excitement about being able to invest than more than half of adults. For those that are afraid, intimidated or simply not sure how to get started I'm hosting a special tonight on the Fox Business Network at 8PM "Making Your Market."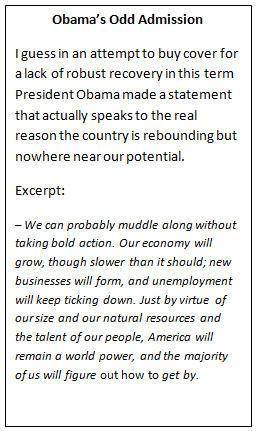 For those that think America's best days are behind it and only think stocks move up and down because of the Federal Reserve, check me out because you missed 9,000 points and you're going to miss more. You see, it's not about waiting for "the crash" or thinking America is going to crumble overnight. Greece took three decades of the kind of nonsense we've endured for last four years before it cracked. President Obama is right about the economy lumbering along but it's because his policies are designed to fundamentally change the nation, and if future salvos can be thwarted then we should avoid disaster.
Of course this isn't what America is all about but the DNA of greatness, while pushed back and dormant, isn't exhausted.
In the meantime it's nuts not to be the owner of several great American businesses and I want to give people the confidence to stop making excuses, stop being afraid, stop waiting for what they think is the perfect time. I'm going to connect the dots for you because whether you own stocks or not you're already in the stock market- Surprise!
More on the Speech
Yesterday President Obama invoked the word "inequality" more often than the word "growth" in a speech that ripped the nation even further apart. It continues to make excuses for people that aren't trying hard enough while dismissing those that have to the point of belittling them. The way the word is used says that those that have actually pulled themselves up are indebted by those that haven't. It's one thing to urge compassion and charity but this says that somehow the person that worked his/her way through college with a full-time job owes the person that dropped out of high school an economic reward.
When President Obama says "inequality" is morally wrong he's right if speaking about separate rules or separate laws governing the same people. If the outcome of effort between people results in one doing substantially better than others, it's the consequence of a system that's created the greatest country in the history of the planet. The irony is liberal policies that demand higher taxes, higher gas prices, more regulations and hurdles for businesses negatively crush those at the lower end of the economic ladder magnifying their position.
Moreover, liberal policies seem to breed income inequality because it presents more hurdles for people starting at the bottom to move up the ladder.
Here's a highlight of states with the most cities with greatest income disparity between two races (top 101 cities):
> California 21
> New York 16
> Illinois 10
> Texas 7
> Ohio and Connecticut 3
Sure, these are states with large populations but Alabama, Oklahoma, North Carolina, Arizona and West Virginia only have one city on the list. Source http://www.city-data.com/top2/h191.html
Then there's a report that compares US metro areas with countries with the worst income inequality (Gini) rankings.
New York City is equal to Swaziland
Los Angeles is equal to Dominican Republic
Chicago is equal to El Salvador
Detroit is equal to Philippines
San Francisco in line with Madagascar
Denver is same as Jamaica
Seattle is a fraction between than Nigeria
Source: http://www.theatlanticcities.com/jobs-and-economy/2012/10/high-inequality-us-metro-areas-compared-countries/
I sadly feel what President Obama is doing more and more is akin to inciting a riot. There has been an effort to cobble a coalition of "victims" that can fight back against the system - that system being capitalism. It's a very dangerous path and one we should all resist. Instead we need to instruct our children on how to be great at something because that's how you're rewarded in this world and especially this country.
www.wstreet.com/user/register.asp?source=3
Seeking Alpha's Disclosure: Past performance is no guarantee of future results. No recommendation or advice is being given as to whether any investment is suitable for a particular investor. Any views or opinions expressed above may not reflect those of Seeking Alpha as a whole. Seeking Alpha is not a licensed securities dealer, broker or US investment adviser or investment bank. Our analysts are third party authors that include both professional investors and individual investors who may not be licensed or certified by any institute or regulatory body.