THE RIGHT MISSION AND VALUE WORK MAGIC - By Charles Payne
Jul. 31, 2013 10:38 AM ET
Please Note: Blog posts are not selected, edited or screened by Seeking Alpha editors.
Since December 1999 Tractor Supply (TSCO) share price is up 5,900%!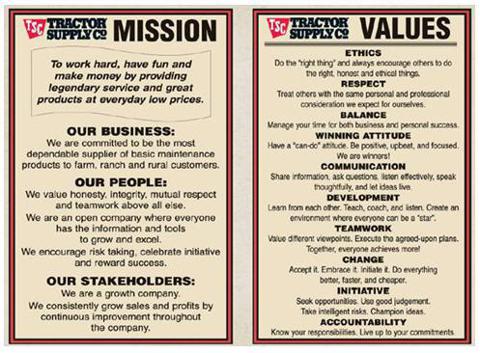 "Our customers are home, land, pet and animal owners with above average income and below average cost of living."
At a recent investor conference management of Tractor Supply explained who their customers are and in the process explained a big part of why the rich get richer and the rest are left watching from afar.
Spend less money than you make, and before you say that's impossible I'm going to say it's not. I see the clothes people wear, the watches, the shoes, the cars and the list goes on - Americans live beyond their means. There's a notion that we deserve it and marketers are quick to point that out but why do we deserve to have stuff we can't afford? For me the question is when did this mentality become so prevalent?
My mother who lived through the kind of hard times no Americans know now still will not ask me for anything. She likes nice things but would buy a new chest of drawers with a chip in it for a 50% discount over one without. I can't say that I'm the same and I think I had rough periods in life. Of course, living beyond your means doesn't mean you don't strive for what you want in life. But there are other components to getting what you want and leaving a positive mark on the world. Interestingly enough, Tractor Supply also hit that nail on the head with its list of "values" for employees and approach to business. In fact these guys may have found the right approach for making business, personal lives and even the country a better place.
Tractor Supply & Old School Values
Above is part of a recent investor presentation in which Tractor Supply explains its mission and values. This is an extraordinary American success story and I was struck at how much their values should be everyone's values.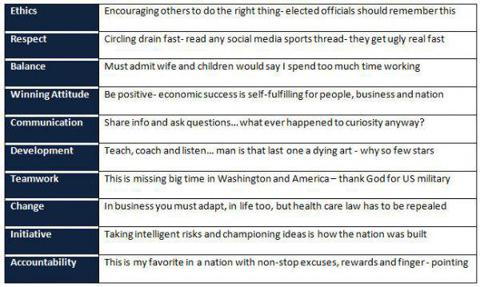 I hope somehow the commonsense ideas for running a successful business can find their way to Washington; especially the White House which somehow thinks it can point fingers at those "guys" as if watching from the outside. There are numerous lessons to be learned from corporate America which should be admired rather than scorned.
War on Business: Little Guy Gets Mortally Wounded
Yesterday President Obama visited a worksite of a company that pays some employees $11.00 an hour (far below the $15 his allies are looking for, or the $12.75 he's been touting) and is accused of crushing small business. I'm referring to Amazon, which many think killed most independent bookstores (hasn't been that great to large bookstores either) but created far more jobs and less expensive books and other products. Beyond the hypocrisy of the visit (Tractor Supply doesn't cover hypocrisy but surely it would say avoid at all costs to protect glass houses) it underscores something important.
There has been a war against business but the big boys with $2.0 trillion offshore and armies of lobbyists are weathering it better than Main Street. So it's no surprise that while the new tax proposal would eventually lower corporate taxes to 28% from 35% that only covers 2 million of 32 million businesses. The rest would pay at least 39.6% while the more successful are looking at 43.4% (Medicare tax 3.8% plus high individual rate 39.6%).
Still, small businesses continue to be the engine of job creation despite a horrendous economic backdrop and a competitive stacked deck versus larger business. By the way, there are thriving independent booksellers out there, too. This morning's jobs report from ADP shows the smallest of American businesses creating as many jobs as large business. The numbers for 1-19 and 20-49 are still below January levels (58,000 and 57,000 respectively), but firming since the employer mandate for the new healthcare law was shelved.

The 200,000 ADP number is the highest for 2013, which says so much for failed policy but also for an economy that long ago was built to last but been hamstrung.
This morning's GDP report blew away consensus but at 1.7% it's below the first quarter and still a rather pathetic number in the grand and not so grand scheme of things.
Seeking Alpha's Disclosure: Past performance is no guarantee of future results. No recommendation or advice is being given as to whether any investment is suitable for a particular investor. Any views or opinions expressed above may not reflect those of Seeking Alpha as a whole. Seeking Alpha is not a licensed securities dealer, broker or US investment adviser or investment bank. Our analysts are third party authors that include both professional investors and individual investors who may not be licensed or certified by any institute or regulatory body.