How did we get here ... 24 hours to a would-be government shutdown? For the most part there has long been a tug-o-war with respect to the framers' desire to limited presidential powers. In 1789, they made it clear Congress controlled spending with the observation "in consequence of appropriations made by law." Still, the Executive branch used departments such as War to run up bills on credit that eventually forced the hand of Congress. That's when lawmakers came up with the Anti-deficiency Act to make such willful actions criminal offenses.
Anti-deficiency Act of 1884 - Background prohibits federal employees from:
* making or authorizing an expenditure from, or creating or authorizing an obligation under, any appropriation or fund in excess of the amount available in the appropriation or fund unless authorized by law. 31 U.S.C. § 1341(a)(1)(A).
* involving the government in any obligation to pay money before funds have been appropriated for that purpose, unless otherwise allowed by law. 31 U.S.C. § 1341(a)(1)(B).
* accepting voluntary services for the United States, or employing personal services not authorized by law, except in cases of emergency involving the safety of human life or the protection of property. 31 U.S.C. § 1342.
* making obligations or expenditures in excess of an apportionment or reapportionment, or in excess of the amount permitted by agency regulations. 31 U.S.C. § 1517(a).
*
Federal employees who violate the Anti-deficiency Act are subject to two types of sanctions: administrative and penal. Employees may be subject to appropriate administrative discipline including, when circumstances warrant, suspension from duty without pay or removal from office. In addition, employees may also be subject to fines, imprisonment, or both.
www.gao.gov
There have been 17 shutdowns of government since 1976, they were largely non-events until the rules were changed during the Carter administration.
1976 to 1979
Six shutdowns
Average length 11 days
Dow sold off five of six shutdowns
Forcing Government Shut
Most shutdowns have been three days or shorter, and until 1980 none impacted a government that largely continued to function. All of that changed when Jimmy Carter's Attorney General Benjamin R. Civiletti made sharp interpretations of the Anti-deficiency Act that pushed agency heads into draconian personnel moves to avoid violation.
1. With some exception the agency head could avoid violating the Act only by suspending operations until the enactment of an appropriation.
2. Exceptions would be allowed only when there is "some reasonable and articulable connection between function of performance and safety of human life and protection of property.
1981 to 1990
Eight shutdowns
Average length 2 days
Dow up six of the eight shutdowns
Legacy of 1995-1996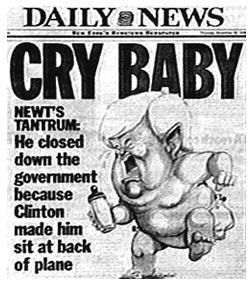 The shutdown of 1995 to 1996 was technically two back to back shutdowns that began at midnight on November 13, 1995. The S&P 500 closed at 592 earlier that day. When the shutdown finished on January 6, 1996 (a Saturday) the S&P came into the weekend at 616.
By February 12, the index was 661, or 11.7% higher than when the drama began. By January 2000 the index tickled 1,498, or 153% higher in just five years.
I've read where it's estimated the 1995-1996 shutdown cost taxpayers $1.4 billion due to closure of 368 national parks (loss of seven million visitor revenue), inability to process 200,000 passports, 30,000 visas daily and a pause in clean-up at 609 toxic waste cleanup sites. 284,000 workers were furloughed while 475,000 were allowed to work in non-pay status.
Most political observers say the shutdown cost Republicans the White House even as they gained two Senate seats. Newt Gingrich became the poster boy for whining and selfishness even though balanced government resulted in welfare reform and a strong economy for years to come. Of course, Bill Clinton proved to be smart enough to swallow his ego on occasion, which isn't a luxury offered by the current occupant of the White House.
In fact, President Obama spent much of the weekend golfing as the House passed a bill that delays the new healthcare law for a year and removes the tax on medical device makers. From a bargaining point of view, there is a chance the latter could be part of a permanent compromise, but it's unlikely the White House will blink on the signature accomplishment of the administration (their words not mine). With this as a backdrop and the GOP in the midst of a civil war many see a shutdown in the offing.
This Time Around
Much has been made about closing several departments of Federal government, which I think is a great idea. Interestingly the amount of worker exemptions gives us a good guideline on which departments are least valuable. This is a great time to discuss such things although as fodder it might be better mentioned when the White House and Congress are on the same page.

For now, I think the market will move slightly lower but more like a coiled spring looking for a relief rally that would be critical before Friday's jobs report.
Blame Game
The media is not reporting that House Republicans actually passed two measures to keep the government running; the latest with provisions to delay the healthcare law and strip out the tax on medical device companies. This is expected to be rejected by the Senate and sent back to the House where the next move might be to ask for a one year delay of the so-called individual mandate. Such a break would be equal to the break received by big businesses.
The same media is pushing hard to blame Republicans for the shutdown, but at some point it's like blaming the quarterback and not the coach... people will demand accountability from the guy they put in charge. This is reflected in a CNN poll that spreads the finger of blame:
Acting like "spoiled children"
69% GOP
58% Democrats
49% President Obama
Moreover, 49% place the blame solely or equally on the White House, which might be willing to share in a hit that masks the failings of Obamacare and the tepid economic recovery. It's amazing how little is understood of the law, except each week there is news of companies dumping workers on exchanges that for the most part are not ready for new plans that assure old medical relationships will be severed.
The problem is so acute even Saturday Night Live opened its show with a spoof on the confusion.
It must be said there is a distinct difference between health care coverage and access to healthcare. For the plan to work the poorest segment of the population (young adults) must fund coverage for the wealthiest (older adults) even as they continue a mass exodus out of the job market and other aspects of the American economy. Of course many people have already been impacted as their hours have been shifted from 40 a week to less than 30.
I suspect the shutdown will not last long, although the die is cast and each day would add pressure to hunker down more than the previous day. If it goes more than a week, I think the Senate will offer an olive branch accepting medical device makers as an exemption. In the meantime, the stock market is sending a clear message of disapproval and angst. The Street is known to like gridlock in Washington DC, but this is a different sort of beast. Economically, it's doubtful anything less than two weeks has a lasting impact on the economy.
Even a shutdown that goes longer than that probably wouldn't have a 1.4 percentage point impact on the third quarter as suggested by some.