The market is kind of stuck. Although bias remains to the upside, there is some anxiety over the next catalyst. Fast money has been rotating out of high Beta names, but the good news is lots of that cash has skipped the sidelines, opting to be parked in blue chips. There could be a silent catalyst out there that might make the difference for stocks across the board. I like what I'm seeing in the global economy even though BRIC nations are somewhat uneven, but I really like the stuff I'm seeing in Europe. From a very macro point of view, the best stock to gauge global economic growth is Boeing (NYSE:BA), which blew away consensus and surged to a new high yesterday.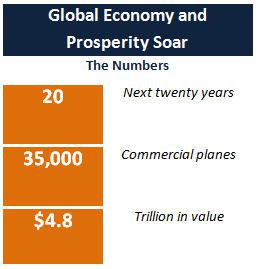 Boeing is uniquely positioned to take advantage of the global economy as it only has one real rival at the moment. That means the nearly $5.0 trillion in cash that will purchase 35,000 commercial airplanes will be something of a honey pot. Even as the company suffers endless embarrassment with the Dream-liner (recent Japan Airline contract loss was its first ever), it will make gobs of money.
In the most recent quarter, it delivered 112 of its 737 model, dwarfing the 26 and 23 deliveries of the 777 and 787. The 777 was first delivered in 1967 and is the world's best selling jet airliner in history. Margins must be healthy because earlier this year Ryan Air (RYYAY) got a massive discount on 200 planes that normally would have gone for $17.0 billion. It is speculated the airline paid less than $9.0 billion.
The story is demand, particularly from Asia that's locked into the system already. But now the wildcard becomes Europe. I hesitate to use the word "roaring" but there are enough signs across an eclectic array of industries to suggest there will have to be a lot of pencil-sharpening on Wall Street.
Signs Europe is Healing



The automobile parts maker posted yet another impressive quarter this week that saw operating margins increase two percentage points to 4.6% and EBITDA $147 million that was 8.7% of sales from 6.6% a year earlier.
Power train revenue climbed 11% globally, and the company took share in the light vehicle market in Europe.
Components increased 5% with the bulk coming in from aftermarket brakes, chassis, and wipers.

The global player in climate and industrial services saw revenue growth and margin expansion around the world with Europe leading the way everywhere except in residential revenue, where South America played the biggest role.


The movement of data is happening at a breakneck speed and rapidly becoming a good proxy for underlying economies. The global data center player operates in 31 markets, giving it good insight to the rise and fall of fortunes as measured by the need to build out more of the information super highway. Revenues were up 3% quarter to quarter and 11% year over year. All geographic segments performed well, and management finally beat the Street after back to back quarterly misses (this shouldn't be confused with slow growth or potential just missing a bar).
Europe, Middle East and Africa led the way with an 18.7% year over year increase in revenue.


Also in tech/media, Netflix (NASDAQ:NFLX) saw international streaming subscribers increase 88% and revenue 136% versus a 26% increase in both categories domestically.
In household appliances, Whirlpool (NYSE:WHR) saw stronger revenue growth in America (+8%) and faster operating profit growth in Latin America (+12.7%), but Europe blew away expectations and hints at becoming profitable this quarter.
There are more examples over the past few weeks of a rebound in Europe, or at least the very worst having passed. We are sharpening our focus to take advantage of this shift.