11/11/2013 10:00:57 AM Eastern Time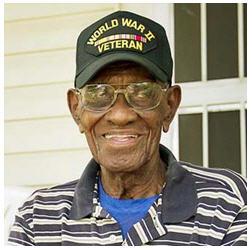 It's one of those days when the stock market is open, but we're reminded of so many more important things. I have to give a shout out to my father and all the other veterans including Richard Overton (pictured) who volunteered in 1942 and saw service in the Pacific and is now the nation's oldest living vet. He walks without a cane and stays busy trimming trees and other yard work.
Perhaps the most secret weapon against aging is his daily cigar and drink of whiskey. Before the week is over, I'll have both to celebrate all the vets and the freedom that is the United States.
Thanks to Richard and the Vets!
Last week investors could have celebrated, but I think the ride was so wild most didn't realize the Dow finished at an all-time high even as those only in the market because of Fed accommodation moved closer to the exits.
I don't think the Fed will stop being accommodative for months, and rates will stay at current levels for a couple more years.
Today's Session
The market looks to open slightly higher as data out of China hints at serious economy momentum, there which is great news for American businesses and investors. But this morning there is more evidence the US economy is moving along by actually moving along. Last week. we featured a piece on transportation stocks and their importance in adding credibility to broader market moves. This morning's earnings release from Arkansas Best ABFS is another positive sign for the economy. Keeping in mind the economy is a couple years behind where it could and should be.
ABFS isn't the behemoth that has coattails for a wider stock market move, but it's the kind of heartland name that we look at for signs and understanding of the economy beyond the ginned up numbers out of Wall Street and Washington.
(Note: our subscribers are already long ABFS.)
ABFS
Revenue:
Freight $471.0 million +4.6%
Premium Logistics $65.9 million +8.9%
Domestic & Global Transportation Management $28.7 million +65%
Emergency & Preventive Management $37.0 million +13%
Household Goods moving $30.5 million +18.8%
We'll keep looking at the macro and micro perspectives for a real pulse on the economy. In the meantime we aren't forcing the issue this morning.