Stocks are looking tired, as if looking for a place to sit in the shade and relax. The problem is, however, it's been a long time since stocks were allowed to drift without triggering anxiety. But in the days ahead of critical data this is normal action. In fact, I'm surprised there hasn't been more volatility. Be that as it may, more investors are bracing for some kind of pullback, although the doom & gloom crowd is looking for something akin to death and destruction.
Pullbacks are part of investing -even the occasional crash, which I don't see happening for a long time (although I'd feel much better if bears weren't becoming bullish; they've been spectacularly wrong for so long, why would they be right now?).
While everyone from economists to ambassadors and psychologists wait for their predicted crash to come true, real people are investing. These people aren't rabid bulls with dreams of owning their own private island in two years; they are real people looking for ways to improve their golden years.
On that note, most are underperforming the market because they have been sold a bunch of mutual funds under the guise of diversification.
Last night I did a few portfolio reviews, and one thing struck me as a cautionary tale that I have to share. Investors are being sold a bunch of different mutual funds with different names, but largely all are holding the same stocks. While I've seen worse examples of diversification, these were among the funds that I researched last night. Of a possible 50 different stocks combined the funds only held 27 different names. That's actually not bad; I've seen more egregious lack of balance.

MSFT and JNJ are in each fund, while WFC and PFE are in four, and GE, XOM and JPM are in three.
Interesting, I don't see Apple (NASDAQ:AAPL), as much as I once did; only proving how disingenuous these funds really are. Now is the time to own AAPL, but most of these managers will wait for a big pop, and buy it as part of a ritual known as window dressing...an attempt to pull the wool over the eyes of investors. How could funds which have such different goals, all essentially own the same stock and why are investors being told they're diversified?

It's part of the game to collect assets under management. It's a game based on low expectations, and even lower results. Heck, the hedge fund crew is significantly behind the market, and they actually promote better-than-average returns.
This is about reasonable expectations, but it should also be about honesty. Stocks that disappoint the street will be punished severely but they aren't automatic sells, because nothing that tumbles on emotions is an automatic sell. We are looking to maintain a balanced portfolio of stocks that we expect to be big winners. They all can't be, but we are looking for unrealized value on the cusp of big moves. I plan to continue to ride our open positions, which are already big winners.
The ride could get bumpy...hold on, do not panic.
When the real top gets here, shoe shine men, cab drivers, psychiatrists , politicians, and radio show hosts will be bulls; not a public raving in blind fear and anger (the real source of so much pessimism).
Yesterday's Session
As for the market, I didn't like weakness in automaker shares after they posted hardy rebounds in monthly sales that saw all the domestic players beat consensus.
I was happy with the very end of the session, as smart money began to nibble; after the close, J.C. Penny (NYSE:JCP) posted impressive same-store sales. The momentum stocks came back to life lead by Tesla (TLSA) which got the green light on safety from the Germans, who miraculously read all the crash and fire data so much faster than its US counterpart. (By the way, my congratulations to Elon Musk, and the launch of the first Space X commercial rocket. He's giving Bezos a run for his money on ingenuity and innovation).
Today's Session
Better than expected data from the ADP jobs report placed additional pressure on equity futures: I think that's great. The data has to get better and if that means additional near-term pressure then so be it...again let the weaker hands bail out. Keep in mind 215,000 jobs isn't great in the grand scheme of things, but the trend is very encouraging.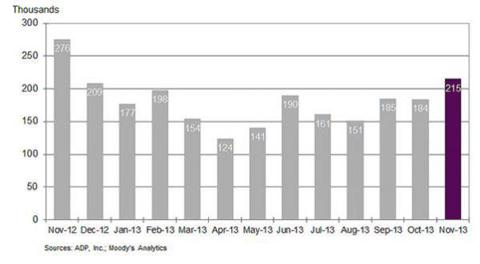 The blend of job creation is also encouraging with large businesses joining their smaller counterparts. I'm not sure how much of this is seasonal and it should be noted the tally is significantly lower than last November when 276,000 jobs were created. It's the expectations game and the realization that America is bobbing along but not drowning. Consensus was 175,000 so the news is seen as good, but in the grand scheme of things the overarching message is: "don't bury us yet".

The Global Economy
The US trade deficit came in at $40.6 billion helped by record exports which many will cheer as a plus for the domestic economy, but it is a bigger story for those nations that clamor for, and can now afford, American-made goods and services.
Exports $192.7 billion
Imports $233.3 billion