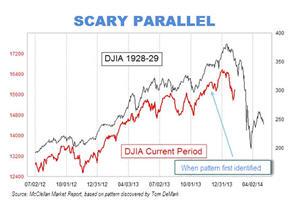 The fear industry, which goes hand in hand with the hate industry, is alive and thriving in the United States. So many people are down in the dumps and so easy to manipulate. Call it low-hanging fruit and call it big money too. It's an amazing backdrop for people looking to sell books, movies, or even so-called news.
In the end, it's often dishonest and a disservice to people.
A stock chart making the rounds is yet another example of how people are being told to hide in corners and brace for the worst. If everyone takes the bait, "presto," the crash happens. If only a few take the bait, there will still be period crashes in markets, economies, and life. Challenges can be mitigated but only avoided for so long, from time to time as part of this grand adventure called life, we stumble. In that sense, the fear merchants are always poised to say "I told you so." But there is a big difference predicting doom and gloom and another trying to trigger doom and gloom.
The two year chart comparison is incorrect. From January 1928 to the crash in 1929, the Dow was up 92%, right now the index is up 29% from January 2, 2012.
But it's really a silly comparison because it doesn't paint the proper picture of the market's climb during the Roaring Twenties where the Dow climbed 500% from 1921 low of 63.90 to 381.2. A similar move now would mean the Dow has to rally to 39,600 before those eerie similarities match. This cottage industry of doubt will only become more prevalent the higher the market goes as it means we are even closer to that fateful day. I'm not worried about the chart from 1929 (charts have a role in analysis but mostly as near term gauges on supply and demand and fear and enthusiasm levels).
The larger problem is the fact that so many fear that merchants have spooked the masses into missing a great stock market rally and given up on America. My father in-law was alive when the Dow hit 63.90 and $1,000 would be worth $254,000.Adjusted for inflation, the Dow 63 in 1931 would be $965 right now instead 15 times higher-the greatest hedge against inflation and poverty, but still beaten to a pulp by ideology from left to right.
Pulse of America
In the meantime, there is actually good news out there. News that doesn't get the kind of coverage it should even by the financial media. Corporate earnings and management guidance gives me a better glimpse of trends, potential and risks. There are three earnings reports from yesterday morning that point to a kind of burgeoning confidence in the economy not seen in opinion polls or government surveys.
Deere (NYSE:DE)
The company posted earnings that beat the Street and offered mixed guidance. The bad news is that agriculture will be lower this year for a number of reasons, including lower crop prices in Europe and tough comparisons in South America where 2013 was huge. The good news came from construction. For the quarter, operating margins edged higher to 6.9% from 5.5%, and for the new fiscal year, the segment is seen growing by 10%.
Owens Corning (NYSE:OC)
The company posted earnings of $52.0million or $0.44 a share versus $13.0 million or $0.11 from a year ago. The insulation business returned to profitability and has momentum going into 2014 including pricing power. Roofing is strong and should remain firm this year mostly because of new construction and some re-roofing. Cash flow is strong enough that management announced a $0.16 dividend, its first since 2000.
Packaging Corp of America (NYSE:PKG)
Back in the day, old school market watchers always kept tabs on corrugated boxes; the more boxes demand, the more things were being sold, the stronger the economy. Our economy is lighter than it was back then, but packaging is still a great anecdotal tool. On that note, the company posted record results for the quarter and full year. Containerboard business climbed 151,000 tons (with inclusion of recently acquired Boise), and inventories are lower. Cash flow improved 43%, and margins edged higher as well. Management complained a little about weather hitting plants, energy, and wood and transportation costs.
The stock market goes up and down and occasionally crashes, then you look up and it's at all-time highs and your economic condition is the same or worse.
Blame it on Weather?
Retail sales declined 0.4% month to month, sending an already weak futures market even lower. If you're sitting in an office from New York to Atlanta, a miss on retail seems like a no-brainer. Nonetheless with annual dips in the economy after brief bright spots, it's hard to completely write off this morning's news. I'm most worried about the auto space, which already faces tougher comparisons and maybe needs a shot in the arm.
Motor Vehicles -2.1
Furniture -0.6
Clothing -0.9
Sporting Goods -1.4
Department Stores -1.5

It's a miserable day outside, as well as for the market - we are not forcing the issue. Equity futures bounced a little from the initial knee-jerk reaction, but there has been downside bias all morning.