The script held to form with the early rally fading, but the depths of its decline was less than in previous sessions, and while certain individual tech names continue to struggle, some of the leaders appear to be gathering steam. Monitoring them will be easy, since most pierced key support levels that will now become key resistance points.
I don't think this morning's release on industrial production and utilization got enough press this morning, although I understand it's a number that must form a trend, and there have been so many false starts. Nonetheless, it's worth watching and noting to see if this could be the start of a trend.
Total utilization in March came in at 79.2 and was up from 78.8 in February. This is the highest number since June 2008.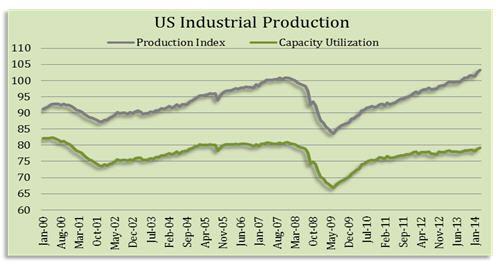 The market is also waiting to hear the question and answer session with Janet Yellen, who will have to defend her stance; there is no inflation and an unemployment rate of 5.2% to 5.6% reflects maximum employment and the end of Fed accommodation.
I suspect continued volatility, which is the kind of test we need to confirm smart money has begun to buy weakness.