"Probably for the next decade, the most dominate technology around the world will be coal..."
-Jeff Immelt
The fastest growing source of energy in the world last year was coal, and it is going to stay that way for a very long time. With that in mind, one has to wonder why President Obama has insisted on the gut-wrenching destruction of the coal industry that has costs thousands of jobs, and has sent electricity costs to all-time highs. This, combined with last month's report from the International Energy Agency, state that reaching the goal of carbon emission reduction would cost $45 trillion; which means that any notion of a global deal to stop using coal would be folly.
The fact of the matter is that President Obama's Jobs Czar just crushed his domestic opposition to fossil fuels in general, but coal in particular.
General Electric (NYSE:GE) is purchasing Alstom of France for $13.5 billion, so that they can be more competitive in the rapid growth of coal-fired power plants around the world.
America continues to heap more and more regulations on the coal industry, including demands for a so-called carbon capture system. This is a regulatory version of Bigfoot, since such a scheme only exists on paper, while the rest of the world is building their economies with the cheapest source of energy out there.
Ironically, real environmentalists have voiced concerns about the inherent risk of burying Co2 in the earth.
A Very Good Year
But now the days are short, I'm in the autumn of my years
And I think of my life as vintage wine
From fine old kegs
From the brim to the dregs
It poured sweet and clear
It was a very good year
'A Very Good Year'
-Frank Sinatra
It's no mystery that China and India will not sign deals to reduce their use of coal, and make no mistake, outside of the most jaded and aging developed nations the rest of the world is lining up to power with coal, and to take their shot at the good life.
While Alstom has struggled for more than a decade, it does have serious product offerings, including mills capable of crushing anywhere from 15 to 200 tons of coal per hour: that generates serious heat to steam turbines. The company has 20% of the world's installed base, and this has been a great year in the coal power plant business, outside of America:
* February 4, 2014: Alstom awarded contracts for two of five units in what will be Poland's largest coal power plant at €1.2 billion construction, which will power 2 million homes by 2019.
* February 7, 2014: First Northeast Electric Power Engineering, unit of China Engineering Group awards Alstom a contract to supply the parts for the coal power plant that should come online by 2016.
* April 9, 2014: James River Coal announces it is filing for bankruptcy protection, citing a sharp decline in production and revenue, largely caused by new regulations that have decimated the industry. The company's share price tumbled to $0.30 from a recent high in 2007 of $29.00.
* April 18, 2014: Bharat Heavy Electrical awards Alstom a contract to supply equipment for construction of a coal power plant in Jharsaguda, Orissa.
Moreover, it has been a very good year; coal is making money all over the world and GE wants in on the action. Alstom has 65,000 employees, but only 14% are in France, as 80% of its business is outside that nation, and 85% of its business is outside the United States.
In the meantime, according to the Heritage Foundation, the war on coal will have a staggering impact on the entire nation and every single household - especially lower income households.
From 2015 to 2023:
* 600,000 jobs lost
* $2.23 trillion aggregate hit to GDP
* $1,200 hit to average household
http://www.heritage.org/research/reports/2014/03/epas-climate-regulations-will-harm-american-manufacturing
Forget all the pie-in-the-sky stuff about redistributing the wealth to the poor nations in return for them pledging not to use coal, the up and coming nations are not going to pause to genuflect toward the environmental idolatry of the White House.
The War on Coal is a lie, and it has always been a lie...
Today's Session
The jobs report headlines sent equity futures significantly higher this morning, but it all faded away as details emerged.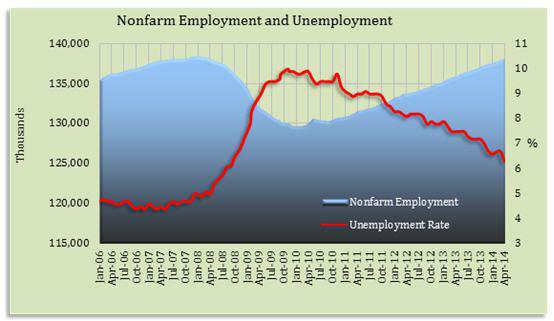 Positives:
> 288,000 net new jobs
> -287,000 long term unemployment
> 6.3% unemployment rate
> -0.3% U6 changes
Negatives
> 806,000 bolted from the job market - the participation rate is lowest since December 1978
> 3.5 million long-term unemployed
> 92,018,000 not in labor force
> 12.3 U6 number
The market is grappling with this number...and it should. I think it shows the resolve of the greatest economy ever, while at the same time it underscores the poor quality of the recovery.
This isn't a sell signal and I don't think it makes the Fed hike rates sooner, as average hourly earnings of $24.31 were unchanged from the prior month, and too many people are bolting the workforce.