The media has been focused on the sham elections in parts of Ukraine, but it is the election of a new leader in India, which could change the world.
There is a serious movement going on around the world, where people are looking to elect strong leaders, who promote self-reliance and greatness. We have seen this with Japan, where Abe was ushered into office, not only to direct his central bank to print money, but more so to kick the nation in the backside and rekindle memories of former greatness. In Abe's case, getting young Japanese men out of their parent's basements and into the workforce is a paramount goal.
Move a little to the south, and the world's fourth most populace nation is on the verge of electing Joko Widodo, affectionately known as Jokowi. His election platform is all about optimism, and about ditching the elites that held power through decades of crony rule. You can feel the spirit of America's old west, when Jokowi called of a "mental revolution," and you can hear the spirit of the new Tea Party, when he asked citizens to cut "deep dependence" on foreign investment and imported food.
---
"I suspect that the Brits believe in British exceptionalism and the Greeks believe in Greek exceptionalism." -
Barack Obama
---
While Indonesia will look for increased tax revenue (euphemism for higher taxes), Jokowi wants to focus on free markets to boost agricultural output, and he will cut fuel subsidies.
Hindu Chauvinist
Now India is prepared to move away from dynastic rule that has squandered their economic moment, built on the largest democracy and their giant middle-class.
Narendra Modi is not going to become India's next leader and go on a tour of the planet, bowing to world leaders and dismissing the notion that everyone is great -so everyone is equal. On the contrary, as governor of Gujarat, Modi developed a reputation for a serious strand of nationalism that saw mass riots and thousands of Muslims killed and displaced. The economy in his region, however, significantly outperformed the overall national economy.
Modi has demanded a strong mandate, and if exit polls are correct, that is exactly what he will have. Modi's economic agenda:
 
Free markets
Minimal state intervention
Create manufacturing jobs
Mass infrastructure projects

A social media superstar (Modi) has galvanized the nation's 149 million young voters in much the same way as Abe has in Japan, and Jokowi has in Indonesia.
There are legitimate concerns about nationalism boiling over, as chauvinism is essentially a feeling of superiority and glory, often at the expense of the minority and neighbors. All of these nations needed to take these risks. India and Indonesia have plodded along under dynasties; while Japan has been lost for two decades, after their quest for global economic conquest came crashing down. These nations need to feel and act great.
All three are embracing what America is throwing away- a sense of pride and determination to be great. No one is selling hope; they are selling a game plan. It is all about optimism, not whining. Sure, there is an anti-elitism backlash, but that is not the same as the efforts in America to dismantle capitalism. In fact, America is shielding its elites through Fed policy and cronyism. If exaggerated, patriotism is what it takes to light a torch under the masses, and to get them moving toward achievement, rather than toward food stamps; perhaps America could use a dose of this.
Fun Time!
Yesterday, Vladimir Putin rocked the sports world with an amazing game of hockey. He is not the first world leader with an incredulous sports achievement, sofill in the blanks for President Obama.
| | | |
| --- | --- | --- |
| Leader | Sport | Most Incredulous Achievement |
| Kim Jong- il | Golf | The first time he had ever picked up a club, the "Dear Leader" fired a 38- under par, 11 hole-in-ones. |
| Vladimir Putin | Hockey | Playing an all-star game yesterday, that included former NHL players, the Russian leader scored six goals and five assists, leading his team to a 21 - 4 victory. |
| President Obama |   |   |
Hey, Eastern Europe...You're Up the Creek without a Paddle...Russia has Assault Ships
"The Mistrals are not part of the third level of sanctions. They will be delivered. The contract has been paid and there would be financial penalties for not delivering it. It would be France that is penalized. It's too easy to say France has to give up on the sale of the ships. We have done our part!" -French Official
While the United States continues to talk tough about sanctions on Russia, our friends in Europe, save for Germany, have been extraordinarily quiet. We understand they need Russia's oil and gas, but that Russian cash goes a long way, too. How sadly ironic it is that France decided this week to go ahead with its sale of several warships to Russia, which will more than likely be stationed in Crimea. The Mistral warship is a versatile beast and is capable of carrying the following:
 
16 heavy tanks
35 light tanks
450 soldiers
70 vehicles
69 hospital beds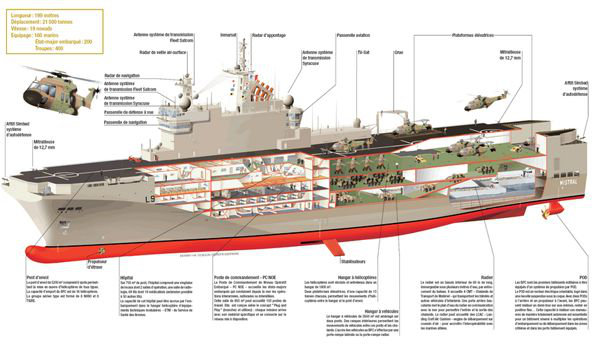 Moreover, it is a mobile assault platform, perfect for putting down disorders anywhere around the Black Sea. France got $1.66 billion for the deal that employs 1,000 workers. They had a chance to make a statement in deeds, rather than in rhetoric. While this is France, and I should not be surprised, it still is disheartening to see them not even act deficient.
Today's Session
Stocks are moving from flat to a little lower as earnings have been mixed, although Macy's (NYSE:M) continues its remarkable run. The big news is that the hot PPI number reflects more inflation at the producer level. While the key components came in ahead of consensus, we aren't near the point where the news impacts the Fed, but it does beg to question the continued low rates of treasuries.