Philly Fed Supplemental Survey

Manufacturing Labor Trends

Labor shortage
32.9%
Skills mismatch
45.7%
Vacancies remain three months +
32.8%
Education for Key Job Openings
College +
7.6%
Some college/technical school
53.0%
High school only
33.%
Less than high school
6.1%
Actions to address skills shortage*
Increase recruitment
65.7%
Additional training to existing staff
55.7%
Partner with educational institute
38.6%
Increase wages
34.3%
Recruit outside region
25.7%
Increase benefits
7.1%
Decrease production
4.3%
Last week, the Philly Fed report enclosed a supplemental questionnaire with a plethora of problems in the area of manufacturing, which spoke volumes. A serious skills gap has gotten worse over the past fifteen years. I have written about the millions of STEM (Science, Technology, Engineering and Mathematics) jobs that have gone begging in recent years.
I think this is important, because the nation is moving more and more to a so-called knowledge-based economy, where big opportunities and big incomes are waiting for those with the right skills. On the other end of the pendulum, are the jobs going begging in the manufacturing area?
Currently, an estimated 600,000 manufacturing jobs are available, and companies are seeking qualified applicants. This has been the industry number for the past three years; obviously, it is not getting better. The good news is that you do not need a college degree, but the bad news is that you need the skills in order to obtain one of these well-paying jobs in the manufacturing industry.
In the meantime, the 46% skills mismatch has created a shortage, and it takes a longer time to find qualified workers. There is a scramble to find skilled manufacturing workers, including increased training of in-house talent.
The skills shortage in high-tech and manufacturing is rooted in the same misguided policies that think taxing success, and hijacking corporate balance sheets and income statements is the best way to grow an economy. The same ideology looks to decrease competition in school, and to promote the notion of equal outcome, despite unequal effort. These elites have stripped schools of shop classes and dodge ball, but mostly they have watered down the curriculum to the point where students are prepared for neither college, nor the workforce.
Vocational training on the high school level has been discarded in much of the nation, and there is evidence that the money spent on education in America is administered inefficiently.
The elites love to compare America to European nations, as a reason to increase taxes and spending on wind farms, but when you look at the educational data, it seems like we are more financially committed to spending, but the money is not helping our students.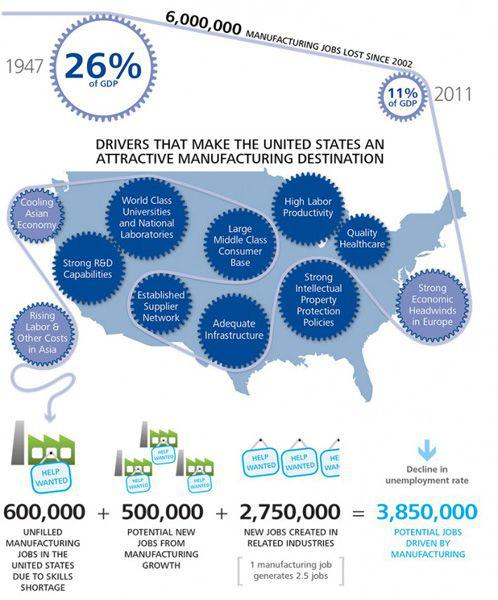 Spending Per Student
US $11,000 elementary
US $12,000 high school
OECD $9,313
Spending % GDP
US 7.3%
OECD 6.3%
Teacher Pay
US $53,000
OECD $45,000
College Degree (25-34)
US 43%
OECD 39%
With the cost of $115,000 per student, America pours more money into education than do any others on the planet, and yet we cannot find workers in high-tech or manufacturing. It is the quality of education, which is no longer rigorous and in fact, education is used to appease parents and constituents who are more willing to accept an "A" grade, than an a real education. In the meantime, the world is catching up. America is number five in the world for college graduates, ages 25-64, but number 12 for college graduates, ages 25-34. Students going to college in countries outside their own citizenship tend to choose Europe over (48% share) North America (21% share).
Note: students from other nations are choosing more and more to study aboard, but not in America, which fell to 16% share in 2011, from 23% in 2000.
Brown v. Board of Education
"In the 30 years I have been researching schools. New York State has consistently been one of the most segregated states in the nation- no Southern state comes close to New York. Decades of reforms ignoring this issue produced strategies that have not succeeded in making segregated schools equal. It is time to adopt creative school choice strategies to give more New York children an opportunity to prepare to live and work effectively in a highly multiracial state."
-Gary Orfield
CRP Co-Director
This week, a lot will be made in the decline in segregated schools in America, just in time for the 50th anniversary of the landmark Supreme Court decision. While the numbers are alarming, it should be noted that once again, those that generally throw stones are the ones living by different standards. In fact, I think major cities and states, like California and New York, would be better off celebrating the 118-year anniversary of Plessey v Ferguson. New York City and Los Angeles have the most segregated schools in America, as rich liberals bus their children to private schools, while playing the race card with everything southern.
In New York City, not a single public school in the Bronx has more than 10% white students. Besides the phony-baloney angle that promotes division and anger, there are troubling issues with the findings of study from UCLA. Separate does not always have to be unequal, but assuming that is the case, parents must stand up and demand more from their schools and themselves. In New York City, the same people fooled by a leftist agenda, are now lamenting the idea that their mayor wants to destroy the greatest hope for their children busting out of the poverty cycle- charter schools. Ironically, the report calls NYC charter schools "apartheid" schools for having less than 1% white students.
Interestingly, the students' scholastic performance at these schools is generally well above the city average. Therefore, in these schools the focus is not on color, but on curriculum and accountability. Unions that put their interest ahead of students have hijacked public schools across the nation. Moreover, they have the added benefit of being able to blame everything from Wall Street to the Tea Party, when their incompetence produces students that are not qualified for truly independent adulthood. (The teacher's union put tons of money into the Newark Mayoral election, and mentioned Wall Street in their radio ads.)
Parents need to be more involved, and even if your children do not have whiteboards or computers, make sure they are learning at the highest levels. Demand that they bring back shop class, and make sure they get the right equipment, before another round of pay raises. In the end, the job crisis is the result of a line of political thinking that really does not respect the intellect of the very people they claim to be helping.
However, as long as there is a conveyor belt of mediocrity, there will be a lot of people who will say that Burger King is unfair for not paying $15.00 an hour to work the Whopper grill.
Let us find the welders and computer programmers the way East Germany used to find and develop Olympic athletes. In addition, let us promote success, instead of excuses. Let us be America again.
The Market
I am extremely impressed with the market these last two sessions. Yesterday's reversal came early; in fact, normally there is an intra-day bounce that quickly fades into the close. Instead, it held up okay, but the big news is that now stealth rebound is in those oversold tech names. Most were rushed so badly that you could only call their condition serious, but stable. That is not how I would describe their business prospects however, and while they were ahead of themselves perhaps, trading on 2019 projections, they are not business duds.
Today's Session
Consumer spending has been robust but was moment of truth revealed this morning that we've written about numerous times. People have resorted to using credit as they are running out of savings to keep up the spending pace. The ICSC-Goldman retail report sees a sharp decline in week-to-week spending and we can't blame the weather like we did a few months ago. At the same time, year-to-year spending is significantly higher. This morning and last night, a number of retailers posted earnings results - they all missed.
Home Depot (NYSE:HD) missed on top- and bottom-line sales, but full-year guidance is in-line with the street. The CEO is calming nerves during the call, and the stock is reversing pre-open. Dick's Sporting Goods (NYSE:DKS) posted a massive miss and appears to be hit hardest out of the bunch (I haven't been able to look into the details). TJ Maxx (NYSE:TJX) will open lower as well, and that's troubling, since it doesn't provide much evidence that people are moving up the retail food chain. Then there's Staples (NASDAQ:SPLS) which many have written off as ultimately being a victim of the Internet (anecdotally, the one near me seem to always have empty parking lots).