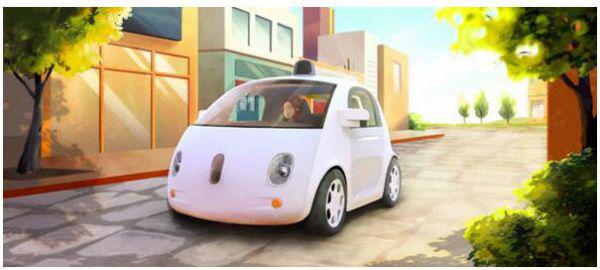 Earlier in the week, LoJack released its list of most-stolen cars, and for the fifth consecutive year, the Honda Accord topped the list as the most stolen and most recovered car, with the company's tracking equipment. Interestingly, only five of the makes on the list are among the top-ten sellers in America. What seems clear from the list is that there are two reasons and motivations for these thefts A) parts for those best-selling cars, and B) the need to style in the biggest ride on the road.
1. Honda Accord
2. Honda Civic
3. Toyota Camry
4. Toyota Corolla
5. Chevrolet Silverado
6. Acura Integra
7. Cadillac Escalade
8. Ford F-350
9. Nissan Altima
10. Chevrolet Tahoe
Which brings us to the new Google electric car unveiled this week, which can only be described as cute, but hardly designed for most Americans. In fact, if I were forced to sit in the compact two-seat ride, it would best be described as a confession booth - an updated tool, not unlike something used during the Spanish Inquisition. Yet there is a ton of excitement over this, the first of many iterations of what will one day be commonplace.
Look Ma...No Hands!
Just think of all the productivity we could squeeze out of the day not having to worry about traffic. Think of the stress-relief and absence of road rage. The whole thing is like a dream come true being chauffeured around. Nevertheless, it will be one more skill that will slowly fade from humans, like remembering phone numbers. In fact, the smarter machines become the dumber we become. Still, we gleefully welcome all innovations with open arms...even when they come with limited leg space.
We can feel like we did the very first time we rode a bicycle, and had the confidence to cry out to our parents to watch: "Look, Ma! No hands!"
All joking aside, this is turning out to be an exciting week for technology in general.
Real Companies...Real Potential
The week began with Work Day (NASDAQ:WDAY) posting earnings that beat the Street and sparked excitement missing from the stock after it joined other high-flyers in a deep dive a couple months ago. Last night, Palo Alto Networks (NYSE:PANW) beat the Street on the top and bottom lines, sending shares significantly higher. Of course, staying significantly higher is another matter. Shorts have been crushed over the past few years, but they have feasted like vultures on tech names this year.
Using the media and cockamamie excuses like there are too many IPOs, and revenues in the tech bubble, driven largely by companies with no products, no sales, and absolutely no earnings. The shorts staged one of the most impressive raids seen in years. The smoke continues to smolder, but there is also more clarity. The picture emerging is one that justifies initial excitement, even if these stocks obviously became overbought.
Add in moves made from larger names in the space, like Apple, Google, and Priceline, and the deadly stealth crash could yield to the kind of rebound that speaks to real good things in tech, including a bona-fide potential to make huge profits. Make no mistake, the battle continues, and it's not just high-flying tech names. Yesterday, Michael Kors (KORS) posted a dream earnings report, and the stock popped...initially.
After that, they started talking it down and the crowd jumped on board in typical form, trying to look "right" each second of each session.
The market will gyrate as it always has, but the next five years in technology look amazing, even better than the Google buggy.
Bait and Switch
There's another angle to the Google driverless car story that isn't being talked about because it gets scary. What happens to all the people that earn a living today from driving?
Uber is the app company taking the world by storm with its on demand service currently focused on personal transportation, but soon to branch into all forms of delivery. The private valuation of the company continues to surge by leaps and bounds as many see unlimited growth potential, especially in an ever-increasing urbanized world.
Uber Drivers Earn Nearly $100,000
The above headline is certainly eye-catching because in New York City, the average cab driver earns just $38,000 a year. I see NYC buses with adds luring taxi drivers with grandiose promises of huge paydays. So, what could go wrong?
Last year, Uber announced its intention to purchase 2,500 driverless cars from Google for $375 million- the largest financial commitment for the company to date. That news was greeted mostly with a yawn of curiosity, like how that damn alligator got into the city sewer system. Which will wreck more havoc on Main Street? I'm a believer in technology and creative destruction, but I'm having a hard time explaining to people where all the new jobs to replace the old ones will come from.
(Although, I do stress that the knowledge economy and current skills-gap has resulted in millions of vacate job opportunities.)
Yesterday the CEO of Uber said that one day, the company will shift its fleet to driverless cars. The third generation Google car GX3200 can go 750 miles on a charge and many cities will probably give tax breaks for building docking and fueling stations. This morning's WSJ reports on more and more states rolling our financial incentives to spur electric cars.
online.wsj.com/articles/eight-u-s-states...
Where would this leave Uber drivers?
Out in the cold, of course, but it would be societal progress and perhaps breakout sometime more detrimental to free markets- regulations and rules designed to protect the status quo. In New York the taxi business has been run like medieval guilds which Adam Smith warned us about. The result has been an industry that's deterred competition and stifled any form of innovation. It's great for those that sell and finance the driving medallions needed to legally pick up hailed street fares. In fact this racket has been such a financial windfall that it's even outperformed the stock market.
Uber has amazing potential and will make life easier for mankind (there's nothing like being able to order and receive a tube of toothpaste at 2 in the morning), but there will be parts of the transition where disruption technology and creative destruction will hurt people that currently feed their families from driving cabs.