Watch a video clip from Making Money with Charles Payne
"Other countries know how to do this. If France can figure this out, we can figure it out."
"All too often, they are the result of outdated policies and old ways of thinking."
"Paid family leave, child care, workplace flexibility and better wages, should be part of our bottom line as a society."
-President Obama
Speaking at the White House Summit on 'Working Families,' our Commander- in-Chief lauded France and its family leave policy. Obama is angling toward some kind of federal fund that would eventually be funded by "rich" workers with families, goals, dreams, and businesses where the nation would get out of its outdated ways of thinking. Of course, outdated means profits which usually mean more jobs, but if society controls corporate balance sheets and gets a crack at the income statement, then it is all a moot point.
This socialist stuff might play well with some, but it has failed all over the world and also, it would destroy America's economic foundation. This is yet another reach into the coffers of money earned by others. In any other place, it would be called 'theft,' not 'a smart policy,' and definitely not 'a new way of thinking.' In America, most large businesses have generous maternity laws while smaller companies cannot afford to pay people who are not working. This is not antiqued - just a fact in a free market society.
Work-Life
President Obama continues to move to remake America into Europe by pushing the so-called "Work Life Balance" initiative, which in my mind is an extension of FDR's goal of freeing Americans from 'want.' The idea of a world of leisure where we work less, but get more defies math and human nature. It might be the centerpiece of a Utopian world, where fairness dictates the redistribution of wealth and guarantees an outcome in both cases, regardless of individual effort and merit.
America's share of global GDP peaked in the 1950s as we have worked less and others have worked more. Back then, America was so far ahead of the rest of the world, crawling out of the Great War that we could afford to enjoy the good life. Nevertheless, the good life is not free, and except for the period that covered the presidency of Reagan and Clinton, the downward trajectory has been tough to reverse.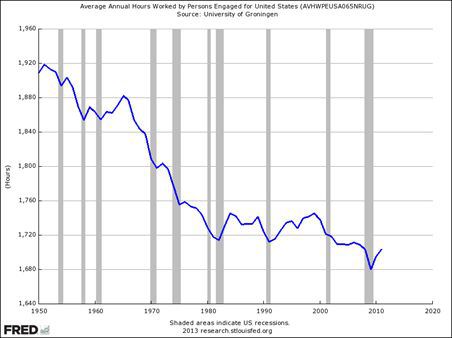 GDP and Elbow Grease
The leisure life enjoyed in Europe has come at the expense of higher taxes, massive debt, and loss of economic clout. Plans that called for austerity were fought tooth and nail, even as several European nations found themselves looking for bailouts. Interestingly, former colonies of these great nations were hit up for cash as well; China, India, and Brazil put pressure on the IMF for greater voices as they are larger contributors.
However, the best lesson is the obvious one. Since the global recovery has gained traction, nations that worked the most hours have surpassed those European nations that still believe that taking off the entire month of August is a birthright.
| | | | | |
| --- | --- | --- | --- | --- |
| Hardest Working Countries | Annual Hours | 2012 GDP | 2013 GDP | 2014 GDP |
| Mexico | 2,317 | 3.9 | 1.1 | 3.0 |
| Chile | 2,102 | 5.5 | 4.2 | 3.6 |
| Korea | 2,092 | 2.0 | 2.8 | 3.7 |
| Estonia | 2,021 | 3.9 | 0.8 | 2.4 |
| Russia | 2,002 | 3.4 | 1.3 | 1.3 |
| Poland | 1,893 | 1.3 | 1.6 | 3.1 |
| USA | 1,797 | 2.8 | 1.9 | 2.8 |
| | | | |
| --- | --- | --- | --- |
| Europe Nations GDP | 2012 | 2013 | 2014 |
| Germany | 0.9 | 0.5 | 1.7 |
| France | 0.0 | 0.3 | 1.0 |
| Italy | -2.4 | -1.9 | 0.6 |
| Greece | -7.0 | -3.9 | 0.6 |
| Finland | -1.0 | -1.4 | 0.4 |
Most large businesses have paid maternity leave as a way of attracting top talent. However, many businesses simply cannot afford to pay the people that are not at work. This idea is one that could become devising, even dovetailing into the so-called war on women. Still, it is a waste of time for a nation with not only in a sluggish recovery, but also suffering from diminishing confidence.
For me, the most important part of work-life is the work part, so I can afford the life part I want to live.
Hard Work & Economic Growth
Many western nations, including the United States, have seen the impact of putting an effort in neutral gear, the hard way. I remember when products out of Japan were the butt of all jokes, from transistor radios to automobiles. We were lulled into a false sense of security, even as these products go, they got progressively better and we were caught flat-footed.
It is too late to get back to that perch from which we watched the rest of the world mull around and pick up our crumbs. For all the talk of jobs being outsourced, we might find sooner rather than later, companies coming back because other nations have bigger fish to fry.
The kind of economic leads enjoyed by the west do not evaporate overnight, even with six-weeks paid of holiday time. However, when the rest of the planet has single-minded determination and a willingness to work, while we chill at the beach, it is only a matter of time before our economic leads disappear. In the past few years, the growth of high-net-worth individuals has grown faster in Asia than anywhere else in the world. In 2008, America was essentially tied with Europe, but now America has a half million more wealthy citizens.
I guess we want to give this up for a better balance of life and work...
Today's Session
The markets are set to open relatively mixed after two major housing releases this morning. Firstly, in April the FHFA Housing price index showed that housing prices were unchanged month-over-month after increasing by 0.7% in March. The static housing price should be able to entice potential buyers who were holding off by a month for conditions to improve. Additionally, the April Case-Shiller 20-City Index increased by 10.8% year-over-year which was shy of consensus' expectation of +11.6% and the +12.4% reading in March. Both are marginally disappointing, but as the more current housing data suggests, conditions have improved in May while these readings are lagged.