At some point we've all read the story of Alibaba and the Forty Thieves and the vault of riches hidden behind bushes that unlocked and opened upon the command of "Open Sesame."
Tomorrow morning, many investors will open their wallets to buy shares in the biggest initial public offering ever, hoping for a similar reward.
There is simply so much hype here that it's tough to understand where the stock finishes its first trading session even though the company is in the driver's seat in China and positioned to dominate.
The stock is getting the kind of hype that only comes around periodically, and the last time was reserved for Facebook (NASDAQ:FB), which turned into a nightmare for investors that bought in the early days.
Facebook took advantage of its prestige and public face to suck every nickel available for its own coffers. Some will say that's smart stuff, others think it was poor taste and even unsavory. Since Alibaba is a Chinese company, there's already a certain amount of corporate distrust. Then there's the odd structure of the deal, and management can't afford similar ill-will after it makes its debut.
Get Rich Quick???
Share Price
Action
$68
At this level, the stock looks attractive to traders and investors
$80
I would think short-term traders can buy
$90
Only experienced day traders with great execution should consider
$100
Above $100 I would avoid initially and would consider waiting for financial reports as publicly traded company
NOTE:
There should be a 10% or $7.00 stop loss, whichever is tighter, for investors and traders
Company Facts
 
80% China's E-Commerce market
46% revenue growth most recent quarter
54% margins most recent quarter
2013 sales $248 billion
2014 sales (est.) $420 billion

IPO facts
 
Insiders selling $13.4 billion
Company raising $8.4 billion

Note: this isn't my long-term opinion; it's just an observation on how to "play" the stock out-of-the-gate. Earlier today, someone tweeted me that they lost a lot of money on RWLK: a company I love and a stock we made money on with the Swing Strategies service. Because it's a volatile name, and because I love their mission aside from the investment story, I knew people would buy the stock. So as a rare favor, I tweeted out to everyone that they should consider a stop loss at $39.00.
Obviously this guy didn't. The morning that Facebook went public, I went on Fox & Friends on Fox News Channel and asked people not to chase the stock. That was then. Right now Facebook an open long position on the Hotline service and is up double-digits from the recommendation level. The point is that tomorrow Alibaba (NYSE:BABA) will be a circus, and I hate that so many non-investors will jump in will have this represent their entire investing experience.
In 1985, I began my career on Wall Street, and to this day, I still consider myself a student of the market. I enjoy taking pleasure in life's lessons taught by experienced old-timers. Life lessons coupled with the wisdom from those experienced old-timers have allowed me to meet as a market maven. I find that many old-school investors still look to the 'Dow Theory,' a collection of writings by Charles Henry Dow, founder of the Wall Street Journal.
Here are the four of the 'Six Tenets' of the Dow Theory discussed these days:
 
Stock market discounts all news
Stock market averages must confirm each other
Trends are confirmed by volume
Trends exist until definitive signals prove they have ended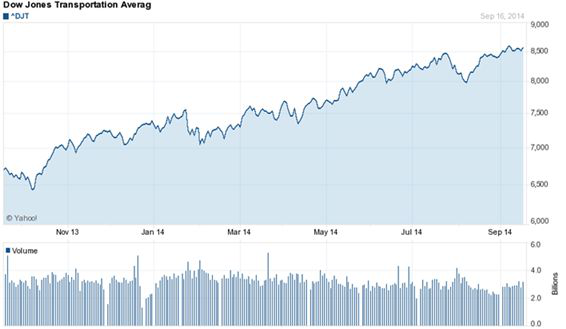 I do not believe all news is discounted because while it is public, people do not seem to take in the information. Also, I do not think volume has to confirm a move. In fact, bandwagons can be mistaken for smart money. I do believe that transportation has to move to a new high to confirm the move in industrials. Although rallies can start without fanfare, trends can end with a bang. In addition to transportation (have you seen the rails this week?), I like what I am seeing from the housing sector; yesterday's starts and permits numbers notwithstanding. Though yesterday's miss was huge, there was strong revision to the previous month for permits, keeping the up-trend is intact.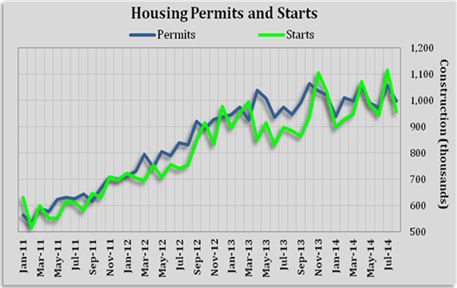 Other signs from housing include this week's earnings results from Lennar (NYSE:LEN), which blew away the street and saw new orders climb 23%. The National Association of Home Builders (NAHB) Index came in at a multi-year high and mortgage applications rebounded nicely (see charts). I understand housing will be uneven, but I like what I am seeing, and I think we could get traction.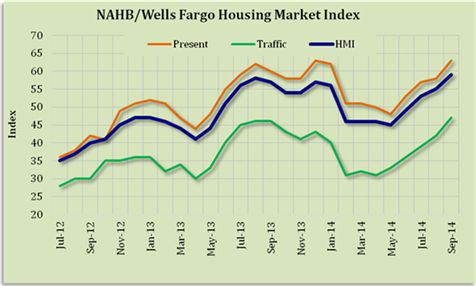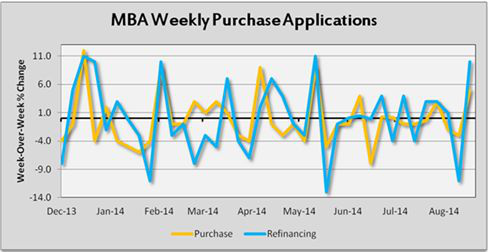 Today's Session
After closing yesterday in the green, the major indices continued to indicate higher this morning. The United Kingdom let out a sigh of relief following Scotland voting to maintain the 307-year union between the two. However, the UK has to keep its promise to provide Scotland with more power over spending and taxation. Also going on is Alibaba's IPO. I covered the topic on my show, Making Money with Charles Payne, last night and provided some guidelines via my website. Today will be rather calm in terms of released economic data, however, with the long awaited IPO of Alibaba and Quadruple Witching upon us, we're in for quite a show from the market.