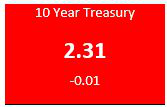 What's eating investors? I am not talking about the mom and pop retail investors. They are not moving the market as they once did; I am talking about the giant stashes of cash the institutional investors would rather park in assets like bonds, rather than park in equity blue chip companies with much larger yields. There are short-term debt instruments with negative yields, so the investor is paying the government to hold their cash.
The Great Rotation
This was supposed to be the year of the big shift from bonds to stocks (of course, 2013 was also supposed to be the big shift, too). As initial jobless claims move deeper below 300,000, and the GDP growth is on firmer footing, there has been serious concern among deep-pocketed investors for most of the year. The bond market is supposed to be "smart money" or the canary in the coal mine, which makes the trend problematic. Yet the bond rally has lasted so long, even Bill Gross, the master of asset classes, had trouble guessing the location of the top.
10-Year Yield (52 weeks)
I think part of the problem is a lack of confidence in US political leadership and Europe's inability to do the hard things needed to truly climb out of the hole and spark sustainable growth. The tug-of-war between Mario Draghi and European governments will see the head of the European Central Bank (ECB) eventually blink, but not before he chastises the continent over and over for gutless leadership, and an addiction to the easy, but temporary way out.
Lessons from Earnings Season
It's day three of earnings, and so far, so good. In fact, some might actually say it is too good. There are a lot of arguments against the bull market, but one that resonates with me is the idea that profits and profit margins cannot get any better. Corporate profits are at their highest-level ever as a percentage of the US GDP, while compensation is at its lowest level. How much longer can this dynamic exist? For one, it is politically dangerous and opens the door to the Elizabeth Warren wing of the divide; eager to invade the corporate balance sheet and income statement, making them part of the public domain. Economically, a hike in wages are probably around the corner as long as there are skills, but industries like homebuilders will have to compete with the oil industry for talent, which means higher wages.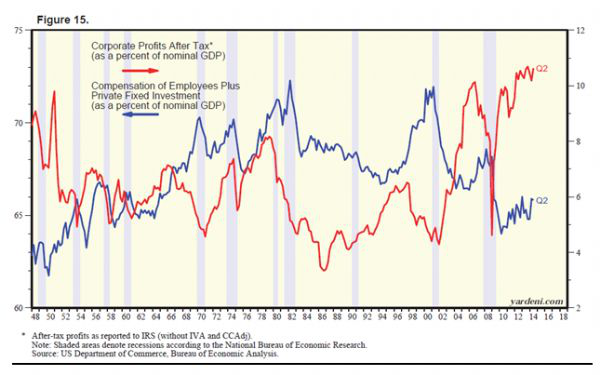 However, there are S&P operating profits of 10.2% for the second quarter, an all-time record, nevertheless, the pace seems to be flattening a bit. We are big on investing in companies with expanding margins, and it is becoming more difficult to keep that party going. The irony is that higher wages might allow the better companies to raise prices, which would help margin expansion, making investing more of a stock-picker's market.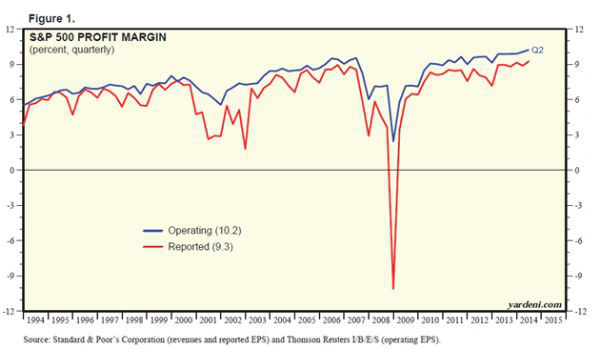 Moreover, I think large companies and innovative businesses will continue to have pricing power for different reasons. Let's take look at two huge international behemoths. There are lots of positive narratives in the Alcoa report, and its commercial transportation outlook best illustrates what's going on around the world. For the third time this year, the company increased its growth estimates for North America from 5% to 9% at the start of the year; now it's 16% to 20%; and global outlook -1% to 3%.
AA Commercial Transportation Outlook 2014
America
16 to 20%
Global
-1 to 3%
The second behemoth is Pepsi. Pepsi posted better than expected results yesterday morning, which was driven by the United States, and the boom in auto and commercial building projects.
Pepsi Operating Profits 3Q14
Frito Lay NA
6%
Quaker NA
10%
Beverage NA
4%
Europe
-6%
The bottom line is that Europe is in trouble, even Germany is flailing (exports off 5.6% in August), and it is not going to get any better without real reform. For now, those who pull the strings are pushing the ECB's, and are forcing pain in equity markets. Draghi needs to swallow his pride, yield to the reality of the economics, and open the flood gates even more.
The Market
Dow falling 334 points is ugly, and yet, it could have been worse as there were a couple of feeble rally attempts. Buyers are under no pressure to jump into the fray, especially as confusing reigns and panic increases. I feel like it was orderly in the sense as the machine did most of the selling, but the downside bias is firmly in place. The next major support point for the Dow is 16,400 and resistance is 17,000. It has been a few weeks since we began closing positions, and asking subscribers to build some cash, which I hope to deploy soon. When the Dow was off 150 points, I flagged 7 stocks that were champing at the bit to make double digit rebounds. We will get them; the better part of valor and common sense is to wait.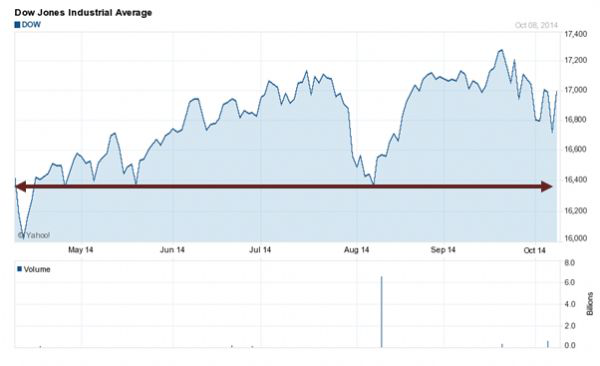 In closing, while I'm thrilled with all the exits in my time on the street, I've come to regret 90% of exits because those stocks came back and went much higher. This is a long-term venture with short-term drama… be prepared to buy.
Today's Session
Equity futures are edging back, but this will be a touch and go session without a doubt. Yesterday, weakness built like the proverbial snowball into a boulder. You have to keep in mind, the Dow being off 100 to 200 points isn't the kind of panic with the index still near 17,000, but a dip 300+ points is a serious issue. Yes, we are so long overdue for this kind of sell-off that it shouldn't be a surprise, but the issue is what's causing the selling other than stocks being extended and overbought (short-term).
The Greatest Risk?
Investor panic looms large as a greater risk for market. For the Dow, key support points to 16,540 (200 day) and 16,400 as a pivotal support point… below that level, lots of people are going to be talking "correction."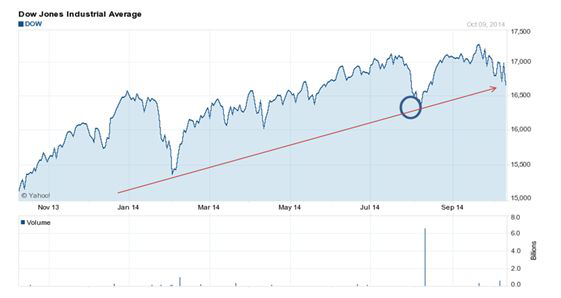 Ebola? So far, there has been one death in America and we're getting close to an "all-clear" for everyone exposed to Thomas Eric Duncan, but people are afraid and one or two more cases could change our lives and economy quickly.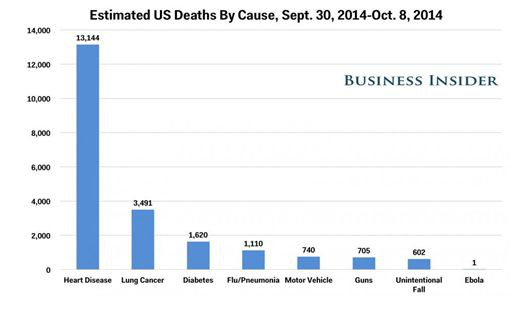 Or our lives and the economy can quickly be changed by ISIS which is on the verge of taking Kobane and hasn't missed a beat since President Obama ordered air strikes.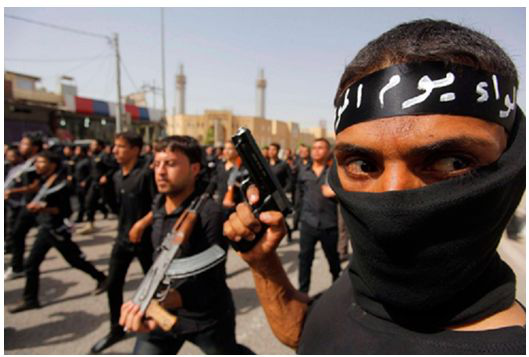 I think it's a combination of all of the above, but for the most part, the market was due to pullback and the fact that it's not orderly wouldn't be such a bad thing if widespread panic could be avoided. I worry about deflation, and no matter what we think, the Fed will stick to its game plan and hike rates next year; it should be a non-factor even though the chattering class will mention it on every big down or up day (how ironic the same policy got credit for Wednesday's pop and Thursday's sell off). If we hold here, that would be amazing. If we sell off, Monday looms large as the point of entry or potential bigger sell off. We'll follow up on the afternoon note.