We always talk about "the market." What is "the market" to regular people?
Wall Street is not the stock market, it is the physical location of the NYSE, and major brokerage firms where they manage transactions, and should not be confused with long-term investing.
The stock market does not always reflect the economy. Markets move on fear, manipulation, and other non-fundamental factors, typically for short periods of time, but also for longer-term periods as well.
The major indices are not effective proxies of Main Street; everything can look great or everything can look awful, which only angers the public that knows better.

The "Dow" or "S&P" are indexes that are supposed to reflect the entire spectrum of business. The problem is they are older names and might not reflect the hot or exciting parts of the economy. Consider the Dow components that reported this week.
Misses from food, beverage, and technology companies underscore how hard it is to reinvent yourself over and over, while beats in military hardware and insurance show how tough it is for innovation to change those industries.
| | | |
| --- | --- | --- |
| Company | Year Founded | Year on DJIA |
| MCD | 1940 | 1985 |
| KO | 1886 | 1987 |
| IBM | 1911 | 1979 |
| UTX | 1934 | 1939 |
| TRV | 1853 | 2009 |
I am not sure how to communicate "the market." However, I think it is a major stumbling block for those who invest in the stock market and for those who own companies. I will admit there are all kinds of shenanigans that distort value. Fed action is designed to make stocks more attractive, although this time around I disagree; high-frequency trading distorts minute by minute.
Corporate buybacks distorts the intermediate-term health of companies. It is important to read the entire income statement, the cash flow statement, and balance sheet, instead of focusing on the bottom line.
One thing to remember, however, in the longer-term, great companies will have great stocks.
Taking Risks
When the market is all over the place, it is easier for those older Americans who remember the Harold Lloyd classic "Safety First." Nevertheless, when it comes to investing, older folks are more reckless or more confident than the younger generation.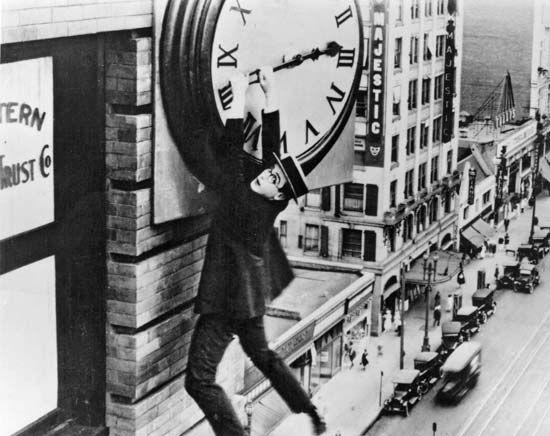 30% of 60-65 have all their investment money 100% in stocks. 52% of 60-65 have 70% of all their investment money in stocks. On the other hand, 39% of Millennials assets are largely in cash, while 13% are heavily invested in stocks.
This chart of the Dow might give us a few clues why this is happening…
If you are sixty-five, the Dow began that year at 1692; now up to 869%, but it has not been a smooth ride. In fact, you would have turned 17 when the Dow peaked at 7000, and drifted for 16- years, losing 73%.
Compare the difference to that of the Millennials; since 1982, the market has been up 670%. However, this age group has experienced two stock market crashes since turning 17, and now has serious trust issues.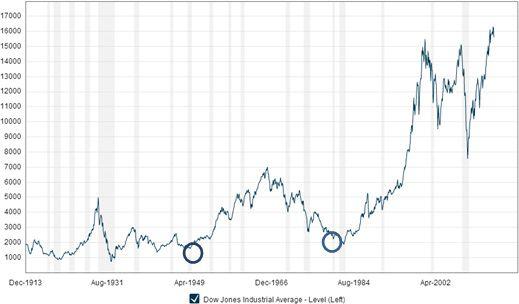 I understand that young household wealth is substantially lower than it was twenty to thirty-odd years ago, but delaying investments and the accumulation of assets means retiring a lot later than previous generations.
Average Retirement Age
1991
57
2014
62
2064
73