Once again, the market closed at an all-time high; and once again, it was somewhat deceiving. The breadth is getting better and the Russell 2000 Index of small cap names put in a solid performance. I write about 'The Dow Theory' a lot, and it harkens back to the old days when the stock market was a 100% representation of America. Now, it is a lot more complicated than that, but it is nice to see transportation stocks on the move.
I think small caps, in the eye of the storm where shorts have decided to make their last stand, have to rally back to their old highs. It is not that far. The final spike in this market might need a spark from good financial news. However, it will be driven, not by dumb individual investors, but all the brilliant experts that have missed the rally and have bet big on its demise.
.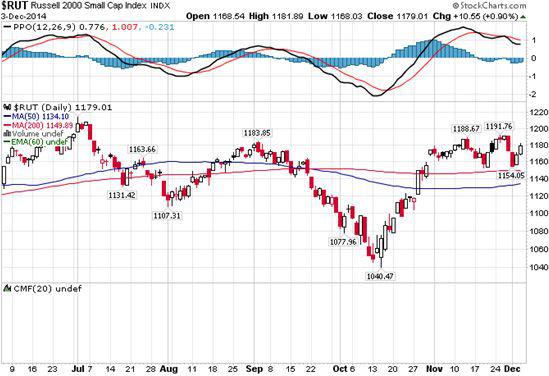 The Cheap Gas Paradox
We have discussed at length the virtues of cheap gas, but in fact, it is simply not the economic elixir many are hyping it up to be. Sure, we have more money in our pockets, but that does not make us feel any richer or even blessed, just a little relieved. It is not a spark to a virtuous cycle of spending.
Let's say, you start out on a Monday with $50 bucks and head into work, and your first stop is to fill up the gas tank. When gas was higher, you might have put $30 bucks into the tank, and spent the rest on other things. In New York City, parking would have wiped that out, but let's say where you live, you could have parked, bought lunch, and perhaps downloaded a couple of tunes online.
The whole $50 would go into the economy.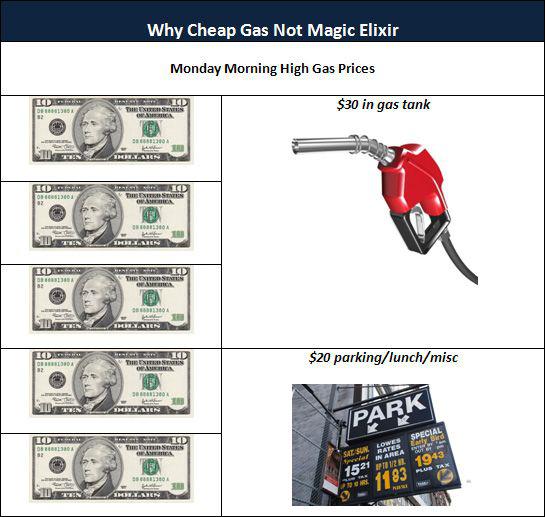 Now, we begin Monday morning with the same routine, except this time, we only need $20 to fill up the tank, which would leave you with $10 extra to do other normal stuff. But out of those ten bucks, people are going to pay old bills, and even save some. We are not stupid; we know cheap gas is an anomaly and the price will rocket back one day.
So, in this scenario, not all of the $50 would go into the economy.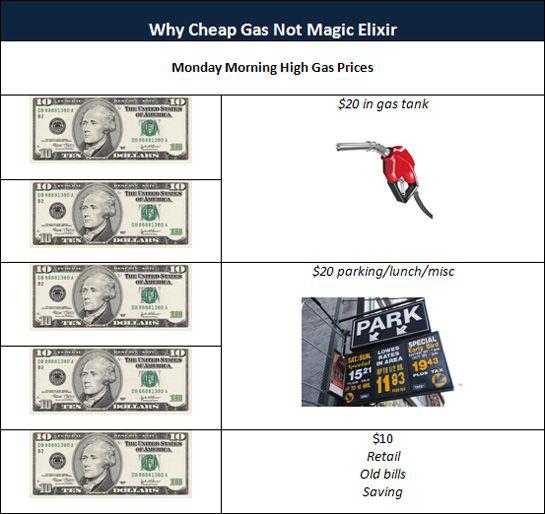 The Real Answer
The real answer is higher wages. The only way to spark that virtuous cycle is through authentic prosperity that only comes with a bigger paycheck. The Fed can print money and people can use credit cards, but a real sustained spark that sees above trend growth starts with wages. Now, if we begin Monday with an extra $10 we become giddy, and even at a higher gas price, we will put more into the economy as we would probably save less, because we feel less insecure about our economic future.
At the end of the day, it is about what actually makes it into the economy and triggers the kind of confidence where a penny earned is a penny spent, rather than a penny tucked away for future rainy days.
Today's Session
The markets took a negative turn, following pessimistic views from Europe. European Central Bank (ECB) President Mario Draghi lowered gross domestic product (NYSEMKT:GDP) growth estimates for 2015 to +1.0% from an earlier estimate of +1.6% and for 2016, GDP growth of +1.5% from an earlier estimate of 1.9%. Inflation forecasts are also down slightly. However, one troubling item is that the new estimates do not account for the lower gas prices, so we may see revisions again later.
Domestically, the US had some good news on the employment front. Initial jobless claims for the last week of November were 297,000, slightly higher than the 295,000 estimate, but drastically lower than the surprise 314,000 last week, which was revised slightly higher by 1,000. The prior week's number appears to be a unique scenario.