Question of the Week
At one point gross domestic product (NYSEMKT:GDP) and oil demand moved in tandem but after the recession both readings have diverged. Do you think that GDP and Oil Consumption will move in tandem again and what does that mean for the American economy?
A week ago, powered by strong jobs numbers bond yields began to rally, but since then, it is back down and is gaining momentum. Obviously, there is a knee-jerk move into bonds that has paid off for years; is there another message? I am not sure, but I think its nuts for the average investor to hand over cash to the federal government in return for 2% or $2.00 for each $100 lent. Nevertheless, this is big money at work and is presumably smart money.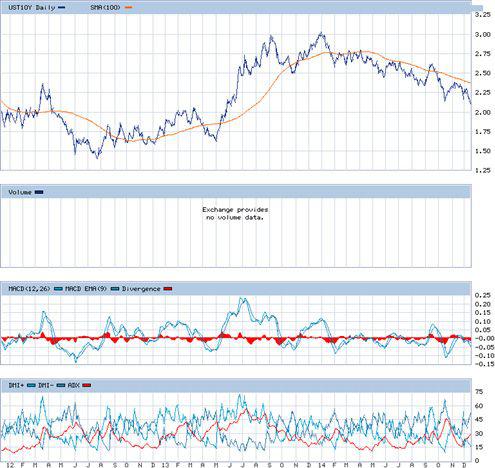 I still do not think it's about deflation, although free-falling crude does speak of the unknown.
That is the irony of last week, where the Dow suffered its worst loss since November 2011. All the official news was good news.
Heck, some might even say it was great news. Consumer sentiment surged, retail sales were better than expected and most earnings are still besting consensus.
Something's Amiss, Crude Reality
Going into the weekend, we had to take one last hard look at crude oil. Yesterday, it broke under its last real support point at $60, and unless something drastic happens fast, several expert observers are saying crude could move back to the lows of 2009. (It began trading last night at $57.50.)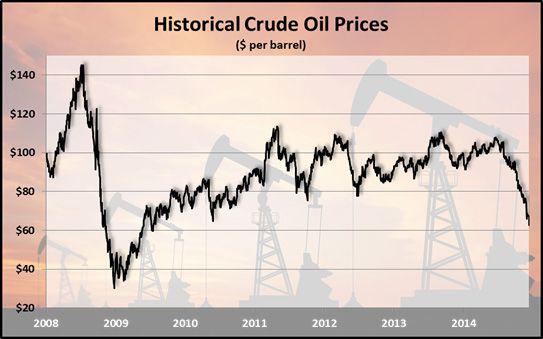 As someone that looks to the past for guidance in the future, I continue to worry, not about cheap gas- what it says about the economy.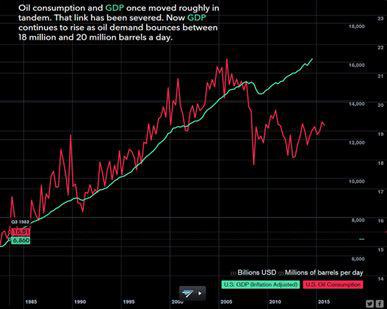 Each day, there is more evidence that things have simply changed. The rule of thumb was that the Gross Domestic Product (GDP) and oil consumption moved hand in hand.
Interestingly, just as we were officially coming out of the recession, the GDP began to rebound, but our consumption has fallen hard and it has not recovered.
So, is this a demand story and not a proxy for deflation around the corner? Maybe this time it is different.
Moreover, I do see a snapback rally in crude oil, but I just can't put a finger on the bottom.
Today's Session
Early market indications have been positive so far, although nowhere near enough to make up for last week's drop. Of course any relief from last week's drubbing is welcomed but there's no way we'll take the bite at the first bounce. Maybe that mindset plays a role in failed rally attempts, but the bias has shifted to the downside and there are so many cheap stocks that are allowing the dust to settle. We believe that waiting, rather than buy into a temporary wind shift is the right thing to do.
There was some substantial contraction in the New York Fed district, as the Empire State Manufacturing Survey indicated this morning. The general business conditions index fell to a reading of -3.58 from 10.16 in November, and to the first negative reading since January of last year. The report showed relatively strong momentum between May and September when the index averaged about 21.2. New orders were negative but not the biggest laggard this month, coming in at a reading of -1.97 compared to November's 9.14. This is the fourth time this year new orders dipped in the red.