Where is the nation's manufacturing now and in the future? For the last couple of years ,we've been told it's on the march. Perhaps, it is an illusion or some may say it's a myth. Alcoa posted earnings and offered guidance that was more bullish in a long time, although there are some problem areas like building in North America.
| | |
| --- | --- |
| Segment | Change |
| Trucking | 3 to 7% |
| Packaging (Global) | 2 to 3% |
| Building (Global) | 5 to 7% |
| Building (North America) | Gradual Higher |
| Gas Turbine | 1 o 3% |
| Overall Aluminum | 7% |
What's the Real Story?
Monday, the non-partisan Information Technology and Innovation Foundation (ITIF), released its report stating the 'Manufacturing Renaissance' was only a myth.
From the start of the Great Recession through 2012, more than 17,000 plants closed. In 2013, 4,400 plants opened, but we still have a long ways to go. In fact, while there were half a million manufacturing jobs created in the past three years; 2.5 million manufacturing jobs were lost during the Great Recession.
Additional myths include:
Myth: China's rising labor costs will soon match U.S. wage
Myth: Global shipping costs are unusually high, making it easier for the United States to produce more
Myth: The Shale Gas boom gives U.S. manufacturing a substantial advantage
Myth: Currency fluctuations will fix the trade deficit
Myth: Superior U.S. productivity growth will restore jobs
Recently, I came across this graphic on Twitter. I was shocked that only a handful of pockets in the nation generated half the growth last year. Then, I saw the report from the National Association of Counties and yes…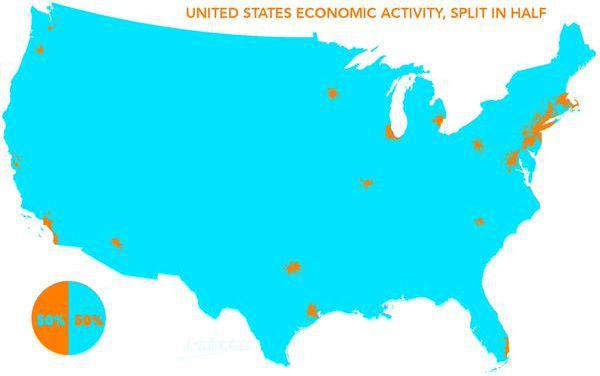 Only 65 of 3,069 counties have recovered in all four areas, which mean full recovery: jobs, unemployment rate, economic output, and home prices. Of course, you know, the experts had to crunch the numbers to find out what the midterm election results have already told us about economic activity.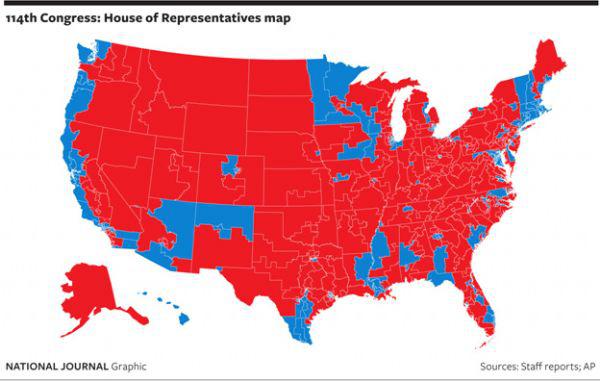 Technical View
The buy-on-dips crowd must have been salivating yesterday. It really looked as if we were back on easy street, and a move above the Dow 18,000 would be that seminal moment that sparks the last glorious leg up for this particular rally. (The last leg could be a 2 to 3 year run...think about the market after Greenspan's irrational exuberance speech.)
That would-be second V-shaped bounce of 2015 faded quickly, and now we have to consider where the Dow has to make a stand on the downside. Why, suddenly, has it become so vulnerable that it couldn't hold an almost 300-point spike higher?
For me, key support points for the Dow:
17,371 (2015 low)
17,000
16,117 (October low)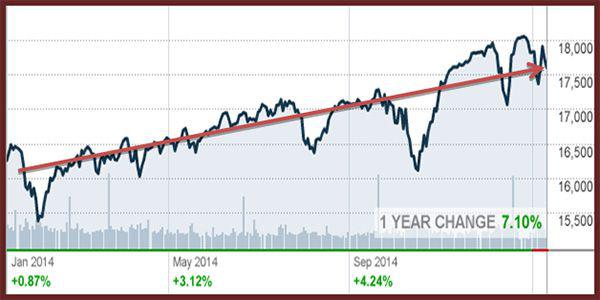 The S&P 500 is forming a head and shoulders, which is a very bearish chart reading. The index under 2,000 could see the pace of selling actually increase.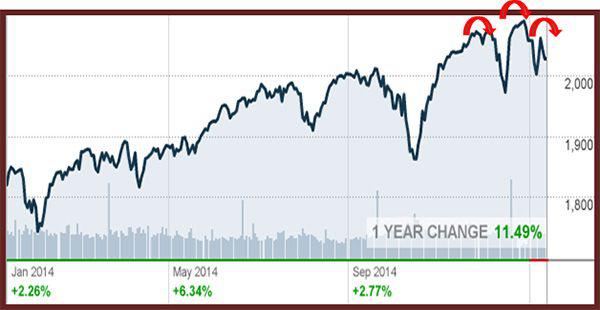 Today's Session
Equity futures took a dive on news from the World Bank reporting lower GDP growth this year from its previous estimate. Six months ago, the view was 3.4% now its 3.0, but looking deeper, only China will be lower year-to-year after growing 7.4% in 2014.
The lowered numbers were underscore by this line from a World Bank official: "The global economy is at a disconcerting juncture."
| | | |
| --- | --- | --- |
| World Bank | 2015 | 2016 |
| Global | 3.0 | 3.3 |
| US | 3.2 | 3.0 |
| China | 7.1 | 7.0 |
| Eurozone | 1.1 | 1.6 |
| Developed | 4.8 | 5.3 |
These comments might have been ignored in a different time as the World Bank is often slow or wrong with their assessments, but action in US treasury yields continue to be a cause for concern. I know the data says we are not plunging into a recession, but is the notion of flight to safety enough to justify plunging yields. I will yes for the moment, but not be so arrogant as to say this isn't worth watching.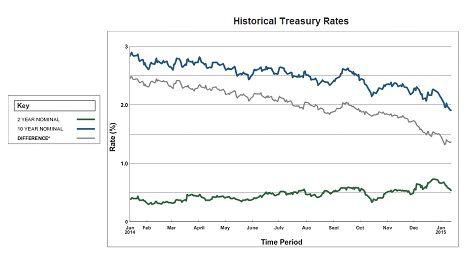 Then there's today's Retail Sales report which was an absolute disaster. So much for that cheap oil elixir.
Also, Corporate America did not provide us with the most optimistic review of the last fiscal quarter. Companies missed on both top and bottom lines. Below is a table of some of the stocks that reported yesterday and this morning.
| | | | | | |
| --- | --- | --- | --- | --- | --- |
| Company | EPS | Consensus | Revenue ($M) | EPS Guidance | EPS Consensus |
| CSX | 0.49 | 0.49 | $3,192 | - | (FY15) 2.17 |
| JPM | 1.19 | 1.31 | $23,218 | - | (FY15) 5.41 |
| SJR | 0.46 | 0.51 | $1,389 | - | (FY15) 1.86 |
| WFC | 1.02 | 1.02 | $21,400 | - | (FY15) 4.10 |