Question of the Week
If we were to ditch the free markets for a system of fairness that sprinkles cash around, how long would the US have before it needs to be bailed out?
5 years or less
15 years
25 years
50 years or more
Never
Yesterday's morning report on personal income and spending was something of a shocker. And while it didn't hurt equity futures at the time, it was a mixed bag, which speaks to the consumer's state of mind.
Personal Income was up 0.3%, better than 0.2% consensus, but spending plunged 0.3%, worse than expected, as savings surged to 4.9% from 4.3%.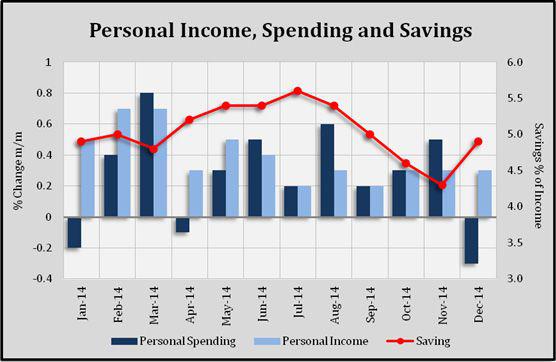 The US Daily Consumer Spending report was corroborated by a survey from Gallup, showing a sharp decline in average spending; it's not atypical for a decline between December and January, but it is alarming nonetheless. Spending dropped to $81 daily from $98, though still better than $78 last January.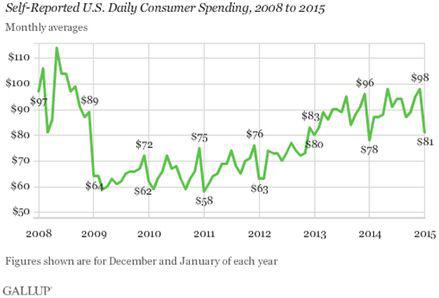 So, the question is what's going on... why is Main Street so afraid? I asked this on Twitter and on my show, Making Money with Charles Payne (Fox Business), and the replies included:
Poor jobs picture
Lackluster wages
Worries that gas prices will snapback
Without a doubt, gas will move back to new highs in the future, but it's unlikely to happen any time soon or even this year. From an investment point of view, I think oil might have to retest recent lows, but not oil stocks. As for consumer anxiety regarding a rebound, it will fade over time, but it's no guarantee it will cause a spike in spending. In fact, job quality and pay must increase for that to happen.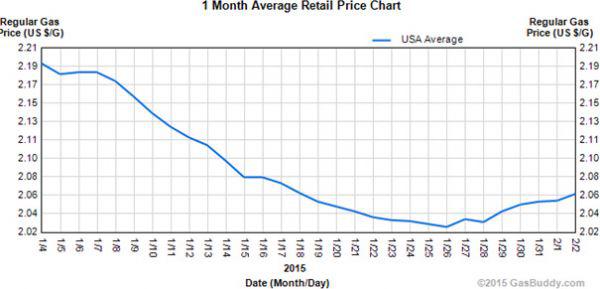 Today's Session
Stocks got a lift with the continued spike in oil yesterday and this morning, West Texas Intermediate (NYSE:WTI) crude is edging higher once again, knocking on the door of $51.00. Crude bears are pounding the table that this is a bogus bounce, but a better perspective is WTI is still off less than 50% in under one year.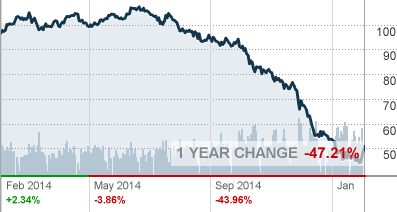 It's counterintuitive to think stocks should trade higher as crude trades higher, but this isn't about Main Street benefits, but the economic impact to an industry that was moving billions of dollars around the nation building major projects and hiring hundreds of thousands of workers.
From a stock market point of view, oil companies are important in weightings of most indices. So the street is reacting positively by the massive retreat in spending by major names in the in patch. Some question if such a retreat is a de facto admission that oil languishes for years to come, but for me, it's the kind of counterpunching needed in this high stakes game with Saudi Arabia.
BP reported earnings that beat the street, but took a $3.6 billion charge as it will cut cap-ex spending by 20% to $20 billion in 2015. This comes as Royal Dutch Shell announced a $15 billion reduction over the next three years and Russian giant Gazprom, an $8 billion reduction.
Cap Ex Spending Cuts

BP

20%

CVX

13%

CEO

35%

COP

35%

OXY

33%
I'm not anxious to chase this bounce, although lots of stocks are finally pulling back into a great risk-reward scenario.
Below are some of the major companies that reported this morning.
| | | | | | | |
| --- | --- | --- | --- | --- | --- | --- |
| Date | Company | EPS | Cons. | Revenue ($M) | EPS Guidance | EPS Consensus |
| 2-Feb | APC | 0.37 | 0.83 | $3,177 | FY15 | FY15 0.39 |
| 2-Feb | CLF | 1.00 | 0.14 | $1,285 | FY15 | FY15 -0.45 |
| 3-Feb | ADM | 1.00 | 0.96 | $20,894 | - | FY15 3.44 |
| 3-Feb | AET | 1.22 | 1.22 | $14,771 | FY15 7.00 < | FY15 7.16 |
| 3-Feb | BP | 0.73 | 0.49 | $73,997 | - | FY15 2.09 |
| 3-Feb | ETN | 1.27 | 1.20 | $5,565 | FY15 4.75-5.05 | FY15 4.97 |
| 3-Feb | HCLP | 0.85 | 0.90 | $131 | - | FY15 3.61 |
| 3-Feb | R | 1.60 | 1.60 | $1,660 | FY15 6.25-6.40 | FY15 6.47 |
| 3-Feb | SPR | 0.87 | 0.77 | $1,574 | FY15 3.60-3.80 | FY15 3.63 |
| 3-Feb | UPS | 1.25 | 1.28 | $15,890 | FY15 5.05-5.30 | FY15 5.31 |