Tomorrow is the big jobs day report. It is always a nail-biter, but more so since yesterday's ADP number was a major disappointment. In addition to total jobs, here are the elements that matter to Main Street and could even dictate Fed policy.
The wage spike in January was long overdue, but many wonder if there was a seasonal effect, including the onetime increase in the minimum wage.
Yesterday's Beige Book report from the Fed did not indicate a big spike in wages tomorrow, but there are signs:
The high skill side
Wage pressures were moderate across most Districts, but some contacts reported increased wages to attract skilled workers for difficult-to-fill positions.
Specialty skills
Contacts in the Cleveland, Richmond, and Kansas City Districts noted increased wage pressure due to the difficulty in attracting and retaining truck drivers.
Lower skilled positions
A staffing firm in the Chicago District reported some companies were also willing to raise rates for unskilled workers to reduce turnover, and contacts in the Atlanta District noted increasing entry-level wages.
Keep in mind, the entry-level wage hike at Wal-Mart is not going to affect this number; however, a few high-profile businesses have followed suit. Moreover, more and more businesses are willing to pay more for trained employees rather than force the roll of the dice and endure the expense of new hires.
I continue to marvel that the one in-demand skill is simply getting to work on time and being courteous.
Federal Reserve Beige Book - March 2015

Atlanta

Boston

Chicago

Cleveland

Moderate growth with most contacts optimistic, retail reports positive, light truck sales higher due to lower gas prices, real estate reports mixed, home prices appreciating, manufacturers reported increases in new orders and production, loan demand stronger for businesses, labor force growing but wages subdued.

Fairly upbeat despite selective negative impacts from severe winter weather, retailers and tech note increased revenues, real estate contracts strong, residential real estate soft due to weather, labor markets unchanged, pricing not an issue, outlook remains strong across major sectors.

Economic activity moderate with expected growth over next 6-12 months, consumer spending and manufacturing higher, business spending, construction, and real estate activity increasing, credit conditions improving, cost pressures little changed, price increases limited, agricultural commodities declined.

Economic expansion modest, manufacturing mixed, residential real estate markets overall stronger, retailers and auto dealers note post-holiday sales were higher over last year, shale activity lower due to lower oil prices, freight shipments strong, payroll stronger, decline in material prices.

New York

Richmond

Kansas City

St. Louis

Economic expansion moderate, selling prices stable, cost pressures increased, wages rising, labor markets stronger, consumer spending a bit stronger, tourism robust, retail/auto sales higher despite winter weather, housing markets stronger but hindered by winter weather, banks report stronger loan demand.

Slower economic growth versus last report, manufacturing weakened with shipments and new orders flat, retail sales slowed, loan activity higher, agribusinesses slower, real estate activity moderately growing, coal and natural gas production unchanged, demand for labor up, service sector hiring little changed.

Slight economic growth with mixed optimism about future activity, consumer spending flat, increase in auto and restaurant sales offsetting decrease in retail and tourism, business activity outweighed declines in manufacturing, real estimate improving, loan demand mixed, crop and energy prices lower.

Economic activity moderate, planned activity in manufacturing and service have been positive, retail sales positive, residential real estate improving, commercial and industrial real estate mixed, lending activity increased, wages, employment and prices improving.

Dallas

Minneapolis

Philadelphia

San Francisco

Unchanged economic growth, manufacturing activity stable or increased, demand for business and transportation mixed, home sales increased, demand for oilfields declined sharply, agriculture and loan activity improving, employment steady, cautious outlook overall.

Moderate economic growth, increases in consumer spending, commercial construction, real estate, and manufacturing. Mixed activity in tourism, residential real estate, agriculture, energy and mining, labor markets tightening in oil-regions, wage and price pressures continue.

Business activity grew at a modest pace, year-over-year comparisons were battered by winter weather, and tourism recovering, residential builders noted mixed reports for optimism in 2015, commercial real estate improving, leading volumes growing, and increases in wages, home prices, and general prices.

Economic activity improved moderately, overall price inflation modest, wage inflation moderate, retail sales and consumer demand increased moderately, manufacturing activity higher overall, agriculture conditions mixed, real estate activity advanced in multifamily sector, loan activity increased.
Small Business
In addition, there is still concern about small businesses not being able to do more, even though they are already doing more than large businesses. According to a study from the Hartford Company, 67% of small business owners did not hire last year. Here are the top three reasons: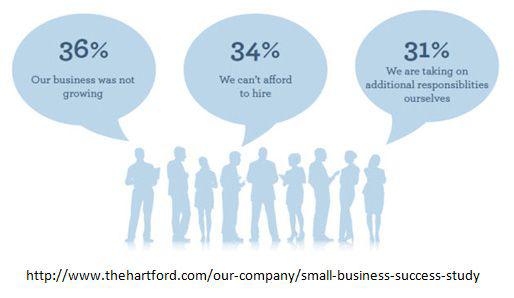 Regarding wages and small businesses, I want to see if men are getting back to work. Even with the improving job market, men ages 25 to 54 are not working, factoring in those who are not looking- otherwise known as an honest assessment.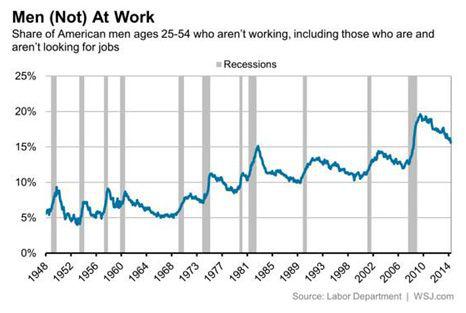 Ironically, men continue to be shut out of the job market, even as construction has only trailed hospitality over the last two years in terms of the rate of growth.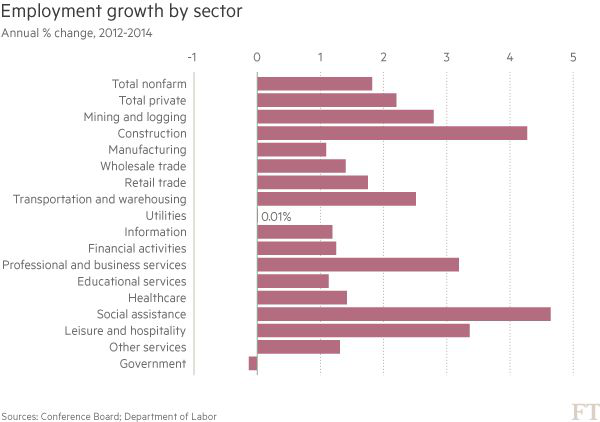 Of course, the other end of the spectrum sees manufacturing jobs lagging horribly. So, a lot is riding on tomorrow's jobs report. Beyond the typical spin, there is no way it could meet all the shortcomings of this recovery.
Today's Session
This morning the jobs picture looks interesting. Initial jobless claims climbed to its highest level since May of last year while Unit Labor Cost surged by 4.1% well above the 3.1% consensus.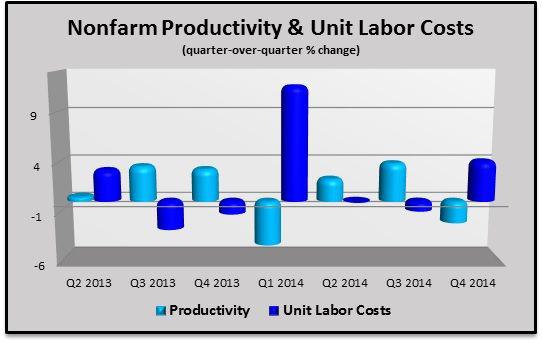 Also, this morning the European Central Bank (ECB) announced details of its quantitative easing program, but Mario Draghi admits that without immediate structural reform, it's not going to help much. The €1.14 trillion stimulus package will barely nudge the needle.
Eurozone Gross Domestic Product (NYSEMKT:GDP) Growth Estimates with quantitative easing have improved. For 2015, it is expected GDP will grow +1.5% versus and earlier estimate of +1.0%. The 2016 GDP growth estimate has risen to +1.9% from +1.5%.