Question of the Week
This year, one of the most revered political figures in the world passed away. Lee Yuan Yew took a poor nation with no resources and made it an economic powerhouse. Today, Singapore is admired by nations and leaders everywhere. But his methods were strict and people could be fined or jailed for things like:
Not flushing public toilets
Selling chewing gum
Illegally peeing in elevators
Walking around their house naked
Spitting anywhere
Graffiti, they would get caned
Are there things we could take away from Singapore's success or does our freedoms come even before things like flushing public toilets?
What's happened to the notion of investing? Over the past three decades, investors have gone from a group of well-heeled families and institutions looking at value, to a motley crew led by firms that generate billions on gyrations. In fact, individual investors are more concerned with commission fees than what they're actually buying. The volatility and short-term mindset means that most investors will never see the kind of returns that made Warren Buffett the second-richest man in America.
I got this email over the weekend:
Tell Charles to quit telling people to buy one share of stock, i.e., WHR...that's just stupid, the stock would have to go up $10 just to pay the commission.
Referring to the fact that Whirlpool Corporation (NYSE:WHR) is almost $200 a share, this person thinks it is too expensive for anyone that cannot own a lot of shares.
There are so many things wrong with this email, but it reflects popular thinking by so many investors and those considering getting into the market. I want people to think of investing as being part owner of great companies. If you cannot start a business, investing in one already established is the next best thing.
Listed below are a few popular businesses that are being started all the time by regular folks. They are not cheap. On the first day of operations, most would be worth much less than half of the value should the owner have to liquidate assets.
Cost to start business

Food Truck

$15,000 to $100,000

Gym

$10,000 to $50,000

Hardware Store

$80,000 Plus
This mindset that purchasing one share of a $200 stock isn't worth it is why so many people lose so much money buying "cheap" broken down stocks all the time. Also, it is why in 1980, fewer (regular) investors bought Berkshire Hathaway (BRK) at $260 a share. Remember, commissions back then were a couple hundred bucks going in and out.
Well, take a look at how well Berkshire has outperformed the broad market. Both underscore the fact that people who invest and who are not spooked by difficult times can be richly rewarded.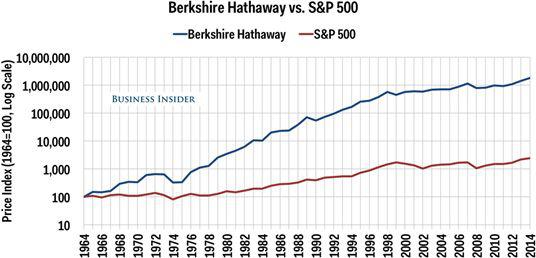 So, if you had purchased shares of BRK in March of 1980, you would be up 833,000% right now. With all due respect, the only stupid thing when it comes to investing decisions is basing it on pennies instead of a real-long term potential return.
By the way, WHR is also one of those companies where an individual can buy stocks directly without an account and most of the time, at a very nominal fee. The bottom line is that great company stocks rarely go on sale; and if you want to own them, then own them.
CEOs Fight Back
When Restoration Hardware reported last week, the company beat the Street on the top and bottom lines. However, it issued so-so quarterly guidance. The stock, initially up $3.00, plunged to be down $4.00, that's a seven point reversal. Yet there were legitimate reasons for the near term issues explained by management, but the stock opened lower the next session anyway.
Then smart investors followed the real message of the conference call...
Gary Friedman - Chairman and Chief Executive Officer
"Has our top line moved around up and down, absolutely, and is this stock volatile, absolutely, straight up between $55 and $100, right and that's why I made the point about traders versus investors because we manage this business like investors. We manage this business like it's the last place we will ever work and we own 100% of the company.
"And we believe we will build the best company the home furnishings industry has ever seen, with the best model and it will be the most durable business that we have and I think this is going to be a great long-term investment. But I'll tell you, look I've got it, but stock goes up and down, makes us all feel good or bad again short term.
"But I think what we say here is we have to look beyond these bumps and we have to make decisions to build the great enterprise and that's what we're doing. So whether it's seven or six next year, whether the sales are 14 to 16 this year, you know, and accelerate and its - we have a business today that is going to have a mid-teens operating margin, that's growing faster than anybody in the home furnishings industry."
Granted there are CEOs that try to get Wall Street to buy into a new line of metrics; nobody's buying into that nonsense. But current management at Box, Inc. (NYSE:BOX) and the geniuses behind Groupon (NASDAQ:GRPN) try to get Wall Street to reinterpret success. Yet this is different than the knee jerk reactions I'm seeing at typical quarterly warnings. I get poor execution is the death knell for stocks. In the past, there had to be evidence such inconsistency was consistent, these days, its head for the doors fundamentals be dammed.
We dig in deeper and close out the noise to know the difference, although shorts are a powerful cabal these days and with media coverage being so stupid and short-term, it's easy to craft a narrative that a stock should be sold. Months or years later when that same stock is changing hands at an all-time high, who will know the difference? Heck the same analysts and TV personalities will scream about the virtues and say it's okay to chase the stock.
Technical View
The market has enjoyed a heck of a ride and everyone has to be somewhat antsy about the next big move. In this age of skepticism, it's been easy to A) dismiss the rally or, B) have people make poor choices, such as missing the move or owning things that have underperformed. However, if you have been in the market and made a few bucks, there's a new kind of pressure on whether to sell it all and find a comfortable bunker.
I would say to use moderate cash to buy a major pullback, but don't panic. From a technical point of view, here's the worst-case scenario: In 2012, the S&P 500 broke out on July 16th at 1,362; and it was re-tested at that level as support on November 12th. A 50% retracement of the move made since then would mean a pullback to 1740. Still, I think it would take a news event to trigger such a move. In the meantime, 2,000 continues to be a must-hold support point.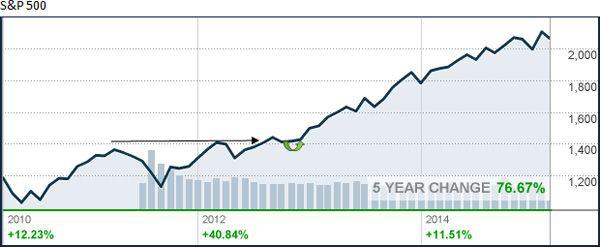 This is going to be an interesting week for sure. However, make sure you are looking well beyond the week if you indeed want to be a successful investor.
Today's Session
It's been a while since we've had a merger Monday like this and once again most of the action is in the biotechnology space.
United Health is taking over Catamaran for $12.8 billion
Teva is acquiring Auspex for $3.2 billion
Horizon Pharmaceutical is buying Hyperion for $1.0 billion
The media can't get enough about Teva Pharmaceuticals (NYSE:TEVA) acquiring Auspex Pharmaceuticals (NASDAQ:ASPX) to increase its leadership position in providing treatments for movement disorders and how United HealthCare (NYSE:UNH) is acquiring Catamaran (NASDAQ:CTRX) to better help customers manage complex cost and outcomes in the growing pharmaceutical market.
In the technology space, Fujifilm (OTCPK:FUJIY) announced that it would be acquiring Cellular Dynamics International (NASDAQ:ICEL) for $16.50 per share or approximately $307 million, this is quite a healthy premium as ICEL closed at $7.94 on Friday. The acquisition will provide FUJIY with more exposure to the healthcare sector as ICEL specializes in creating technology platforms that allow the production of high-quality fully functioning human cells. More details on how ICEL will be accretive to FUJIY will be released at a later date.
What's eating Main Street? (I ask for the 1,000 time)
This morning, the Bureau of Economic Research posted personal income and spending data for February and once again, I have to ask, why is Main Street hoarding money?
Disposable Income +$54.2 billion
Spending +$11.1 billion
Savings 5.8% from 5.5%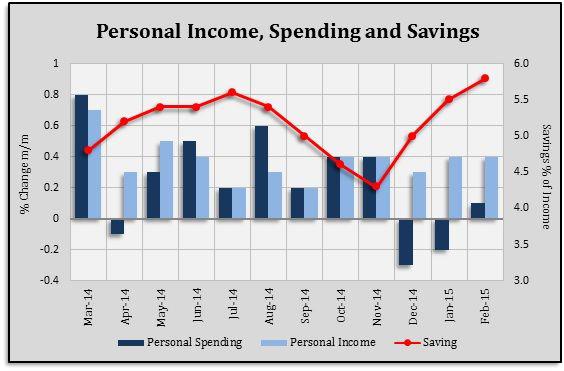 People are afraid to spend money, even with cheaper gas and as wages edge a little higher. Not a great sign.