S&P 500 Earnings Beat

4Q14

69%
Earnings

57%
Revenue
As we head into first quarter earnings season, can the "bad news is good news" scenario continue much longer?
In the fourth quarter, 69% of S&P companies beat the consensus on earnings which is better than the long term average, but in line with recent years. During the quarter, 57% beat on revenue which is below the 61% long term average and the recent 59% average.
We have seen the market forge higher in the face of both surging earning's warnings and an increase in positive preannouncements.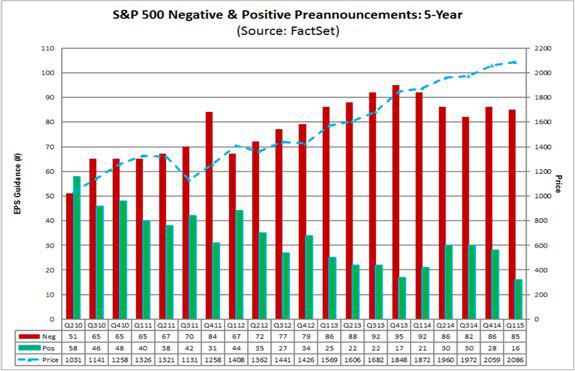 The tally of 85 warnings versus 16 positive preannouncements leaves a net profit ratio of 5.9.
85 Negative Preannouncements
16 Positive Preannouncements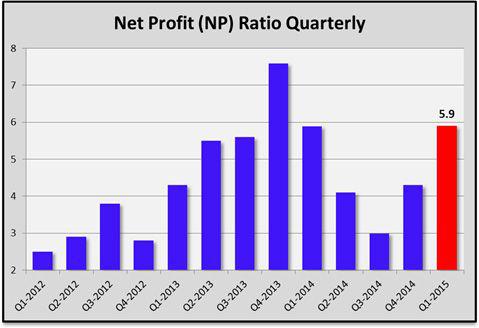 The first blue chip earnings report comes on Thursday with Alcoa (AA) and The Street expecting a 4.6% decline in earnings. Maybe the bar is so low that a bad season would be a winning season for stocks.
How Far Left Will Democrats Go?
Today's runoff election in Chicago has national implications in more ways than one. It's a battle between two Democrats, but it's the left wing and the very left wing.
Incumbent Mayor Rahm Emanuel is looking like a fiscal conservative against challenger Chuy Garcia. Emanuel has spent $18 million and began to pull away in the polls after both candidates released their financial plans in mid-March.
Still, among decided voters it is tight.
56.6% Emanuel
43.4% Garcia
The outcome will come down to turnout and possibly a swing of black voters to Garcia after pleas from Karen Lewis and Jesse Jackson.
If Garcia wins, it would indeed usher in the next step in America's march toward socialism.
One Quick Note
In late January, the Army revised its policy on tattoos in an effort, they say, to increase recruitment of "highly-qualified" people that might have been excluded by older rules.
Now tattoos are allowed on hands and the back of the neck as long as they are not extremist, sexists, racist or indecent. Permanent makeup is also allowed.
I guess this means good-bye for the old traditional anchor tattoo favored by sailors for decades. While the art of tattoos has evolved, the meaning of the anchor goes beyond the obvious association with the navy.
When under Roman control, Christians had to hide their religion so they used an anchor which resembled the cross as a substitute and also a way to signal other Christians.
Apparently 30% of adults 25 to 34 have tattoos, and I must say, the negative assumptions on their intelligence and behavior can no longer be stereotyped. Still, I wonder what this really says about the Army and why it's so hard to find highly-qualified recruits.
In the meantime, I understand I am a long way from modern-day hipness as I have no tattoos. But considering all the news of late and the trends in this country, I might find myself seeking my first.
Probably an anchor...and not to represent the Navy.
Today's Session
Interesting to see equity futures higher, but it's not convincing enough for us to force the issue. Right now, cash is dear and we want to hold onto to as much as possible. In the meantime, lots of deal news including FedEx's (FDX) acquisition of Dutch rival, TNT Express; FDX is higher on the news.
Informatica (INFA) is being acquired in the tech space and Greenbrier (GBX) posted a very strong earnings report. We are looking into the details, but rail car makers had been under intense pressure so this news is amazing. The rails are a good proxy for the nation, so this could be a dollop of good news for everyone.