This morning, my wife, my daughter and I gave away over 200 dress shirts and ties to high school kids on Senior's Day. I guess you could say Christmas came early…at least for us. It was an amazing blessing to be able to help these young men and talk to them about my experiences. My goal was to give them an honest view of life's road ahead, but also make them understand their potential is endless. My goal was to inspire them, but instead they inspired me.
Their attitudes, questions and goals show that our youth haven't given up and are not as spoiled or entitled as I always hint that they are.
Instead, they simply need guidance. They need honesty from those that have gone ahead of them. They need to learn how to tie a tie and to come to work thirty minutes early and leave thirty minutes after their peers have gone home. Some need to understand a job at McDonald's isn't beneath them even if their ultimate goal is to be a billionaire.
This was the nicest day of the year in New York and New Jersey. It was the best day for me because I spent time with the generation that is looking to pick up the baton and I can say right now: America, we're going to be okay.
God bless the seniors at Teaneck High School and God bless America!
- Charles Payne
Why the Celebration, Guys?
By Jennifer Coombs, Research Analyst
In a rather dramatic conclusion to the week, the U.S. equity markets rose higher in today's session after a rebound in overall hiring during the month of April led to a boost in optimism that economic growth is picking up pace. However, it's not so dramatic that the Federal Reserve will be likely to raise interest rates in June. In April, total nonfarm payrolls increased by 223,000 and bounced back from a dramatically downwardly revised 85,000 (from 126,000) jobs added in March. This ultimately resulted in the unemployment rate dropping to 5.4% from 5.5% and is currently at the lowest level since May 2008. This is actually a reasonable decline since the participation rate increased by 10 basis points as well to 62.8%. Nevertheless, it is unusual how positively the market is reacting to this data since it merely points out the jobs situation is just "satisfactory." The massive decline in jobs-added for March is likely the culprit behind the dismal gross domestic product (NYSEMKT:GDP) growth for Q1-2015. Today's data merely suggests that Q2 is better than Q1 so far, but it's nothing to get excited about.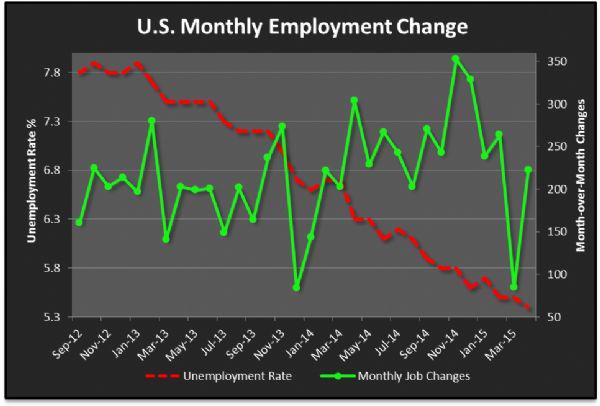 Other than the jobs data this morning, it was a fairly light economic calendar, save for wholesale inventories, which are telling a slightly more sobering economic story. For the month of March, wholesale sector inventories showed a slow build while sales continued to decline. Inventories in the sector increased by 0.1% while sales declined for the 8th consecutive month, by 0.2%. This booted the inventory-to-sales ratio to 1.30, up from 1.24 at the end of Q4-2014 and 1.20 from the end of Q3-2014. Inventories of metals and heavy machinery, where sales had been slowing in recent months, looked quite heavy relative to demand. Sales have picked up in chemicals while at the same time inventories have declined. Automobile inventories were unchanged from March, but are still quite heavy relative to the sales trend for this time of year. Today's employment report noted that wholesale payrolls declined by 5,000 jobs in April, which is one of the few contractions for this reading of the whole recovery and reflects a long 8-month dismal streak for wholesale sales. Since wholesale inventories remain quite heavy, this ultimately signals weakness in the retail sector.