By now, you've heard all the views about the Supreme Court decision on Obamacare subsidies. However, what you haven't heard are details of how it could impact you and your family.
The Affordable Care Act (ACA) subsidies are based on a sliding scale, which is set by one's income and the poverty rate, ranging between 100% and 400%. At the lower end, the government will pay 97% of your premium at the higher end of 10.5%.
| | | | | |
| --- | --- | --- | --- | --- |
| Poverty & ACA Subsidies | 100% | 200% | 300% | 400% |
| Family of One | $11,770 | $23,540 | $35,310 | $47,080 |
| Family of Four | $24,250 | $48,500 | $72,750 | $97,000 |
| Premium % of Income | 3% | 6.3% | 9.5% | 9.5% |
Wow, this sounds amazing, right. Well, it comes at a price and the money doesn't appear out of thin air. The health cost curve bends as promised, but not in the direction promised. Moreover, the goal of all Americans having insurance will remain a pipe dream; the ACA subsidies will soar to a grand total of $849 billion over the next ten years.
| | | | |
| --- | --- | --- | --- |
| Cost of "Affordable" Healthcare | 2015 | 2025 | Total |
| ACA Subsidies | $28 billion | $103 billion | $849 billion |
| Medicaid & CHIP | $49 billion | $106 billion | $847 billion |
The number of uninsured nonelderly population will decline from 35 million to 27 million.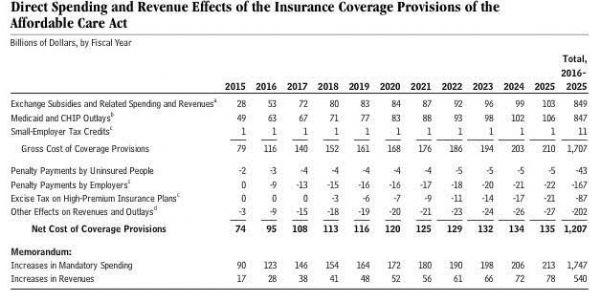 So, while 87% of folks on healthcare exchanges get some form of assistance with premiums, there are only 11 million in the system versus 154 million who get health insurance at work and 25 million from other sources. Yet obligations on healthcare insurance providers are forcing a surge in premiums and deductibles, which is a big reason so many Americans have opted against Obamacare.
Economically, the plan means fewer full-time jobs, higher medical care for all, and less service. In addition, there's the government overreach that could impact other parts of society.
Is Fair Housing Act the Next Clean Air Act?
The Supreme Court decision was split by a (5-4) vote on the Fair Housing Act. It essentially says that lenders, builders, and insurers could be liable for discriminatory charges, even if their actions were not intentional and racially biased. It's called the "Disparate impact" and it will be big weapon in the quiver to bring about social justice.
This will leave intact prohibitions in banking and renting, but it could also embolden the push by the administration to create integrated neighborhoods in upper middle-class and wealthy neighborhoods.
By controlling zoning and rental practices, the administration will move swiftly to force developers to include units for families that could never afford them otherwise.
Attorney General Loretta Lynch threw down the gauntlet yesterday:
"Bolstered by this important ruling, the Department of Justice will continue to vigorously enforce the Fair Housing Act with every tool at its disposal -- including challenges based on unfair and unacceptable discriminatory effects."
It was a historic day that will reverberate through the nation for years to come. It will also put major pressure on the economy and individual prosperity while substituting government policy, which is an intervention for individual effort and opportunities.
Today's Session
There's speculation of a Greece deal that kicks the can down the road- a whole five months. It's ridiculous, but underscores how stakes are high and even a short break could cause a sigh of relief.
There are lots of pockets of weakness in the market in key areas of the economy. In many ways, it's interesting to hear takes of a bubble when a fifth of the S&P 500 stocks are down more than 20% and these areas are at multi-month lows:
We've closed a fair amount of positions, so everyone should have cash.