Question of the Week
What should be done to spur greater homeownership?
Lower down payments
Government guarantees
Nothing - just save up 20%
Yesterday, the Homebuilders Confidence report came in at its highest level in a decade. Here are the regional changes:
West +3 points to 63
Midwest + 3 points to 58
South +2 points to 63
Northeast unchanged at 46
% Of Monthly Income
Spent on Shelter

Mortgage Payment

Rent Payment

United States

15.1%

30.2%

New York-Northern New Jersey

25.6%

41.3%

Los Angeles, CA

39.9%

48.9%

Chicago, IL

13.7%

30.8%

Dallas-Fort Worth, TX

12.2%

28.7%

Philadelphia, PA

14.6%

30.0%

Houston, TX

12.2%

30.6%

Washington, DC

17.5%

26.8%

Miami-Fort Lauderdale, FL

20.5%

44.5%

Atlanta, GA

12.3%

25.8%

Boston, MA

21.7%

34.4%

San Francisco, CA

41.4%

46.7%

Phoenix, AZ

17.3%

28.1%

Seattle, WA

22.7%

31.6%

San Diego, CA

34.1%

43.7%

St. Louis, MO

11.0%

24.2%

Denver, CO

21.1%

35.0%

Portland, OR

21.6%

32.1%

San Antonio, TX

12.7%

29.6%

Cleveland, OH

10.8%

27.1%

Las Vegas, NV

16.2%

27.1%

San Jose, CA

41.9%

41.5%

Charlotte, NC

13.2%

26.8%

Source: Zillow
The statement from the National Housing Association of Home Builders (NAHB) underscored why the market took the news, (which was actually in line with the consensus) so positively:
"Today's report is consistent with our forecast for a gradual strengthening of the single-family housing sector in 2015," said NAHB Chief Economist David Crowe. "Job and economic gains should keep the market moving forward at a modest pace throughout the rest of the year."
I've been predicting this would happen for well over a year. While there have been many false starts, there is momentum building in the housing market. Again, this is a survey on confidence; these guys were kind of pumped on the precipice of the housing collapse.
That said, the biggest issue isn't about this being a false alarm. It is about the ability for demand to translate into action and the industry's ability to meet that demand. Both are big question marks.
Both need to be answered sooner rather than later.
A serious issue for the young buyers who are finally stepping up to the plate, albeit at much older ages than previous generations, is where to get the money for a down payment. While the debate over rent vs. owning seemed to be settled a long time ago, it has only gotten more obvious with the rent boom in this country. Renters in NYC metro area are spending 41% of their monthly income on rent. In many metro areas of the country, renters are paying 100% more than homeowners on their domicile are.
Moreover, I understand that there are other factors to owning a home and that's why they're affectionately called 'money pits' as this is mind-boggling (see table above). The problem with these high rents is that people never get to save for homeownership- it's a trap that gets deeper and more insidious as time goes on. I suspect that millennials could save up sooner for homeownership if they could let go of the notion that they must live in the moment.
You only live once, but you don't want to pay rent your whole life.
Today's Session
Here's more evidence single family housing is mounting a charge: Home Depot blows away earnings consensus and the stock will open at an all-time high. The key reason is the resurgence of the US Housing market.
"We were pleased with this quarter's results. We saw balanced growth across our business resulting from strength in the core of the store as well as the continued recovery of the U.S. housing market"
Craig Menear Chairman, CEO and President
Housing starts and permits data information out this morning saw the former increase 0.2% to an annual rate of 1.21 million ahead of consensus of 1.19 million. Overall, starts now stand at their highest level since October 2007. But it's the composition of the numbers that's really impressive.
| | | | |
| --- | --- | --- | --- |
| Housing Starts | July 2015 | June 2015 | July 2014 |
| Single family | 782,000 | 693,000 | 657,000 |
| Multi-family | 413,000 | 498,000 | 422,000 |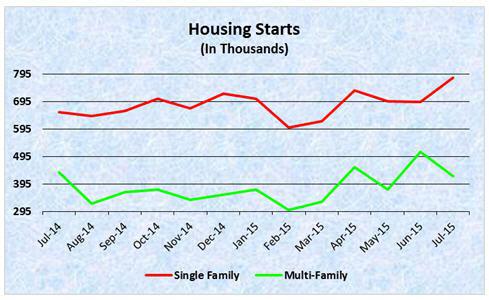 Permits were down quite a bit, but once again, the hit came in multifamily.
| | | | |
| --- | --- | --- | --- |
| Housing Permits | July 2015 | June 2015 | July 2014 |
| Single family | 679,000 | 692,000 | 640,000 |
| Multi-family | 412,000 | 611,000 | 371,000 |