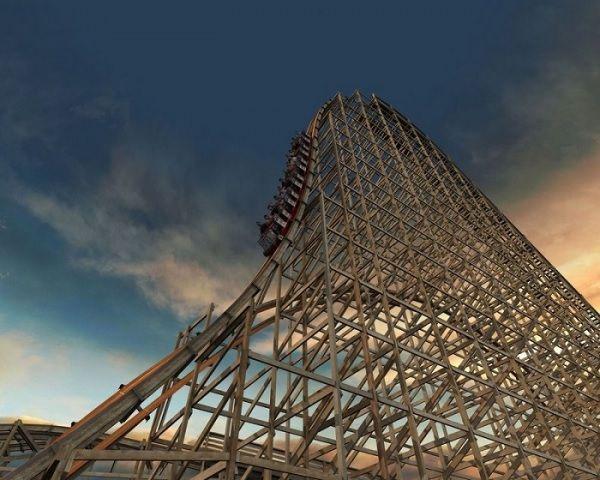 Goliath
Riding the waves of the market includes a lot of factors from personal temperament to underlying fundamentals. The market has seen deterioration in those fundamentals as top line revenue growth has stalled for more than a year while earnings have been helped with corporate stock buybacks. Then there's the emotions of the overall market.
It all makes for confusion which exacerbates the wild ride to the point of being intolerable for so many. If the market swoon is mostly the result of panic and confusion, but also solid fundamental underpinnings, it's like riding a steel rollercoaster. The largest steel rollercoaster is "Kingda Ka" at Six Flags in New Jersey with a drop of 418 feet. The largest wooden rollercoaster drop is Goliath at 180 feet. Both are designed to provide thrills and fun, but the idea that one is steel and the other is wood plays a psychological role.
The economic backdrop isn't the same as past crashes and few stocks outside of the biotechnology space are outrageously overvalued. On the other hand, many are actually oversold. But investors feel like this is Goliath and closing their eyes doesn't make the ride fun or thrilling. But a year from now, most will be able to chuckle and smile if they hold on. This doesn't mean close out losers, but that determination has to be made based on company fundamentals, not the screams of fellow riders.
Today's Session
China opened lower the day before it is set to release an update on manufacturing that will send that market into a frenzy- one direction or another.
Stanley Fischer spoke over the weekend and the dove sounded slightly more hawkish, but more importantly, seemed to try to convey the message the Fed will adjust rates at the right time. While the Fed isn't going to wait for 2% inflation to be official, it more than likely will be confident inflation's on track before intervening.
Then there's the typical angst that comes the week of jobs report and this Friday will more than likely make or break the notion of the Fed hiking rates. That said, I'm rooting for good news and think the market is as well. (A lot of talking heads will regurgitate the same line about bad news being good. However, that hasn't been the case in a long time.)
Oil Report
Warren Buffett has called the oil rout over and has put his money where his hunch is.
I have a few hunches too, and think there will be a fortune made for long term investors.
To that point, I've updated our Oil Report. For a copy, contact your representative or go to www.wstreet.com to sign up for the report.
Charles Payne
Founder & CEO
Wall Street Strategies