Coming into the week, I am beginning to wonder what's more detrimental to the market:
Too bullish
Too bearish
Indifferent
A lack of interest in the stock market is a legitimate concern. Even as it moves higher on a daily basis, the rally was ignored and bullishness had never taken hold beyond Wall Street (and had fewer fans on the Street). What does it mean when investors are neither bullish nor bearish?
We understand that a contrarian approach to investing says the market rallies on severe bullishness and vice-versa, but what about indifference.
Back in May, the neutral reading from the American Association of Individual Investors (AALL) survey registered the highest level of aloofness (49.79) since February 17, 2000. I understand the current skepticism and back then, everyone was going to retire before age 40 and buy an island. Whether it was a gut feeling or commonsense, the neutral reading was the perfect sell signal. I have to do more research to see if this was an anomaly or not, but a mass indifference has not yet been called a sell signal.
Hanging Out In Cash
If people aren't interested in the market, then they're not putting their money to work. So, if the market needs more buyers than sellers to move higher, those sitting on their collective hands or heading for the hills can't help stocks. On another note, something happened last week that hasn't happened in a long time. Investors pumped more money in cash funds than stocks or bonds. According to Bank of America, the week through Wednesday saw the following:
$17 Billion cash funds
$3.3 Billion out of stock funds
$400 Million into bond funds
Apparently, this hasn't happened since 1990.
| | |
| --- | --- |
| Investor Sentiment | Reading |
| Bullish | 32.1 |
| Neutral | 39.2 |
| Bearish | 28.7 |
In addition, the last time more than half of AAII survey-takers were bullish was on December 25, 2014, when the reading touched 50.94. The bottom line is, even that was a really low level of enthusiasm. Now, the bullish reading is only 32.1, which is far from the kind of irrational exuberance that marks market tops, while the neutral level has climbed significantly.
Then, there's the report by Mark Hulbert; one of his key market measures shows net bearishness at a 15- year high, which doesn't mean the market bounces super-fast, but it does mean there is too much pessimism.
Speaking of which, Main Street confidence has trailed the stock market since the tech bubble burst. Much to the chagrin of the Federal Reserve, it takes a lot more than a major stock market rally to get Main Street excited and confident. It takes good jobs and higher wages. It takes a notion that when a ship is sailing in the right direction, the same tide lifts all boats. Looking at the dramatic spread, better rebounds of confidence versus the stock market is clear that the latter can influence or derail the former, which hasn't erased the frustrations and skepticisms of Main Street.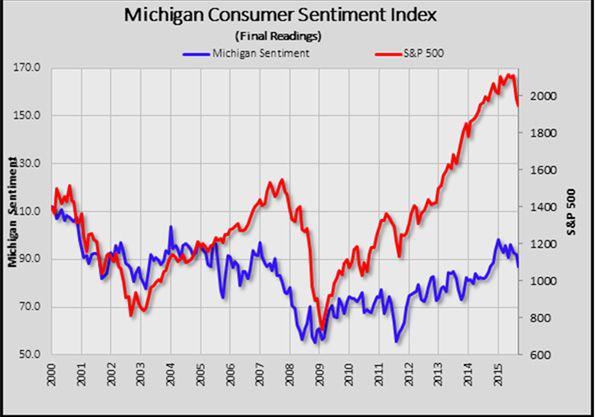 A Lack of Leadership
There are additional reasons for subdued confidence in America- our rudderless ship in Washington D.C. Consider the June poll on American institutions from the Gallup organization.
Confidence, measured by "great deal" and "quite a lot" in the three branches of government ranked poorly:
Executive 33%
Judicial 32%
Legislative 8%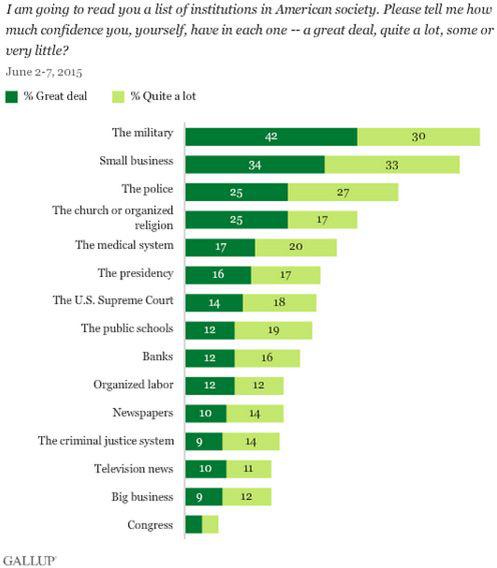 So, while it was a bombshell, the resignation of John Boehner as Speaker of the House wasn't a surprise and for many, it was a relief. It sets up a battle for his replacement and perhaps the soul of the Republican Party.
This matters to investors for several reasons, but immediately; it could set off a battle over the budget, and even the use of continuing resolutions (NYSE:CR). Boehner didn't relish battling conservatives who were willing to shut down the government over the federal funding of Planned Parenthood. Now, there's talk that his replacement should draw the line at the use of CR, which has been implemented more than 50 times since 2001.
It's a cowardly way to ignore issues that fester and become even more problematic.
Catalonians Speak
Over the weekend, elections in Catalan saw major win for the secessionist movements. If the anti-capitalist joins the "Together for Yes" coalition, we could see the beginning for an independent Catalan.
The EU has threatened to kick Spain out if that happens.
The movement against bloated governments, looking to maintain welfare utopias at the cost of true prosperity and opportunity isn't just an American phenomenon.
The U.S. government has shut down 18 times and the world didn't end.
There's a chance a shutdown could pressure the market, although I think investors are more knowledgeable and most aren't going to sell their investments because D.C. can't get its act together.
The fact of the matter is that our government is bloated and controlled by special interest. It's forgotten about the nation as a whole, mastering the art of being re-elected by bringing home the bacon, even as our national debt level has soared past our annual gross domestic product (NYSEMKT:GDP).
This is what the 2016 election will be about and it could be the ultimate moment of truth. How much more debt can we accumulate before reaching an inflation point of no return?
Moreover, how much longer will households that have made enormous sacrifices, including reduced paychecks accept reckless spending by the people elected to protect the nation, not harm the nation?
Today' Session
Equities have been under pressure all morning after receiving more bad news from China, and yet another downward revision of global GDP from the International Monetary Fund. The release of consumer income and spending has mitigated the damage but there clearly isn't any leadership this morning.
Consumer Income +0.3
Consumer Spending +0.4
Wages were up 0.5% in August, which is important coming into a jobs report week. In addition to the employment report, we'll get a lot of chatter from Fed officials including William Dudley who's already echoed Yellen's assertion of a rate hike this year.
It's going to be a difficult start to the session and we are going to sit on the sidelines for now.