The story in yesterday's WSJ really hits home at how trillions of dollars and Euros can find its way to the most unusual uses. In Spain some of that LTRO cash found its way to that nation's famous but fading bullfighting industry. Now loans are available for would-be season ticket buyers. The idea is just in time for the industry and the return of Juan Padilla. Gorged five months ago, the bull's horn entered through the jaw, and popped out an eyeball. While Padilla called his comeback a couple weeks ago a "dream come true", he admitted his family was mixed. While his wife and children urged him on, his parents thought he was nuts.
Of course it seems that the older people are the more they respect risk and the worst possible outcomes. Yet when it comes to money and finance, Europeans are like teenage sailors on shore leave. Then again Americans are not that far behind; as we continue to live up to our reputation as the world's greatest consumers our fiscal and monetary policies have gone down the same path. For individuals, its "shop until you drop" and for the Fed and White house, it's "spend until you pop." As crazy as it might seem that Spain would facilitate loans to bullfighting, we do the same kind of stuff all the time in America. Case in point, in last year's Wastebook from Senator Coburn there were some very interesting examples.
Roll Over Reagan
You know, my temperature's risin'
The jukebox's blowin' a fuse.
My heart's beatin' rhythm
And my soul keeps a-singin' the blues.
Roll over Beethoven and tell Tchaikovsky the news
Chuck Berry
Just as Chuck Berry and the countless artists that have covered his classic (Rolling Stones ranks as 97th best) song asked Beethoven to roll over and let rhythm and blues/rock and roll take over, a new documentary out next month says it was rock and roll that triggered the fall of communism. Jim Brown's "Rockin to the Kremlin" is a 90 minute documentary that focuses on cultural diplomacy and soft power and its role in ending the cold war. It will focus on the concert thrown by the Nitty Gritty Dirt Band in late 1970 as a pivotal event in the eventual collapse of the Soviet Union. Roll over Ronald Reagan, it was screaming guitars and great concerts that chipped away the icy hold of communism, not your steely stance.
The documentary actually sounds intriguing, and I would like to check it out. What bothers me is the makers got $550,000 in U.S. taxpayer money to put the thing together. If they are giving away money like that, I may have to make a documentary saying Parliament/Funkedelic along with Bootsy Collins somehow softened up China.
"You don't go buying a boat when you can barely pay your mortgage," Obama said. "You don't blow a bunch of cash in Vegas when you're trying to save for college. You prioritize. You make tough choices."
President Obama
February 2, 2010
But that's the point. If there is no fiscal restraint then everyone wants a piece of the action. Late yesterday GSA Administrator Martha Johnson submitted her resignation. The General Services Administration, which owns 354,000,000 square feet of property in America through 9,600 buildings in 2,200 communities, stated as a top goal to eliminate excessive spending and promote efficiency but kind of lost track when it came time to throw their own shindig. The shindig in question was held at a luxury Las Vegas hotel in October 2010 not too many months after president Obama lambasted folks for blowing "a bunch of cash on Vegas" when making a point on tough choices.
The event sucked up $835,000 and was attended by 300 employees of the agency. Some of the more eye-popping expenditures include:
> $147,000 Airfare and lodging
> $3,200 mind reader
> $6,300 commemorative coin set displayed in velvet boxes
> $75,000 training exercise to build a bicycle
The GSA was formed in 1949 under the Truman administration by combining numerous departments and has since become a wealthy landlord and property squatter. You could argue it's easy to lose track of responsible spending when there is so much money sloshing around, but I don't think any of these government agencies had fiscal restraint to begin with.
Is Kindergarten Dubious Spending?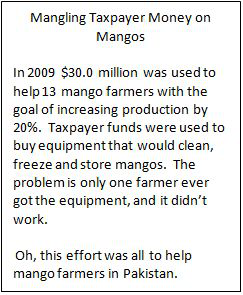 A piece in Smart money focuses on parents unable to afford private schools actually taking out loans for children as young as kindergarten age. Demand for pre-college loans are growing in general and more are coming from richer families (not to be confused with rich families) making $150,000 or more. This group now makes up 20% of loan demand, up from 6% in 2002-2003.
I must admit, I've already spent a fortune on my son's education and next year will spend as much for him to attend high school as many colleges would cost.
I think it's worth it, and if I couldn't afford it I would take out loans - only if I could pay them back. It's one thing for parents to risk it all on their children but another for government to throw lavish parties or help farmers in foreign nations.
http://www.coburn.senate.gov/public/index.cfm?a=Files.Serve&File_id=b69a6ebd-7ebe-41b7-bb03-c25a5e194365
Today's Session
The market is mixed at the open and sort of in limbo with some economic data later today including auto sales (Chrysler already posted +34.2% and Ford +5%). With the average car being 11-years old and junk loans soaring, getting a new car is almost too irresistible for many Americans. The risky loans are in fact being encouraged by the administration which naturally wants to tout the auto bailout.
That bailout is still not the cure-all they make it out to be and right now there is a tooth and nail fight for the city of Detroit not to be taken over by the state because it is in effect insolvent. Nonetheless, cars are moving and it must be good news at the Fed.
There is some tension ahead of Friday's jobs report and the markets still need a catalyst. I think it's amazing the rally has continued in the face of 16 missed economic data points in the last few weeks. The fix is in - ride the wave and be careful.